How It Is (Part 2) by Samuel Beckett
Monday, 29 July 2019, 6 – 7pm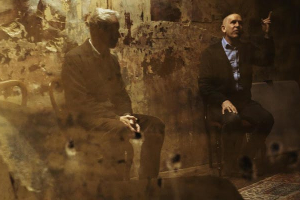 Gare St. Lazare Ireland presents a work-in-progress presentation of their forthcoming production How It Is (Part 2) by Samuel Beckett, in the Samuel Beckett Theatre.

---
How It Is
charts a journey undertaken by turns alone and accompanied. Time and space are fragmented and juxtaposed in one of the most eloquent, exquisite texts in the Beckett canon.
Following the success of
How It Is (Part 1)
in Cork (2018), Gare St Lazare Ireland return with Part 2 of Beckett's towering novel, directed and designed by Judy Hegarty Lovett.
How It Is (Part 2)
will be performed alongside the Irish Gamelan Orchestra with a specially commissioned composition by Mel Mercier in Cork in September 2019. The company here offer a work-in-progress presentation of approximately 40 minutes of Part 2, as the exclusive launch event of the ninth annual Samuel Beckett Summer School, featuring actors Conor Lovett and Stephen Dillane. A short discussion will be held following the presentation, hosted by Nicholas Johnson, co-director of the Beckett Summer School, and the event will be followed by a wine reception in the Foyer.
How It Is (Part 2)
is a co-production with the Coronet Theatre London in association with The Everyman Cork.
How It Is (Part 2)
is supported by the Arts Council and Vermont Coffee Company.
This event is presented at the 2019 Beckett Summer School through the generous support of Dublin UNESCO/City of Literature, Larry and Mary Lund, and the Trinity Centre for Beckett Studies.
Tickets are free, but advance booking is strongly advised. If you wish to make a contribution to future Beckett Summer School activities, please select "donation" on the ticketing options; 100% of all proceeds from donations go to the tenth anniversary Summer School (2020) public programme.
See the full Public Program of the Samuel Beckett Summer School
here
.
Campus Location
:
Samuel Beckett Theatre
Accessibility
: Ground floor only
Room
: Samuel Beckett Theatre
Research Theme
: Creative Arts Practice
Event Category
: Public
Type of Event
: One-time event
Audience
: Public
Cost
: Free, but registration is advised:
bit.ly…
More info
:
bit.ly…