Could social media help your academic career?
Monday, 1 April 2019, 1pm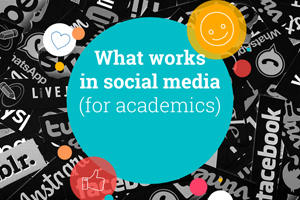 Social media is an increasingly useful tool for academics in telling their research story, building new networks in higher education and finding out about professional opportunities. Researchers now recognise the many benefits of building a public profile on social media and using it as a tool to promote their work but sometimes they don't know where to begin. 

Join us to find out how other researchers have successfully harnessed the potential, and avoided the pitfalls, of active online engagement.

Our panellists will discuss:
how they have used social media to connect with other researchers in their area
how social media has helped them to promote their work and the value it has brought to their scholarship
how to deal with negative feedback
mistakes they have made
what they wish someone had told them when they started
Chair:
Sharon Campbell, Deputy Head of Communications
, Public Affairs and Communications at TCD
@tcddublin
Panel:
Open to all postgraduate students and postdoctoral researchers in the Arts and Humanities.
This workshop is kindly supported by the Trinity Long Room Hub
@TLRHub
#HubMatters
Register here

About the Speakers
Jacob J EircksonAssistant Professor, Loyola Institute
Jacob J. Erickson previously taught Religion and Environmental Studies at St. Olaf College in Northfield, MN, and was "Ecotheologian in Residence" at Mercy Seat Lutheran Church in Minneapolis, MN. His work as a constructive theologian writes within the creative interdisciplinary fields of environmental humanities, Religion and Ecology, and ecotheology. He's a contributor to six academic books of theology, The Huffington Post, and Religion Dispatches. Alongside theologian Marion Grau, Erickson co-chairs the "Sacred Texts, Theory, and Theological Construction" section of the American Academy of Religion. His 2015 Religion Dispatches piece on Pope Francis' "climate encyclical" won the Wilbur Award from the Religion Communicators Council.
Lorraine Leeson
Director of the Centre - Deaf Studies, C.L.C.S
.
Lorraine Leeson is Professor in Deaf Studies at the Centre for Deaf Studies, and currently serves as Associate Dean of Research (2018-).
Her research work is multidisciplinary in nature, influenced by her background in Deaf Studies, Gender Studies and Linguistics. She has published widely on aspects of the linguistics and applied linguistics of signed languages with a specific interest in Irish Sign Language and in the area of sign language interpreting.
Marie Sophie Hingst
Marie Sophie Hingst studied History and East Asian Studies in Berlin, Lyon and Los Angeles. She joined Trinity College Dublin in 2013 for a PhD thesis on English colonial strategies in 17th Century Ireland under the supervision of Micheál Ó Siochrú and Mark Hennessy at the School of Histories and Humanities and was a graduate research fellow at the Trinity Long Room Hub from 2015 to 2017. Further to her studies in history, she is engaged in humanitarian work and runs an awarded slum clinic in New Delhi with a focus on Women's Healthcare. Marie Sophie Hingst was named as the Trinity winner of the Financial Times 'The Future of Europe Project' competition November 2017. Sophie's winning article, entitled Europeans should not abandon a collective identity, was published in the Financial Times. She was also awarded 'Blogger of the Year' at Germany's #goldeneblogger awards in 2018. She currently works as a disruptor at Intel.
Shane Mawe, Assistant Librarian in Research Collections
SHane Mawe will be discussing Twitter from the perspective of someone who developed the Library's 1916 Twitter account and continues to provide content to the departmental Twitter account @TCDResearchColl
Campus Location
:
Trinity Long Room Hub Arts and Humanities Research Institute
Accessibility
: Yes
Room
: Neill Lecture Theatre
Research Theme
: Creative Arts Practice, Digital Humanities, Identities in Transformation, Making Ireland, Manuscript, Book and Print Culture
Event Category
: Arts and Culture, Careers, Classes, Lectures and Seminars, Public, Workshops and Training
Type of Event
: One-time event
Audience
: Postgrad, Alumni, Faculty & Staff, Public
Cost
: Free (but registration is essential)
Contact Name
: Francesca O'Rafferty
Contact Email
:
foraffer@tcd.ie
More info
:
goo.gl…