Space and Settlement in the Middle Ages
Friday, 22 March, 11:30am – Saturday, 23 March 2019, 5pm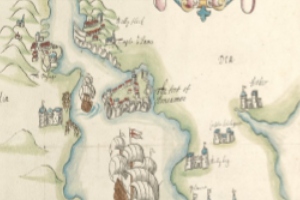 A conference organised by the Department of History.

An international, interdisciplinary conference exploring all aspects of human settlement and the use of space throughout the Middle Ages. The annual conference focuses primarily on new and emerging research into space and settlement in medieval Europe. The conference aims to bring together researchers, professionals, and practitioners from the academic, commercial, cultural heritage, and industrial sectors to promote discussion of current and evolving developments in the study of space and settlement during the medieval period.

General admission for the weekend is €10 or €5 for a day pass, cash payment at the door only.

Trinity students can avail of free entry. Coffee and tea will be provided.

Register here.
Programme
Friday 22 March 2019

11:30 – 12:00 Registration and opening remarks by Professor Terence Barry

12:00 pm – 13:30 Panel 1: Trade and Economy in Rural and Urban Spaces

Lisa Backhouse, University of Reading/Cardiff University – "Negotiating Trade and Identity at the Royal Anglo-Saxon Settlement of Lyminge: A Ceramic Context"

Anna Maleszka, Nicolaus Copernicus University – "Urban Networks in Anglo-Norman Meath and the Teutonic Order's Kulmerland: A Comparative Analysis"

Chris Casey Chevallier, Trinity College Dublin – "Utilising Papal Tenth Valuations for Geographical and Economic Analysis: Early Fourteenth Century Ireland"

13:30 pm – 14:00 Coffee/Tea Break (Refreshments provided in the Hoey Ideas Space)

14:00 pm – 15:30 Panel 2: Representations of Power in Buildings and Landscape

Rachel E. Swallow, University of Chester – "New Ways of Seeing: The Legend, Lady and Landscape of Caernarfon Castle, Gwynedd, Wales"

Michael O'Mahony, Queen's University Belfast – "The Late Medieval Tower-Houses of Britain and Ireland: A Comparative Analysis"

Daniel Curley, National University of Ireland, Galway – "Reconstructing the Lough Croan cenn áit of the Medieval Úa Cellaig Lordship of Uí Maine"

15:30 pm – 16:00 Coffee/Tea Break (Refreshments provided in the Hoey Ideas Space)

16:00 pm – 17:00 Keynote

18:00 Pub night at J.W. Sweetman


Saturday 23 March 2019

10:00  – 12:00 Panel 3: Settlements and Seascapes

Annie C. Humphrey, Trinity College Dublin – "Norse Towns in Irish Historical Literature"

Viktória Pomázi-Horváth, Budapest History Museum – "The Danube's Tale: Excavations on the Riverbank of Medieval Pest Town (Hungary)"

Christian Cooijmans, University of Edinburgh – "Shore Leave – Reconsidering Viking Encampments Across the Frankish Realm"

Hana Lewis, University College London – "Anglo-Saxon Elite Rural Settlements: Pattern and Process in Material Culture"

12:00 – 14:00 Lunch Break

14:00 – 15:30 Panel 2: Interactions with Nature and the Landscape
Pablo Barruezo Vaquero, University of Glasgow – "The Entanglement of Landscapes: Past, Present, and Future of Humans and Nature"

Lydia C. Allué Andrés, Université de Toulouse/Universidad de Zaragoza – "Deserted Villages Revisited: The Late Medieval Crisis Impact in the Settlement and Landscape Transformation Patterns in the Communidad de aldeas de Daroca (Aragon, Spain)

Heidi Stoner, University of Durham – "Hypothetical Buildings and the Reality of Stone: A Re-Investigation into the Ecclesiastical Settlement at Maughold, Isle of Man"

15:30 – 16:00 Coffee/Tea Break (Refreshments provided in the Hoey Ideas Space)

16:00 pm – 17:00 Roundtable Discussion

Possible Discussion Points:
Integrating new technologies and approaches in settlement studies
Problems with interdisciplinary work and how to overcome them
Interactions with the public and our field, and how to negotiate accessibility
Room
: Neill Lecture Theatre
Event Category
: Conferences, Lectures and Seminars, Public
Type of Event
: One-time event
Audience
: Undergrad, Postgrad, Alumni, Faculty & Staff, Public
Cost
: €10 weekend/€5 day pass. Registration required.
More info
:
www.eventbrite.com…