Melancholia and the Brain: Conversations between Neuroscience and the Arts
Friday, 1 March 2019, 6 – 8pm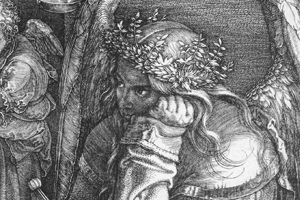 An event exploring new perspectives on the lived experience of depression organised by Prof Mary Cosgrove (TCD) and Prof Veronica O'Keane (TCD) to launch the transdisciplinary 'Melancholia and the Brain' project.

'A brain scan may reveal the neural signs of depression, but a Beethoven symphony reveals what that depression feels like. Both perspectives are necessary if we are to fully grasp the nature of mind, yet they are rarely brought together' - Eric Kandel, In Search of Memory (2006)

The 'Melancholia and the Brain' project sets out to investigate and illuminate the lived experience of depression through the intersection of Neuroscience, Arts and the Humanities. Audiences are invited to participate in this conversation through public events.

Register here

This inaugural event invites artists, performers, scientists, critical thinkers and people with a lived experience of depression to explore pathways that include and involve the brain in our current understandings of depression. It is interested in exploring creative ideas that invite collaboration between artists, scientists and people with a lived experience of depression to generate new perspectives about depression in the public realm.

Event contributors include:
Prof Veronica O'Keane, Professor in Psychiatry, TCD.
Prof Mary Cosgrove, Professor in German, TCD.
BethAnne Linstra-Klein, expert by experience.
Dr Tony Bates, clinical psychologist, adjunct professor of Psychology, UCD and founder of Jigsaw, the National Centre for Youth Mental Health.
About the project:
'Melancholia and the Brain' has organically grown from initial collegial chats between Prof Veronica O'Keane (TCD) and Prof Mary Cosgrove (TCD) about the possibility of fusing neuroscience and the arts and humanities on the topic of melancholia and the brain. Prof O'Keane and Prof Cosgrove are curious to know more about the different understandings of melancholia at work in Ireland today. Does the brain play a significant role in public understanding of melancholia, for example? From a neurosciences perspective the brain is understood as the principle locus and cause of melancholia - rather than the 'spirit' or 'personality' of the individual. Yet many works of literature, film, and other cultural artefacts which engage with melancholia omit the brain from their reflections, presenting the melancholic condition as that of an individual often experiencing  the heights of creative inspiration and the lows of existential despair. Bringing these perspectives together, Prof O'Keane and Prof Cosgrove want to capture the real and experienced or 'felt' sense of depression, and share this with the public.
The project itself has been in development since early 2017. It started by holding a series of meetings with a transdisciplinary team with combined backgrounds in neuroscience, brain research, medicine, arts and the humanities, literature, curating and public engagement. It then expanded to include focus groups and a public poll with the core aim of integrating and synthesizing information about the human condition of depression in the public realm. It is excited about the cultural potency of this conversation and aims to continue this ongoing dialogue and engage audiences with the experiential relationship between 'Melancholia and the Brain'.
Project team
Professor Veronica O'Keane i
s a clinical and research psychiatrist. Her area of interest is in neuro-endocrinology of depression, particularly the relationship between stress and depression. Her research group is now examining the experience of depression in the brain. She has over 100 published scientific articles in peer-reviewed journals and her book
The Matter of Memory
will be published next year.
Professor Mary Cosgrove
is a literary scholar of post-1945 Germany to the present. She has published peer reviewed articles, edited volumes, and monographs on German and Austrian memory discourses, trauma, and melancholy. Her most recent book is
 Born under Auschwitz: Melancholy Traditions in Postwar German Literature
(2014).
Kathy Scott 
is the Creative-in-Residence on 'Melancholia and the Brain' and Creative Director of
The Trailblazery
, a cultural platform dedicated to activating creative and socially engaged ideas on the island of Ireland and beyond. 
Cian Judd 
is a research assistant and postgraduate student in cognitive neuroscience,.
Campus Location
:
Trinity Long Room Hub Arts and Humanities Research Institute
Accessibility
: Yes
Room
: Neill Lecture Theatre
Research Theme
: Digital Humanities, Identities in Transformation
Event Category
: Alumni, Arts and Culture, Lectures and Seminars, Public, Workshops and Training
Type of Event
: One-time event
Audience
: Undergrad, Postgrad, Alumni, Faculty & Staff, Public
Cost
: Free (but registration is essential)
More info
:
www.eventbrite.ie…