Trinity College Law Student Colloquium
Saturday, 3 February 2018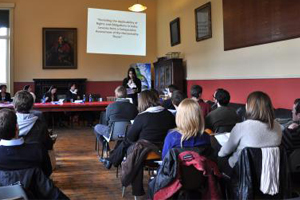 The tenth Trinity College Law Student Colloquium will take place on Saturday, 3rd February 2018, in The Trinity Long Room Hub in Trinity College, Dublin. Judge Anthony M Collins, Chamber President of the General Court of the European Union, will be delivering the Brian Lenihan Memorial Lecture at the GMB Chamber afterwards.   Panels and lectures will run from 9:30 am until 6:30 pm. 

The Trinity College Dublin Law Student Colloquium is an annual conference started in 2009 at which undergraduate and postgraduate law students, recent graduates and young lawyers present their research to their peers. Submissions by undergraduate students are especially encouraged. Students from all over Ireland, the UK and Europe come each year to present their papers.  Panels will be chaired by academics and practitioners.

The Best Colloquium Paper Prize
The Editorial Board will publish the best Colloquium paper in Volume XXI of the Trinity College Law Review. The best paper will also receive a cash prize of €250.

Panels/Topics include:
Private Law
Technology and the Law
Labour, Migration and Citizen
EU Law
Legal Theory
Human Rights
International Law
Civil Procedure and Civil Justice
See the full schedule of speakers here
For further information, please see
https://www.tcd.ie/law/news-events/trinity-college-law-student-colloquium-saturday-3-february-2018
Trinity College Law Student Colloquium is organised by the School of Law TCD.
Campus Location
:
Trinity Long Room Hub Arts and Humanities Research Institute
Accessibility
: Yes
Room
: Neill Lecture Theatre
Event Category
: Alumni, Careers, Conferences, Exhibits, Lectures and Seminars, Public
Type of Event
: One-time event
Audience
: Undergrad, Postgrad, Alumni, Faculty & Staff, Public
More info
:
www.tcd.ie…