Beyond 2022 - Archive of the Future
Thursday, 8 February 2018, 3 – 5pm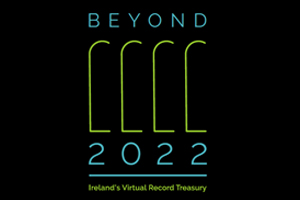 To celebrate the launch of 'Beyond 2022: Ireland's Virtual Record Treasury' project, a panel discussion of leading practitioners will discuss the digital challenge presented by The Archive of the Future, and the opportunities offered by outreach and international collaboration.

Visit the new website for the Beyond 2022 project - Archive of the Future here
The Panellists
Jeff James, Chief Executive and Keeper of The National Archives (UK)
Natalie Harrower, Director of the Digital Repository of Ireland
Michael Willis, Director and Deputy Keeper of the Records, PRONI
The moderator for the event is:
Helen Shenton
, The Librarian and College Archivist, Trinity College Dublin
Between 1867 and June 1922, the Public Record Office of Ireland was located in a state of the art building at the Four Courts in Dublin, a magnificent six-storey Victorian repository known as the Record Treasury. This building contained millions of historical documents filling 100,000 square feet of shelving organised into 5,500 series of records accumulated over 7 centuries.
It was destroyed in one afternoon.
On 30 June 1922, the Treasury containing Ireland's documentary heritage dating back to the thirteenth century was destroyed in a cataclysmic explosion and fire at the Four Courts.
The Beyond 2022 project is working towards the creation of a new online resource — the Virtual Record Treasury — which will provide a digital reconstruction of the Record Treasury of the Public Record Office of Ireland as it existed in 1922, on the eve of the fire. The Beyond 2022 team is working to assemble a complete inventory of loss and survival of the 1922 fire. This will serve as a vital hub to connect the lost records with substitute sources (copies and transcripts of lost originals) in archives and libraries around the world.This will become not only an essential platform for academic research but also a public resource with global reach and impact among the Irish at home and abroad.
Beyond 2022 represents a collaboration between Trinity College Dublin and its archival partners:
 National Archives (Dublin)
The National Archives (UK)
The Public Record Office of Northern Ireland
The Irish Manuscripts Commission.
The project is funded by the Irish Research Council and supported by Trinity's
ADAPT Centre
and
Making Ireland Research Theme.
This project is funded by the Irish Research Council.
Visit the Beyond 2022 website here
Campus Location
:
Trinity Long Room Hub Arts and Humanities Research Institute
Accessibility
: Yes
Room
: Neill Lecture Theatre
Research Theme
: Digital Humanities, Making Ireland, Manuscript, Book and Print Culture
Event Category
: Alumni, Arts and Culture, Exhibits, Lectures and Seminars, Library, Public, Special events
Type of Event
: One-time event
Audience
: Undergrad, Postgrad, Alumni, Faculty & Staff, Public
Cost
: Free (but registration is essential)
More info
:
beyond2022.ie