Plant Ethics and the Future of Food Production: Smart Farming vs. Gardening?
Tuesday, 31 October 2017, 6 – 7pm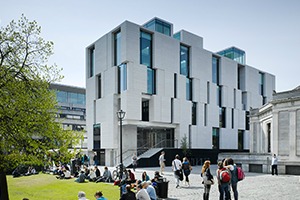 This Lecture is presented by Prof. Angela Kallhoff, Professor of Ethics with Special Emphasis on Applied Ethics, University of Vienna, Austria, Faculty of Philosophy and Education.

Her research projects include:
Nano-Norms-Nature : Angela Kallhoff is Head of the interdisciplinary Research Platform at the University of Vienna: nano-norms-nature.univie.ac.at
New Directions in Plant Ethics: since 2014: plantethics.univie.ac.at
Moralities of Warfare:  An Interdisciplinary Research Project on Just War Theory, with emphasis on the interpretation of the soldier's motives and reasons in warfare.
Climate Justice: A lecture series at the University of Vienna with international researchers in climate ethics, funded by the City of Vienna funds for culture MA 07 (since 2011). A publication with De Gruyter in the "Wiener Reihe" in 2015.
Public Goods: Research on public goods at the interface of political economy and political philosophy; contributions to the interventionist thesis, to public goods and markets, and to problems of collective action (2003-2005).
The lecture is followed by a book launch by Dr. Wilfrid
Harrington of Margaret Daly-Denton, 'Supposing Him to be the Gardener.
John - An Earth Bible Commentary', and a reception.
Campus Location
:
Trinity Long Room Hub Arts and Humanities Research Institute
Accessibility
: Yes
Room
: Neill Lecture Theatre
Event Category
: Arts and Culture, Lectures and Seminars, Public
Type of Event
: One-time event
Audience
: Undergrad, Postgrad, Alumni, Faculty & Staff, Public
Cost
: Free