Crafting Employability Strategies for HE Students of Languages in Europe
Thursday, 7 September 2017, 11:15am – 4:40pm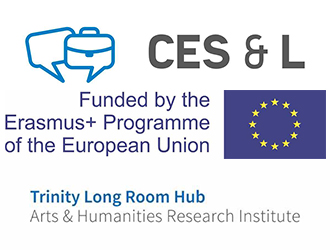 Launch of New Employability Module for Students of Modern Languages.
About the event:
There are a wide range of opportunities for graduates with languages. Companies currently in Europe hiring include Accenture, Apple, Aravato, Cognizant, Convergys, EA, eBay, Gerson Lehrman Group, National Pen, Paypal, VMWare, SAP, Wayfair.

This module launch is an opportunity for:
academic staff and teaching assistants of languages to explore how careers workshops could help their students reach their career potential during and after College and to meet employers of their graduates.
employers to understand how their skills needs can be integrated into an academic module and to network with academic and career professionals.
careers professionals to see how work authored by their professional association, AHECS, has been adapted for students of languages and to network with academic staff and employers.
Workshops have been adapted by academic staff and career professionals in Europe for students of languages to assist them in their career decision making, exploring the future of work, the job search and making job applications.
Event schedule:10.45am
Registration/Coffee
11.15am
Welcome Address, Brendan Baker (Chair, AHECS)
11.30am
"Skills for the next step -importance of embedding employability into higher education"
Claire McGee, Senior Innovation and Education Executive, IBEC, Ireland
12.30pm
Lunch
Sponsored by AHECS
1.30pm
CES&L (Erasmus+) "Careers Module For HE Students of Languages Launch"
Project introduction, process and findings including results of our surveys with European employers
Delivery of two workshops by CES&L European Partners
Workshop 1:
Entrepreneurship, languages and the labour market.
Entrepreneurship is more than running a business. It is a mindset, and a key competence sought in job candidates by employers. The
workshop introduces the CES&L module and discusses approaches how an entrepreneurship competence can be enhanced for language students in higher education.
Workshop 2:
Designing my destiny with others.
This workshop aims to help participants to increase their self-awareness in order to enhance their career management and decision-making capabilities and
how these impact on their ability to drive and influence their career development.
4.30pm:
Closing Address, Brendan Baker (Chair, AHECS)
Attend the event:
If you are interested in attending this CES&L (Crafting Employability Strategies & Languages) module launch, please fill out your details in this link to confirm your place –
https://goo.gl/forms/caLQ1jc68OAyuYXz1
Should you have any questions, please contact Orlaith Tunney at
orlaith.tunney@tcd.ie
About the project:
An Erasmus+ funded project (2015-2017)
"Crafting Employability Strategies for HE Students of Languages in Europe"
adapted an existing module
"Crafting the Present for Future Employability"
for students of languages based on a
needs analysis of employers of language graduates in Europe
. All workshops will be available from September 2017 at
Languages4Work
.
Campus Location
:
Trinity Long Room Hub Arts and Humanities Research Institute
Accessibility
: Yes
Room
: Neill Lecture Theatre
Event Category
: Lectures and Seminars, Public
Type of Event
: One-time event
Audience
: Faculty & Staff, Public
Cost
: Free, but registration is required.
Contact Name
: Orlaith Tunney
Contact Email
:
orlaith.tunney@tcd.ie
More info
:
languages4work.eu