Certificate programme information
The Certificate Course is made up of 10 modules, eight mandatory and two elective. These subjects enable students to participate in the expressive arts, humanities and to develop transferable skills. Each module consists of lectures, tutorials as well as self-directed learning.
Mandatory Modules
Elective Modules
Mandatory Modules
Written and Oral Communication
This module will build on basic literacy skills for effective communication. The emphasis of this module will be on written and spoken literacy to promote self determination and full citizenship within inclusive community contexts.
During this module the students from Trinity Centre for People with Intellectual Disabilities will work with students from the Speech and Language Department, TCD, on different projects.
Students participating in the Written and Oral Communication module
Mathematics and Financial Management
This module will focus on applied mathematical skills and strategies relevant to a variety of contexts especially employment, community living and full citizenship.
Using mathematical skills and strategies, it will focus on money management, budgeting, time management and measurement.
Students participating in the Mathematics and Financial Management module
Information and Communication Technology
This module will use current technologies to access information available in electronic format. The recording of information in text based, visual and audio formats will be studied.
Processing of information so that it may be shared via e-mail and/or presented electronically or in hard copy to an audience will be explored.

Students participating in the Information and Communication Technology module
Personal Effectiveness
This module will enable the students to acquire the interpersonal skills necessary for self determination and community participation leading to full citizenship. It will focus on developing the student's increased understanding of self, listening skills, problem solving and facilitation strategies. The module will enable the students to explore the concepts of rights and responsibilities. It will offer opportunities for personalised planning and the application of advocacy within various situations.
Students participating in the Personal Effectiveness module
Applied Learning Skills
Within this module students identify a discipline of interest offered by Trinity College. The student will select a module that relates to this discipline of interest and attend a series of lectures /workshops offered within the module.
This module will also provide students with research skills to collect, analyse and present the outcomes of the process in relation to their own experience and the experience of others.
Students participating in the Applied learning skills module
Career Development
This module explores the purpose of work and work options. It develops the knowledge and skills for locating, securing and maintaining employment. The module focuses on creating a curriculum vitae and writing and maintaining a reflective work based diary.
Students undertake work experience placement as part of this module.

CCL student participating in the Career Development module
Social Sciences: An International Perspective
This module grounds students in their own lifestyle and culture. It leads to a comparative analysis with at least one other country. Features studied will include history, language, folklore, cuisine, currency, science and technology, health, political systems, economics and geography. As part of this module students will collaboratively plan a field trip to the country selected for this comparison.
This module allows 2nd Year CCL students to compare and contrast Ireland with another European country, that culminates with a field trip. In class the students explore the politics, culture, geography and the development of each nation's history. They also examine their role as a citizen in multi-cultural Ireland and how current policies affect their position in society as Irish people with disabilities. They have completed group projects including World War Two, 1916 Rising, The Irish famine.
Barcelona 2013: In April 2013 we went to Barcelona for our Social Science International Away trip 2013.
As a group, we have discussed and reflected on what we enjoyed about the trip and what we feel captured with our photographs.
Barcelona 2012: Over four days in Barcelona, students from 2nd year and staff enjoyed a range of cultural, historical and social activities. Highlights of this year's trip included a bus tour of the city, exploring Gaudi Park, a traditional flamenco show, visiting a Spanish food market and sampling the local cuisine. The final element of the trip requires the students to prepare a power-point presentation comparing Ireland and Spain through a range of topics chosen by the students on their return from the trip. This year presentations by the students will focus on the following areas; history, tourism and consumerism, culture, music and dancing, and traditional cuisine. "This was the first time I have travelled abroad without my parents, it was great fun and I loved tasting the different Spanish food, Gaudi park was cool." CCL Student.
Berlin 2011: 'We are 2nd year students undertaking the Certificate in Contemporary Living at Trinity College. We attend college three days a week and one of the modules we are studying this year is called Social Studies: An International Perspective. As part of this module we organised a field trip away to a European country". This year the group picked Germany. In class we have compared Ireland and Germany in the following areas: history, culture, geography, society and politics. We have looked at maps, rivers, forests as well as learning important insights into the traumatic history of both countries. Through group discussion we have explored World War Two, the 1916 Rising and the Irish Famine. We planned to visit the Berlin Wall, Brandenburg gate, and Checkpoint Charlie amongst others. We have also planned cultural activities in the evening like eating German food, listening to music, meeting German people and sampling their beer.' - 2nd Year CCL Students 2011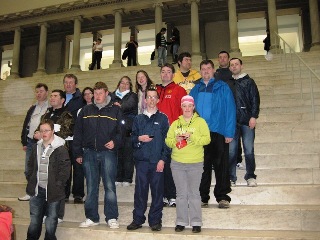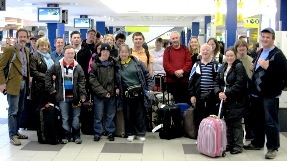 Berlin, April 2011
Athens, July 2007
Work Placement
A student participating in the Work Placement module
This is an applied module where students undertake community based work experience. The module requires the direct application of applied work skills.
Successful work experience promotes full citizenship and enhances community inclusion and participation.
Elective modules
Dance and Drama
The module will provide an introduction to drama, dance, theatre, film and performance. It will present historical, theoretical and practical elements of dance and drama through an exploration of theory and practice.
Students will be actively engaged in both art forms.
Students participating in the Dance and Drama module
Art and Design
This module will demonstrate how Art and Design can be used as a form of visual and tactile communication. It will develop particular creative and technical skills so that ideas can be realised and artefacts produced.
An appreciation of the contribution made by artists, crafts workers and designers will be explored. Ways of responding thoughtfully, critically and imaginatively to ideas, images and objects from Irish and other cultures will be examined.
Students participating in the Art and Design module
Creative Arts Appreciation and/or Performance
The module will actively engage the students to explore a chosen area of the expressive arts. The module will provide an opportunity for students to work in partnership with individuals and/or groups in activities focused around their chosen creative art form. The process of learning will take place within a community setting.