International
The School of Social Sciences and Philosophy is a vibrant intellectual community of researchers, teachers and students which combines high-quality teaching with expansive research activity.
Educating Global Citizens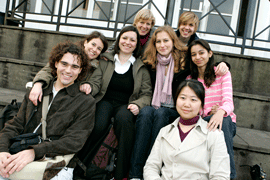 Each year, the School welcomes growing numbers of visiting and full-time students from around the world who enrich our shared multicultural learning environment.
We strive to educate global citizens who will have a real impact on society and who will enhance public debate and understanding of key economic, political, social and philosophical issues:
Study Abroad Opportunities
We encourage our students to participate in study abroad programmes at distinguished universities around the world such as Georgetown University, Washington DC, the National University of Singapore and ETH in Zurich. This is a unique opportunity for students to not only enrich their academic education but also to gain invaluable intercultural, language, social and civic skills. Visit the Study Abroad section or individual department websites to find out more about study abroad opportunities:
Visiting Students
Whether students are here for a single term, or an entire academic year, we hope their time at Trinity is both fun and academically rewarding. Further information, including Visiting Student Coordinator contact details, is available on the Study Abroad section or individual department websites:
International Research Expertise
Our commitment to a research-led education means that our students are exposed to leaders in their discipline and to the latest knowledge and ideas. The School is recognised internationally for its research expertise on issues of global societal and economic importance including migration, development, international macroeconomics and political and economic integration in Europe.
Highly Regarded Graduates
Former students are now leaders in fields as diverse as business, education, journalism, government and public service, across the globe.  Many graduates have gone on to postgraduate study both at Trinity College and at other leading universities around the world such as the Massachusetts Institute of Technology (MIT), the University of Cambridge and the University of Melbourne.