Public Lecture - Independence, Nationalism and Democracy
Date: Tuesday, 29 January 2019

Time: 6.00-7.30pm

Venue: Ed Burke Lecture Theatre, Arts Building, Trinity College
Movements for independence, within the EU in Scotland, Catalonia and the British vote to exit the EU, have become an increasingly prominent feature on Europe's political landscape over recent years. But what challenges do seceding nations face and what are the potential gains in terms of policy autonomy and political sovereignty?
These and other fundamental issues related to contemporary European secession were considered at a public event co-hosted by Trinity Research in Social Sciences (TRiSS) and the School of Social Sciences and Philosophy at Trinity College Dublin.
Event Speakers
Mr Carles Puigdemont - Catalan Politician
The political situation in Catalonia and the right to self-determination in Europe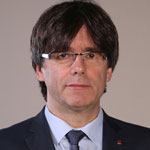 Carles Puigdemont developed his professional career as journalist at newspaper El Punt, where he would later become editor-in-chief and the general director of Catalonia Today, a daily newspaper in English which he helped launch. He has been politically active since November 2006, when he was elected as a member of the Parliament of Catalonia for the Girona region. In 2011 he was elected as Mayor of Girona and re-elected in 2015 and from July 2015 until January 2016 he served as president of the Association of Municipalities for Independence (AMI). On January 12th 2016 he was officially sworn in as the 130th President of Catalonia.
Under his presidency, the Catalan independence referendum was held on October 1st 2017. He is currently the President of the Council for the Republic, an organization to promote the Catalan Republic abroad and the defence of civil and political rights of Catalan citizens.
Dr Marvin Suesse - Assistant Professor in Economics, Trinity College Dublin
The Economic Costs of Sovereignty
Marvin Suesse is Assistant Professor in Economics at Trinity College Dublin. His research focusses on the political economy of separatism and nationalism. In his past publications, he has examined the growth of separatist movements in central and eastern Europe, as well as assessed the economic consequences of secession. His present projects include the book "Dreams of Isolation: A Global History of Economic Nationalism".
Dr Michelle D'Arcy - Assistant Professor in Political Science, Trinity College Dublin
Secession and the Fiscal Contract: Reflections from the Post-Colonial World
Michelle D'Arcy is an Assistant Professor in the Department of Political Science, Trinity College Dublin. She teaches African politics and the political economy of development to undergraduate and postgraduate students. Her research broadly focuses on understanding how politics and institutions enable and constrain human development and more specifically on democratization in Africa and state-building in Europe historically.
Dr Emanuel Coman - Assistant Professor in Political Science, Trinity College Dublin
When does the Right to Self-Determination Actually Apply?
Emanuel Coman is Assistant Professor in Political Science at Trinity College Dublin. He teaches courses in comparative institutions and American Politics. His research is primarily in the fields of party politics and elections, with empirics driven primarily from Eastern Europe.
Event Chair
Gail McElroy is Professor in Political Science and Head of the School of Social Sciences and Philosophy. Her primary research interests are in the fields of legislative behaviour and party politics. Gail is also actively involved in the Irish National Election Study and the Irish Candidates Study and recent published work in this area explores the continued under-representation of women in politics.
Photo Attributions: event overview photo and speaker photo - Generalitat de Catalunya