Invasion 1169
The National Conference on the Occasion of the 850th Anniversary of the Anglo-Norman Invasion, 2–4 May 2019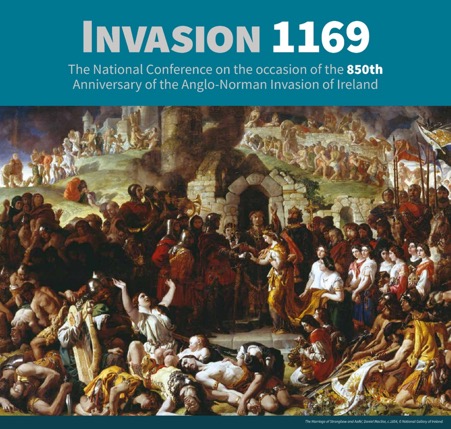 Thursday 2nd – Saturday 4th May 2019
Edmund Burke Theatre,
Arts Building, Trinity College Dublin

Admission Free • All Welcome
REGISTER HERE
About this Event
May 2nd, 2019, marks, perhaps to the very day, the 850th anniversary of the first landing in County Wexford in 1169 of the Anglo-Norman adventurers enlisted by the king of Leinster, Diarmait Mac Murchada. Their arrival marks the start of the Anglo-Norman Invasion of Ireland.
Within two years, Henry II would become the first reigning English monarch to set foot on Irish soil. In what was arguably the single most formative event in Irish history, King Henry formally brought the island under the lordship of the English crown, a constitutional relationship that endures to the present day in the case of Northern Ireland.
To mark the 850th Anniversary in May 2019 of this foundational moment in the shared history of Ireland and Britain, Trinity College Dublin will host the national conference on the history of the Invasion, which will take place on 2nd to 4th May 2019. By assembling a platform of world experts, the conference will communicate the latest findings in historical scholarship on the 1169 Invasion and its aftermath to the widest possible audience. This conference also marks the third meeting of the biennial Trinity Medieval Ireland Symposium, a series that seeks to make cutting-edge historical scholarship accessible to all people and promote a wider public understanding and enjoyment of medieval Irish history.
Speakers include:
David Bates (East Anglia) * Elizabeth Boyle (Maynooth) * Keith Busby (Wisconsin-Madison) * Bruce Campbell (QUB) * Denis Casey (Maynooth) * Peter Crooks (Trinity) * Ruairí Cullen * Seán Duffy (Trinity) * Marie Therese Flanagan (QUB) * Robin Frame (Durham) * Jeremy Hill * Rachel Moss (Trinity) * Ronan Mulhaire (Trinity) * Máire Ní Mhaonaigh (Cambridge) * Colmán Ó Clabaigh (Glenstal Abbey) * Ruairí Ó hUiginn (DIAS) * Linzi Simpson * Thomas W. Smith (Leeds) * Michael Staunton (UCD) * Colin Veach (Hull) * Nicholas Vincent (East Anglia) * Caoimhe Whelan (Trinity)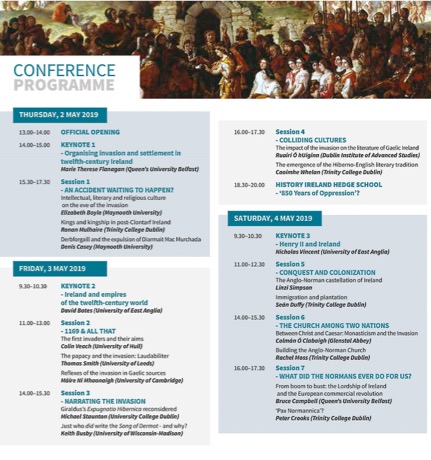 Contact
Further Information: invasion1169@gmail.com

Professor Seán Duffy, Department of History
Trinity College, Dublin 2, Ireland

Dr Peter Crooks, Department of History
Trinity College, Dublin 2, Ireland

Dr Caoimhe Whelan, Academic Coordinator
Twitter: @invasion1169
Facebook
Eventbrite
The organizers wish to acknowledge the generous support of The Department of Culture, Heritage and the Gaeltacht; The British Embassy; Dublin City Council; and Fáilte Ireland.