Dr. Nicole Volmering, B.A., M.Phil (Dublin)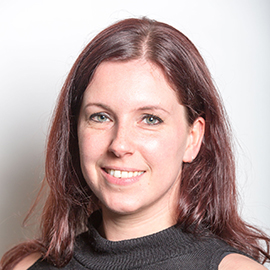 Dr. Nicole Volmering is an Irish Research Council Postdoctoral Fellow in the Department of Irish and Celtic Languages and the Long Room Hub at Trinity College Dublin. She previously held an O'Donovan Scholarship at the Dublin Institute for Advanced Studies and a De Finibus Fellowship at University College Cork, where she obtained her PhD in Early and Medieval Irish. Her doctoral dissertation won the Johann-Kaspar-Zeuß prize for Best Dissertation in Celtic Studies for 2015.
She originally hails from the Netherlands, where she completed degrees in English (with a specialisation in Old English) before moving to Ireland. She also previously taught Medieval and Modern Dutch at Trinity, and obtained her first degree (M.Phil) in Early Irish in the Department in 2009.
Her general research interests include medieval Irish language and literature, linguistics and manuscript studies, as well as Old English and medieval Latin literature, but she particularly enjoys working within the following areas:
the history and transmission of religious texts, especially those relating to asceticism and eschatology
genre development and literary adaptation
cross-border intellectual exchange (esp. between early medieval Ireland and Anglo-Saxon England).
Her doctoral work focused on pre-twelfth-century visions of the afterlife of Irish provenance. She currently runs the IRC-funded project 'Religious Writing in Ireland, 800-1630: The Transmission and Reception of the Félire Óengusso', which concerns the transmission history of the Félire or Martyrology of Óengus, and as part of which she is producing a new critical edition.