Lena Younes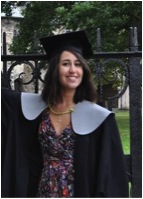 PhD Student
Biography
I grew up in Geneva, Switzerland, and studied Joint Honours History and Drama at the University of Kent. I started my PhD in 2011 under the 'Texts, Contexts and Cultures programme' and am supervised by Sarah Alyn Stacey.
Thesis
Perceptions of the Other: The Wintering of the Ottoman Fleet at Toulon in 1543-4 and its Sociocultural Repercussions.
Interests
The aim of my research is to determine the sociocultural impact of the Franco-Ottoman alliance in the sixteenth century, paying particular attention to the wintering of the Ottoman fleet in Toulon. In 1543, the inhabitants of the French coastal town were ordered to vacate their homes so that the allied Ottoman fleet, consisting of 30,000 men, could be accommodated during the winter of that year. In return, they received a 10-year tax exemption – heads of house and artisans, however, were to remain. A certain amount of cultural and social exchange took place, affecting local perceptions of the Muslim Other at a time when the Franco-Ottoman alliance was decried as scandalous in other parts of Christendom. I would like to ascertain how this encounter was viewed by the French and whether it resulted in a confirmation or refutation of contemporary stereotypes. I hope to use this event to illustrate trends of tolerance and intolerance of the period, particularly in terms of if and how the image of the Muslim – or specifically the Ottman Turk – changed over time.
Other interests include the French Wars of Religion, early modern witch-hunts, Tudor England – including Elizabethan theatre – as well as aspects of the Crusades.