Agallamh le Tomaí Ó Conghaile
This is a translation of an interview with Tomaí Ó Conghaile, conducted by Aonghus Dwane, TCD Irish Language Officer, and published in the TCD Alumni magazine "Trinity Today" in November 2010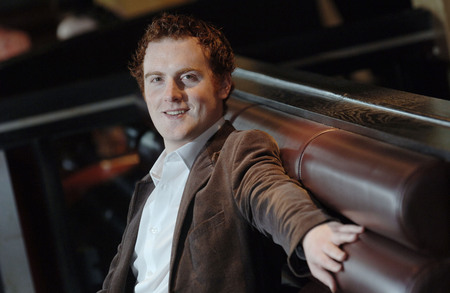 Aonghus Dwane, TCD Irish Language Officer, spoke with Tomaí Ó Conghaile, a TCD graduate (BA 2004), about his life and work.
Tell us something about yourself, Tomaí
I hail originally from County Armagh, outside Newry. It was there I went to school-I attended Coláiste Cholmáin in Newry-and it is there I started learning Irish also. While neither my parents and my sister had much Irish, the language had still been alive in my own district at the beginning of the last century, and my family were very interested in the culture when I was growing up-this certainly encouraged me in the direction of the Irish language.

Why did you select Trinity College? Which course of study did you follow here?
I always intended to study Irish in University, but it also occurred to me that it would be interesting to learn another language at the same time. There was something very attractive about studying in a lively city like Dublin and when I found out that I could do Spanish and Irish together in Trinity College, I seized the opportunity and started out on my Trinity journey!
You participated in the Residency Scheme in TCD-tell us a little about that.
I had a great time in TCD, not only was there great craic and enjoyment there but it opened my eyes in regard to the possibilities that Irish offered. In my final year, the Irish Language Residency Schemes were begun on campus, and I was lucky to get a place there. There is no doubt but that this was the best year I had in University-a house full of Irish speakers, all doing various courses but speaking Irish all the time. There was a great atmosphere there and the scheme benefited the image of the language in the university generally. The scheme is still adding to the life of Irish in TCD today and I'm very grateful and happy I had the opportunity to participate.
You went to work with the media-how did you become interested in working with them?
I started writing for Trinity News when I was in second year-I was Irish language editor there and I was appointed deputy editor of the paper after that. Therefore, I entered the world of the media through Irish and I greatly enjoyed that type of work-making information available to the public and promoting Irish at the same time. With the experience in media that I got in TCD, I succeeded in getting a job with the daily newspaper "Lá Nua" in Belfast. I tried the broadcast media also, and I had a programme on Raidió Fáilte before starting as presenter and producer with BBC Radio Ulster. I learnt a great deal there and I was even put in front of the cameras when the programme Imeall Geal was launched a few years ago. I greatly enjoyed presenting that and the second series was broadcast on BBC2 recently.
I always had a vision of launching my own projects, and this is what I am engaged in at the moment. After becoming acquainted with other language movements such as Basque and Catalan, it occurred to me that there was a need to develop the Irish language media sector here, therefore in 2008, I started the lifestyle magazine, nós*. This magazine deals with contemporary life, and is available online, as well as a print edition which is being restructured at present. I am also involved was another project which is very important, Nuacht24, an online news service on which stories and videos are uploaded each day.
Are you still in contact with College?
I am still in contact with a good number of people who were in Trinity College with me, and I have dealings with the School of Irish from time to time also. With the internet, I can keep myself informed as to what the Cumann Gaelach etc is doing, and it is heartening to see the good work being done in TCD at present-the university is being Gaelicised gradually!
Many thanks for speaking with "Trinity Today", Tomaí, and every success in the future!