Equality Diversity and Inclusion - Micro-credential
Overview
Who is this Micro-credential for?
• This micro-credential will be relevant to those interested in understanding and promoting equality, diversity, and inclusion (EDI) in work and society. This will include professionals or aspiring professionals in civil society groups and/or public social service sectors with an interest in under-represented or socially excluded groups.
• In addition, the micro-credential will be of interest to professionals in private enterprise, including HR professionals and those in Corporate Social Responsibility roles who are driving positive cultural change within their organisation through the development and implementation of EDI policies.
Why should I take this Micro-credential?
• The overarching aim of this micro-credential is that learners, on completing the learning content, will apply their learning and understanding in their workplaces, organisations and their communities, to support and promote EDI principles, constructs, and policy outcomes.
When can I start this Micro-credential?
• There is one intake per year in January
• Next available start date: 30th January 2023
What do I need to be accepted onto this Micro-credential?
• Academic Entry Requirement: Minimum Level 8 Degree
or alternatively
• Career Experience Entry Requirement: Three years' experience in a profession concerned with an EDI context: public, private, or voluntary sector. This experience should amount to a minimum of three years in the role/ or sector (C.V to be uploaded with application detailing employment history)
• Prerequisite documents required - CV and University Transcripts/Degree parchment where applicable
What will I learn?
On successful completion of this micro-credential, learners will be able to:
1. Systematically understand how social policy constructs and recognises the risks and needs of a variety of social groups.
2. Critically interrogate how/if social policy contributes and promotes equality, diversity, and inclusion for all in society across a variety of policy domains, and relevant to the learner's field of interest.
3. Debate, using the knowledge and insights garnered from engagement with micro-credential materials, the underpinning purpose, delivery, and outcomes of policy measures in the context of the lives of the groups of people they were intended to benefit.
4. Evaluate current and possible alternative policies, grounded in reflective analysis, self-directed learning and marshalling of literature and empirical evidence, in the Irish social policy context.
5. Apply their critical and reflective learning, to their area of interest and orientate their learning to their role or sector, to formulate and outline an innovative policy proposal to promote the best interests and needs of a societal group of their choosing.
What will I do?
• This micro-credential will engage learners in an introductory understanding of, and critical engagement with, the area of social policy and equality, diversity, and inclusion infrastructure in the Irish context.
• Learners will explore how social policy is constructed; and constructs, intersects, understands, and addresses the needs (or not) of diverse social groups through the lens of equality, diversity, and inclusion: through a critical interrogation with empirical evidence, policy document analysis, advocacy 'voices 'and experiential/ observational critical reflection with the Irish EDI infrastructure and policy landscape and beyond.
How will this Micro-credential be delivered?
• The micro-credential will be delivered fully online to facilitate learners and the specific needs of industry.
• Tutorials will take place one evening per week live online – additionally the tutorials will be recorded and made available for access by learners who could not attend the live session.
• The content is designed to engage learners in their everyday lives - whatever their professional, sectoral, or personal interest.
How is this Micro-credential assessed?
There are two methods of assessment:
• Reflective memoing (20%)
• Final written assignment in the form of a policy 'white paper', a report or a proposal (80%)
Course Details
Awards
5 ECTS
Number of Places
40 Places
Next Intake
January 2023
Course Coordinator
Michelle Moore - moorem11@tcd.ie
Course Director
Catherine Elliott O'Dare
Closing Date
9th January 2023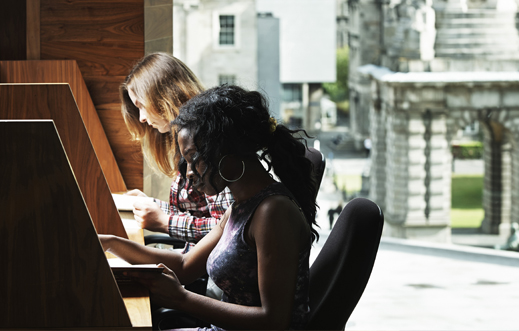 Admission Requirements
• Level 8 Degree and up-to-date CV
Before Applying, PLEASE NOTE THE FOLLOWING:
1. Submit your personal details on the application form.
2. Log in to the my.tcd.ie portal with your (new) login credentials.
3. Upload documents as required by the school for the micro-credential
Course Fees
Click here for a full list of postgraduate fees
Apply
To apply, click on the relevant Apply Link below
Get in Touch
Telephone Number
00353 (1) 896 2001
Email
General Enquiries: micro-credentials@tcd.ie
Course Coordinator: Michelle Moore – moorem11@tcd.ie
Course Director: Catherine Elliott O' Dare - elliot@tcd.ie
Register Your Interest
Register your interest at Trinity College Dublin, the University of Dublin.
As Ireland's leading university, we offer a wide range of postgraduate programmes at masters, diploma and certificate level.
Trinity is an international university steeped in history, with a reputation for excellence in education, research and innovation.