CL7073 PG Latin Language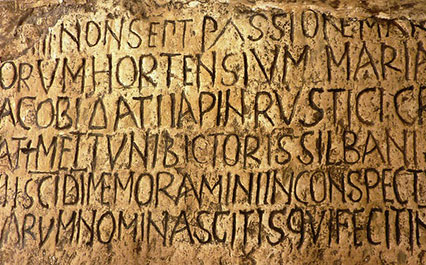 This module is intended primarily for students who wish to take the study of Latin further, and aims to support independent reading of unadapted literary and/or documentary Latin. The module requires continuing independent revision of Latin grammar and translation of Latin texts of limited difficulty, with the aid of a single contact hour to address difficulties and questions.
Module Organisers:

Professor Anna Chahoud and Dr Charlie Kerrigan

Duration:
Contact Hours:
Weighting:
Assessment:

20% continuous assessment (weekly assignments) and 80% end of year examination (two unseen passages for translation)

Prerequisites:

Either CL7071 Elementary Latin, or previous experience of Latin including Leaving Certificate or equivalent, subject to Coordinator's approval.
The module is taught in small groups through one weekly class in Hilary Term (Semester II). Attendance, homework assignments and preparation for each class are compulsory.
Textbook
Materials for translation will be handed out in class.
Learning Outcomes
On successful conclusion of this module, students will be able to:
Manage an extensive Latin vocabulary.
Recognise and analyse complex grammatical and syntactical structures.
Translate and analyse unseen original Latin texts with minimum vocabulary aid.