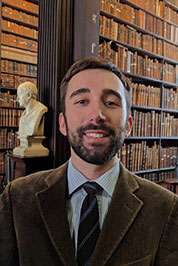 Dr Giacomo Fedeli
Irish Research Council Postdoctoral Fellow
I studied Classics in Italy (BA, University of Milan, 2011) and the UK (MA and PhD, King's College London, 2013 and 2017), with a short research stay in Switzerland (Fondation Hardt, 2015). I taught modules in Latin language and literature at King's College London and the Courtauld Institute of Art, and became a Fellow of the Higher Education Academy, before joining Trinity as a Postdoctoral Fellow (2018-2020). My IRC-funded postdoctoral project, which builds on the results of my doctoral research, aims to reconstruct narratives of literary history outlined or implied in Horace's works, and to investigate the relationship between the poet's perspectives on the literary past and the cultural and socio-political background against which they were conceived.
My main areas of interest are Roman satire in the Republican period, intellectual life in the first century B.C., and Augustan poetry. Other topics on which I have presented and published papers in the past include cultural memory in Greek tragedy (especially in Aeschylus) and methodological aspects of ancient literary criticism. I have also been collaborating on a translated and commented edition of the Latin works of Antóin Mac Bruaideadha, a seventeenth-century Irish theologian and historian involved in the defence of Gaelic culture during the English dominion over Ireland.
Selected Publications
Fedeli, G. (2017), "The Text of Horace, Satires 1.4.4: Greek Old Comedy and Lucilius", CQ, 67: 182-192, [with an editorial corrigendum on p. 284].
Fedeli, G. (forthcoming), "The Sorrows of Young Horace:learning to love, learning through love", in an edited volume on The Pathology of Love in Greek and Roman Literature (Cambridge University Press).
Contact Details
Department of Classics
Trinity College
Dublin 2
Telephone: 00 353 1 896 1208
Fax: 00 353 1 671 0862
Email: giacomo.fedeli@tcd.ie