8.9.21 Virgil in Naples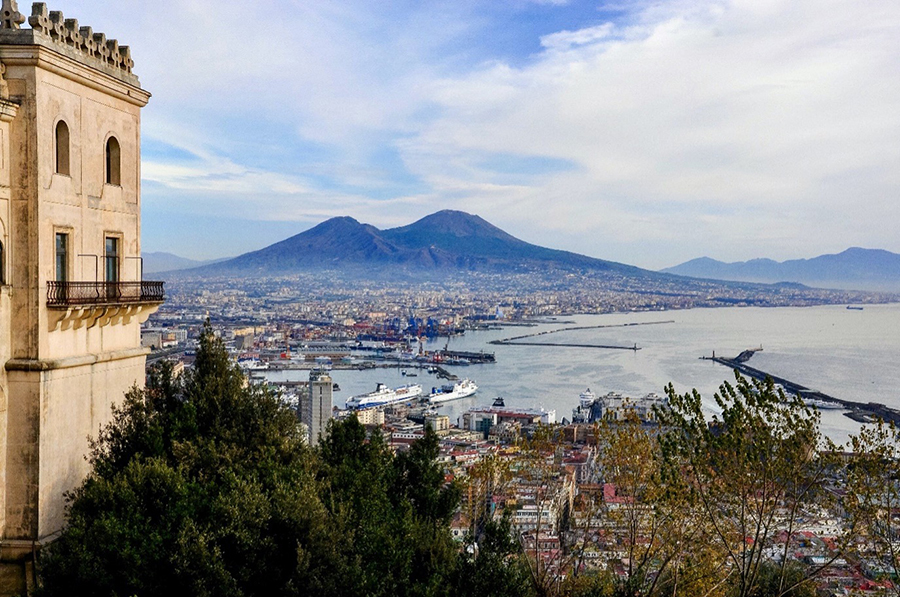 View of Naples, with Vesuvius in the background (Francesco Baerhard, via unsplash)
.

Elena Ferrante's Neapolitan novels, first published between 2012 and 2015, chart the friendship of two friends, Elena and Lila, from childhood to old age. Elena gets to stay in education, studies classics at the University of Pisa, and becomes a writer. Lila, though highly intelligent, doesn't get the same opportunity, marries young, and works full time from her teens. The books offer an unflinching account of life in working-class Naples (from the sixties to the present day) and the lives that women lead within that world, exemplifying the 'seen and human richness' which Robert Lowell said characterizes a great novel. Elena studies Greek and Latin in secondary school and continues at university, where she begins her own journey as a writer trying to find her voice in a man's world. Ferrante writes well about her own relationship with classics, in words that I try to pass on to my students. 'I have to say', she told the New York Times in 2014, 'that I've never seen the classical world as an ancient world. Instead I feel its closeness, and I think I've learned many things from the Greek and Latin classics about how to put words together. I wanted to make that world my own, and I practised with translations that tried to remove the lofty tones that I had been taught to use in school. But at the same time I imagined the Bay of Naples filled with sirens who spoke in Greek, as in a lovely story by Giuseppe Tomasi di Lampedusa.'
Ferrante writes particularly well about Naples, a city often condescended to and defined in terms of criminality. While acknowledging the violence and the problems stemming from it that exist in the city, both she and her characters call out the hypocrisy of those who would paint other cities, and indeed Europe as a whole, in squeaky clean terms. Violence exists everywhere, in many different forms, they remind us, it's just that in the wealthiest parts of the world more people have the luxury of ignoring or forgetting this fact. At the end of the fourth novel Lila has been researching the history of Naples: ever in competition, Elena is puzzled as to what her old friend's been up to, whether she's secretly writing a book of her own. And it's here that Virgil makes his final appearance in the quartet, not as the bard of ancient Rome but a Neapolitan St. Patrick, a patron-cum-magician who, long connected with the city, watched over its welfare and that of its citizens: driving out the snakes, charming its market to keep food fresh, building baths for the citizens' health, and so on. Though preserved in learned sources, these medieval legends about Virgil in Naples were rooted in a popular folk tradition, one which kept alive the memory of the historical Virgil's time in the city, where he wrote the Georgics and where he was buried.
Here is Lila quoting to Elena from the Cronaca di Partenope of Bartolomeo Carracciolo-Carafa, a vernacular history of the city composed around 1350. With the unromantic realism typical of Ferrante (and, it strikes me, of Virgil himself in the closing books of the Aeneid), she makes her point about the violence that has shaped their lives. The English translation is by Ann Goldstein.
Once she talked to me about violence. We believed, she said, that it was a feature of the neighbourhood. We had it around us from birth, it brushed up against us, touched us all our lives, we thought: we were unlucky. You remember how we used words to cause suffering, and how many we invented to humiliate? You remember the beatings that Antonio, Enzo, Pasquale, my brother, the Solaras, and even I, and even you, gave and took? You remember when my father threw me out the window? Now I'm reading an old article on San Giovanni a Carbonara, where it explains what the Carbonara or Carboneto was. I thought that there was coal there once, and coal miners. But no, it was a place for the garbage, all cities have them. It was called Fosso Carbonario, dirty water ran in it, animal carcasses were tossed into it. And since ancient times the Fosso Carbonario of Naples was where the church of San Giovanni a Carbonara stands today. In the area called Piazza di Carbonara the poet Virgil in his time ordered that every year the ioco de Carbonara take place, gladiator games that didn't lead to the death of men, as they did later – morte de homini come de po è facto (she liked that old Italian, it amused her, she quoted it to me with visible pleasure) – but gave men practice in deeds of arms: li homini ali facti de l'arme. Soon, however, it wasn't a matter of ioco or practice […] Lila, between fascination and horror, spoke to me in a mixture of dialect, Italian, and very educated quotations that she had taken from who knows where and remembered by heart. The entire planet, she said, is a big Fosso Carbonario …
Further Reading
Comparetti, D. 1895. Vergil in the Middle Ages, tr. E. Benecke (London). Available here.
Ferrante, E. 2012–2015. The Neapolitan Quartet: My Brilliant Friend, The Story of a New Name, Those Who Leave and Those Who Stay, The Story of the Lost Child, translated by Ann Goldstein (New York: Europa Editions).
——— 'Writing has always been a great struggle for me', The New York Times, 10 December 2014, available here.
——— 'In a rare interview, Elena Ferrante describes the writing process behind the Neapolitan novels', LA Times, interview with Didier Jacob, 17 May 2018, available here.
Kelly, S. 2011. The Cronaca di Partenope. An Introduction to and Critical Edition of the First Vernacular History of Naples (c. 1350), (Leiden: Brill).