18.9.19 Violets and Roses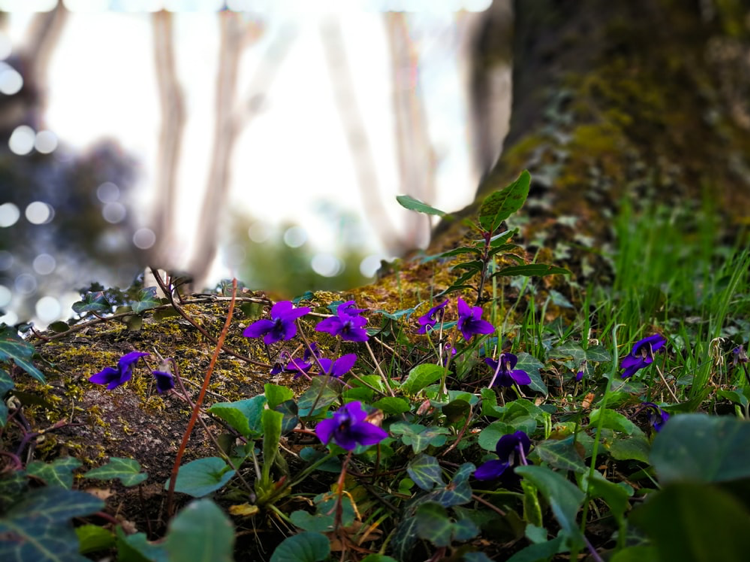 Imagine you are walking into ancient Rome along a dusty and busy dirt road, having spent the last three days and nights travelling up from your town. As you approach the city the road begins to be lined with tombs and stone memorials. It's a bit like a cemetery, except this cemetery is along a busy thoroughfare, and the monuments are competing for your attention. They say things like 'Greetings, passer-by, please stop and read', or 'Thanks for stopping, stranger, may you prosper and sleep without a care'; their lines are often in verse, and often in a very polished type of verse at that. And they are just one manifestation of a very widespread practice of the Romans, inherited from Greece, of inscribing on stone memorials to the dead. These epitaphs survive today in large numbers, their physicality speaking to a whole process of production from the quarry to the stonemason's workshop, then to a special person who etched out the template on the cut stone, and finally to the carver and their chisel. By their nature they commemorate, and were commissioned by, people from all walks of life: this is a kind of popular literature, which 'unlike our generally upper-class and highly cultured literary texts … comes from all social classes and every variety of occupation.' Here are two examples.
CARA · MEIS · VIXI · VIRGO · VITAM · REDDIDI                           
MORTVA · HEIC · EGO · SVM  ET · SVM · CINIS · IS · CINIS · TERRAST
SEIN · EST · TERRA · DEA · EGO · SVM · DEA · MORTVA · NON · SVM
ROGO · TE · HOSPES · NOLI · OSSA · MEA · VIOLARE
            MVS VIXIT · ANNOS · XIII
Can you make anything out? I've put the inscription as it's transcribed to give you a sense of what it would have looked like; this one was found in Rome's Via Rua, and on the original you can see a slight mistake of the stonecutter, who had written MIEIS  for the second word before correcting it. It's a memorial to a young girl; her name, or her nickname, was 'Mouse', or mus in Latin. It reads: 'Dear to my loved ones, I passed away a young girl. Here I lie, dead: I am ash and that ash is earth. But if the earth is a goddess then I am a goddess, I am not dead. I ask you, traveller, not to disturb my bones. Mouse lived for thirteen years.' There is a kind of clear-eyed logic at work here, concerned with the future of the body as much as the soul. 
Here is another one, found in the tower of the cathedral in Corfinio in central Italy and transcribed by a scholar some centuries ago. It's now lost, but that scholar's transcription survives. It commemorates a boy named Optatus ('desired', 'hoped for') who died aged 2 and a half.
HIC · IACET · OPTATVS · PIETATIS · NOBILIS · INFAS                             
CVI  · PRECOR · VT · CINERES · SINT · IA · SINTQ · ROSAE
TERRAQ · QVAE · MATER · NVNC · EST · SIBI · SIT · LEVIS · ORO
NAMQVE · GRAVIS · NVLLIS · VITA · FVIT· PVERI
ERGO · QVOD · MISERI · POSSVNT · PRAESTARE · PARENTES
HVNC · TITVLVM · NATO · CONSTITVERE · SVO.
And here is Edward Courtney's translation: 'Here lies Optatus, an infant known to all for his affection; I pray that his ashes be violets and roses, and that the earth, which is now his mother, be light on him, for the boy's life was oppressive to none. Therefore his wretched parents have set up this epitaph to their son, all that they can do.' This one impressed me too, again with its hopes for a kind of reincarnation that is real poetry:  'I pray that his ashes be violets and roses'. As Courtney notes, many centuries later Shakespeare will have Laertes speak in just this way about his sister Ophelia:
Lay her in the earth:
And from her fair and unpolluted flesh
May violets spring!
Hamlet, 5.1.238–40.
In their humane recording of human loss, these inscriptions blur the boundaries of what is meant, and for whom, by the word 'literature'.
Note: The quotations and translation above are taken from E. Courtney (1995), Musa Lapidaria: A Selection of Latin Verse Inscriptions (Atlanta, GA: Scholars Press), pages 8 and 376.  You can explore Mouse's epitaph further in lesson seven of tabella (here).