1.4.20 Time Flies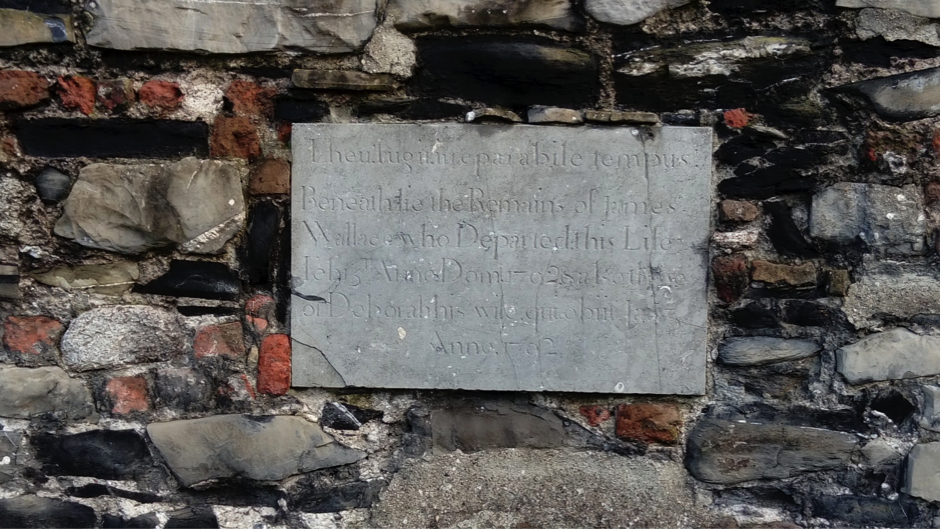 The St. Luke's inscription (author's photo)

There are lots of bits and pieces of Latin around Ireland, on memorials and crests, on churches and gravestones; there may be a particular piece that you pass on your way to work, on a weekend walk;  a motto on your city, town, or county crest. I've been thinking recently that there are two kinds of Latin inscription. The first kind – let's call them inscriptions with a capital I – are proud and sometimes boastful; they occupy prominent positions and use Latin to add prestige and status to whatever enterprise or project they represent: think of the Pantheon in Rome, for instance. Closer to home is the Catholic church of St. Audoen's on Dublin's High Street, which mimics in its architecture a Roman temple and, in its inscription, Rome's most famous temple, that of Jupiter Optimus Maximus, or 'Jupiter the Best and Greatest'. St. Audoen's is dedicated DEO OPTIMO ET MAXIMO, or 'To God the Best and Greatest'. As I pass I find myself questioning the certainty of this superlative Latin, especially when this church appears to want to tower over its smaller, older, neighbour. In any case, the triumphal architecture of ancient Rome has been repeatedly appropriated in Christian, Catholic, and nationalistic contexts.
Then there is another kind of Latin inscription – let's call them inscriptions in the lower case – the ones that talk about love and death, about violets and roses, in much gentler and more intimate tones. And if you're lucky you can come across this kind of inscription too. Before Christmas I was walking from St. Patrick's Cathedral out along Cork Street, and I noticed a church that has been recently refurbished and converted into an office complex. It turned out to be St. Luke's, built 1715–16 and an active church until 1975, when it was closed and fell into disrepair. When built it was in the middle of the street network between Newmarket and the Coombe, with its own tree-filled grounds; now the construction of new link road (St. Luke's Avenue) means it sits perched back from and above a main road. Anyway, attached to this building there is an old wall, and in that wall there is still a solitary plaque, commemorating James Wallace and his wife Deborah, who died in 1792.
Eheu! fugit irreparibile tempus!
Beneath lie the Remains of James
Wallace, who Departed this Life
Feb 13th Anno Domini 1792  & also those
of Deborah his wife, qui obiit Jan 3
Anno 1792.
Some of this Latin you may be familiar with – Anno Domini for 'In the Year of the Lord', where the abbreviation AD comes from; qui obiit, 'who died', where the word 'obituary' comes from. The inscription also quotes one of the most well-known Latin tags: tempus fugit, or 'time flies'. What you might not know is that whoever chose these particular words is referencing Virgil's Georgics, with a nod, perhaps, to one of the Odes of Horace.
Sed fugit interea, fugit inreparabile tempus …   (Georgics, 3.284)

'But meanwhile time is flying, time that will not come again …'

Eheu fugaces, Postume, Postume,             

labuntur anni …                                                   (Odes 2.14.1–2)

'Oh Postumus, the fleeting years are slipping by …'
So in an out-of-the-way corner of the city, in which new hotels and co-living accommodation blocks are reshaping the landscape day by day, there survive some human voices from 228 years ago. I don't know anything about James and Deborah, what kind of people they were. In the end, that seems to matter less than their precarious and surprising survival in stone, transmitting a message from ancient Rome to Dublin in 2020: 'I see it now: this world is swiftly passing'.
Note: The translations of Virgil and Horace are my own. In the final line I quote a line spoken by the character Karna in the ancient Sanskrit epic, the Mahābhārata.