13.5.20 Pop Classics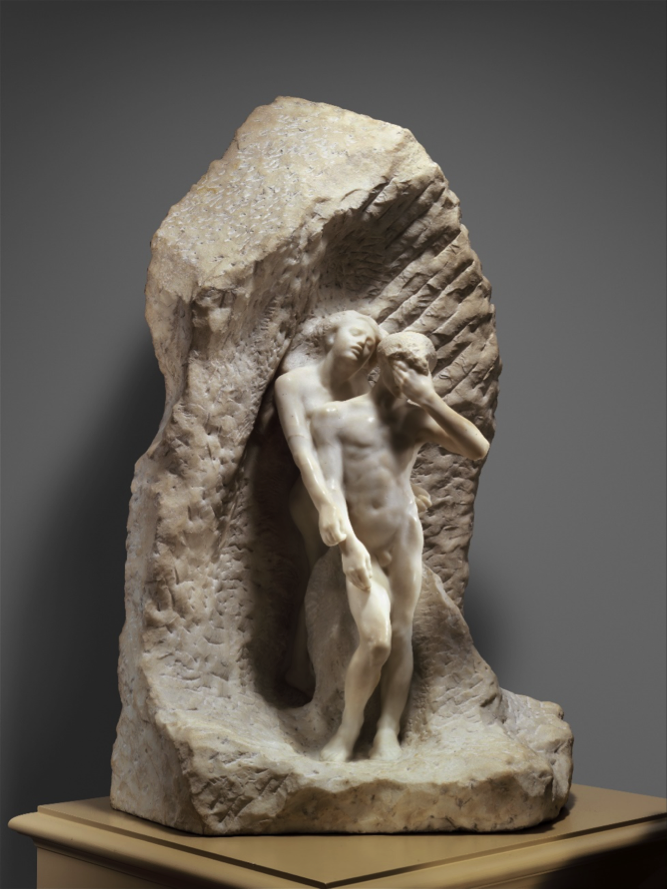 Auguste Rodin (1840–1917), 'Orpheus and Eurydice', marble, sculpted 1893

Teaching or learning in a university, you encounter Latin most often in a scholarly or academic context. Questions of grammar and translation, of precise analysis and argument, and a long tradition of scholars and their books stretching back to ancient Rome. That's one side of Latin's story, but it's important to remember that it's not the only side. There is another side to Latin that is popular and plural, messy and creative. It's evident in the phrases and ideas that still permeate the way we talk and think, from 'all roads lead to Rome' to the months of the year. And it's evident also in the way in which Latin literature continues to be a kind of grab-bag for artists and writers of all persuasions, a source of inspiration for those less concerned with accuracy and fidelity to a given past, and more with creative and confident re-imagination. Just when you think the old stories have had their day, someone else comes along with a hot new take. It's in this broad and popular stream of Latin that I'd put writers like Shakespeare and Cervantes, but also some much more recent, musical, material.
The story of Orpheus and Eurydice (pronounced 'your-ideh-see') comes up again and again in European and American poetry of the last hundred years. It's a very old Greek tale, but its most famous ancient tellings are in Latin – in Virgil's Georgics and in Ovid's Metamorphoses – and it's been re-imagined by poets like Rainer Maria Rilke, Czesław Miłosz, Margaret Atwood, Eavan Boland and Seamus Heaney (among others), as well as by film-makers like Jean Cocteau and Marcel Camus. Eurydice is killed by a snake-bite and her distraught husband – an outstanding musician – uses his gift to charm the gods into allowing him to go down to the underworld to bring back his wife. His request is granted, on the condition that he does not look back at Eurydice until they are safely clear and back in the world above. But Orpheus looks back, and she is lost again, and forever. It's a tale of love and death, for sure, but also of the (seeming) powers of the artist and – in the version of Margaret Atwood, for instance – one man's stubbornness, even selfishness, in the face of loss.
Reflektor, the 2013 album by Canadian rock-band Arcade Fire, advertises its debt to the myth from the off, its cover artwork featuring an image of Auguste Rodin's Orpheus and Eurydice. And our couple feature on two of the album's tracks, 'Awful Sound (Oh Eurydice)' and 'It's Never Over (Hey Orpheus)'. The first opens with rolling percussion as we meet a pair of modern-day young lovers, on the run from some unnamed apocalypse ('You and I were born / In a little town / Before the awful sound / Started coming down'). It then switches into a David Bowie style acoustic-guitar chorus, as you realize that it's Orpheus who's doing all the talking here ('I was so disappointed / You didn't want me / Oh how could it be / Eurydice?'). But the second track cleverly reverses this dynamic by splitting the vocals between real-life husband and wife duo Win Butler and Régine Chassagne: now it's Eurydice who opens and leads ('Hey Orpheus! / I'm behind you / Don't turn around / I can find you / Just wait until it's over'). The music alternates between a driving guitar riff and a much softer, eerier, call and response section. We're in the moment just before the fall, all high-pitched fever and desire. And then, suddenly, we're not, as Orpheus and the fading Eurydice echo each other ('it's never over / it's never over') as they drift apart.
Closer to home, the Irish singer-songwriter Hozier has, on his 2019 album Wasteland, Baby! also made use of the myth. On 'Talk', the first verse appears to cast the narrator as both Orpheus and Eurydice, or perhaps as someone contemplating them both ('I'd be the dreadful need in the devotee / That made him turn around / And I'd be the immediate forgiveness / in Eurydice / Imagine being loved by me'). In this very contemporary wasteland, echoing in its own way Orpheus' wanderings in the frozen north after the loss of his wife, a singer is still on the hunt for 'the last shred of truth / in the lost myth of true love'. All three songs, I think, successfully make something new and vivid out of this particular 'lost myth', becoming part, in the process, of a long continuum of popular artistic responses to Latin culture.
Note: Virgil's version of the story of Orpheus and Eurydice closes book four of his Georgics, which you can read here, while Ovid's spans Books 10 and 11 of his Metamorphoses, available here. 'Awful Sound' and 'It's Never Over' can be listened to as one continuous track here, and you'll find Hozier's 'Talk' here.