6.10.21 Egeria's Travels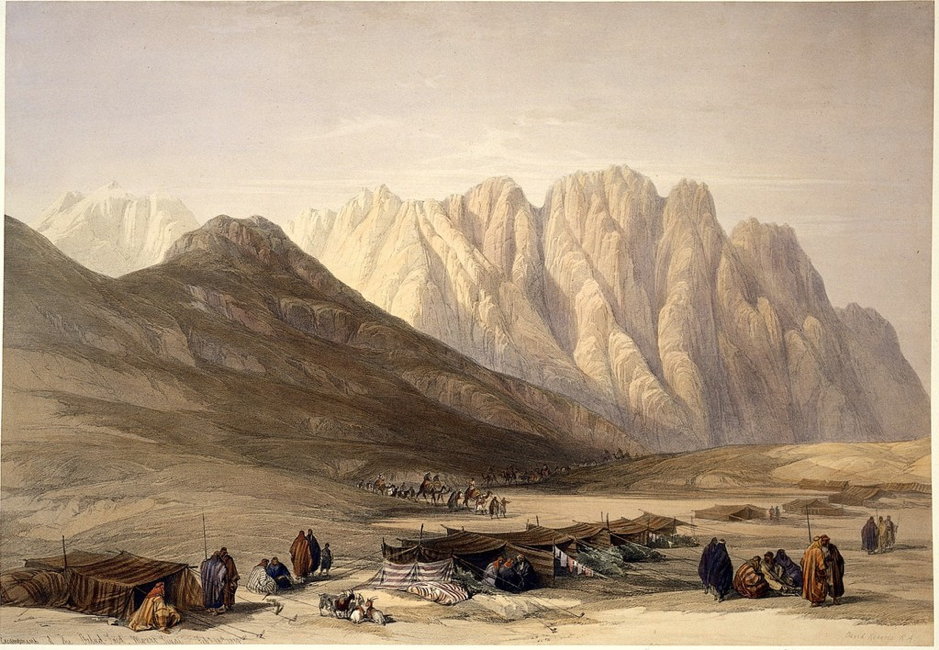 Encampment of the Aulad-Said, Mount Sinai, by David Roberts (1796–1864) Credit: Artstor.

In 1884 a scholar named Gian Francesco Gamurrini discovered a manuscript in a library in Arezzo, Italy, containing an account, in Latin, of a woman's travels in the Holy Land. The beginning and the end of the account were missing, so her name and the dates of her journey were unclear. But subsequent work has come up with an informed guess at her name (Egeria) and a definite idea of when she travelled (between Easter 381 and Easter 384). Egeria seems to have started from somewhere in the region of northern Spain or southern France, and she reached Jerusalem via Constantinople, staying there for an extended period and making excursions to places like Mt Sinai (Jabal Mousa) in the Egyptian desert and the ancient city of Edessa, modern Urfa in Turkey. Egeria writes to her 'reverend ladies, my sisters' back home, telling them in excited tones about the places she's been and the people she's met. She is a pilgrim, intent on seeing the sites she has read about in the Bible and visiting important churches and shrines. But she is also what we could call a tourist, and recounts her travels in ways very similar to how you or I would do when on holiday.
On her journey back to Constantinople she detoured east from Antioch to visit Edessa; she wanted to visit a shrine there to Thomas, the doubting apostle. To get there she had to cross the river Euphrates and noted that it was much bigger than the Rhône (a clue to her homeplace); on meeting her the Bishop of Edessa was impressed that her faith had brought her 'right from the other end of the earth'. He took her to a local palace where she saw pools full of fish … and her next meal: 'they were so big, so brightly coloured, and tasted so good'. Earlier in her trip Egeria had climbed Mt. Sinai in the Egyptian desert – the steeper, more direct ascent, she tells us, rather than the easier, more circuitous route (readers familiar with The Devil's Ladder at Carauntoohil will be able to relate). At the summit she spoke with the community of monks living there and they gave her little gifts of the fruit they had grown; as she looked out she could see Egypt, Palestine, and the Red Sea lying beneath her. Like any tourist and pilgrim, she was excited to be in places she had read about and were meaningful for her, and was excited also to share those experiences with those close to her. She is delighted when, travelling back through Turkey, she runs into an old friend from earlier in her trip.
Egeria's account is an important one in the history of Latin. She is an independent and literate woman, one whose intellect and imagination are animated by her faith. Unlike the handful of other female pilgrims to the Holy Land we know about in this period, Egeria does not appear to have been an aristocrat; her Latin shows no signs of the education and high-style mannerisms that mark so much of the writing that survives from the medieval period. She is not trying to show off, or to write like Cicero, or to win a argument. Rather, she is writing in her own voice and painting a picture for her own religious community. The faults of style that, from a classical-scholarly perspective, marr her work are no faults at all, but a warm and vivid style of her own, and no less 'intellectual' for being so. What's exciting is that Egeria's Latin is full of elements that will later appear in the Romance languages. Sabbato sera ('late [on] Saturday/The Sabbath') and septimana ('week') are almost identical in modern Italian, while her blurring of the verbs 'go' and 'be' (ire and esse) and her use of the verb plicare (in the sense 'to arrive') anticipate modern Spanish (ser and irse, llegar). In her account of the liturgical year in Jerusalem she uses a pattern for the days of the week (prima feria, secunda feria etc.) that now belongs in modern Portuguese.
As J. N. Adams has noted, it's hard to take these details and to build a definite picture about what Latin was spoken when and where, but the details in themselves are enough to showcase a down-to-earth and living language which, in all its variety, still exists today.
Further Reading
Adams, J. N. 2007. The Regional Diversification of Latin, 200 BC – AD 600 (Cambridge: Cambridge University Press), pp. 342–353.
Erhart, V. 2002. 'Itinerarium Egeriae: A Pilgrim's Journey', in L. J. Churchill, P. R. Brown, and J. E. Jeffrey (eds), Women Writing Latin: From Roman Antiquity to Early Modern Europe (London: Routledge), vol. 1 pp. 165–181.
Wilkinson, J. 1999. Egeria's Travels, 3rd edition(Warminster: Aris and Phillips). Translations above are taken from this edition.