27.11.19 Catullus and the Window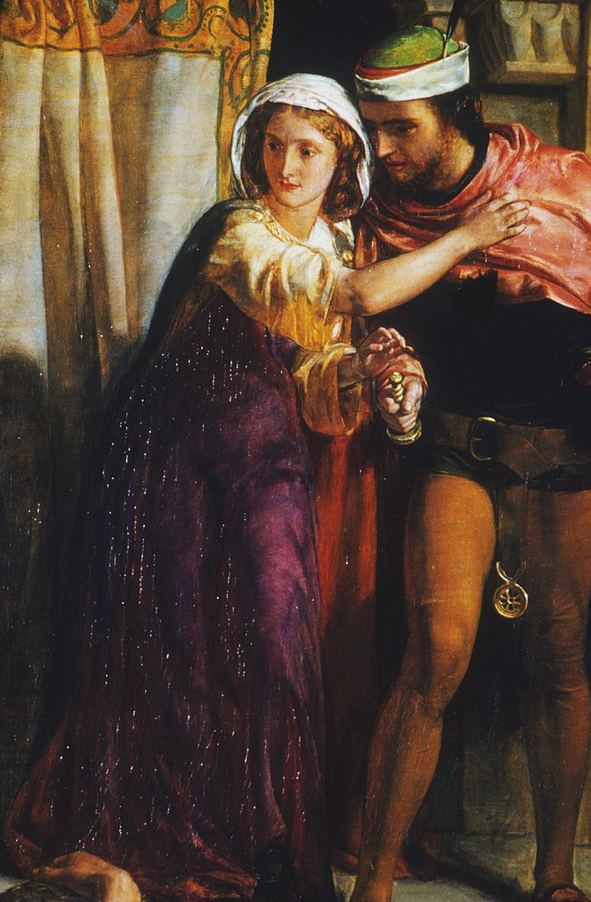 W. H. Hunt (1827–1910), Eve of St. Agnes (detail)

We're lucky to have the work of the poet Catullus, who lived and wrote in the first half of first century BCE and whose poems of love and hate are still widely read and admired. His work survived antiquity by the skin of its teeth, in a single manuscript which turned up in Verona at the end of the 13th century. This manuscript disappeared again sometime in the next century, but not before it had been copied at least twice. Without those copies, one which still exists today, the poems of Catullus would, like the work of many of his contemporaries and friends, be lost.
The longest poem in the collection is also the most ambitious. It's poem 64 (Catullus' poems have numbers rather than titles: we don't know if and how the poet himself titled them), and it's a mini-epic, a series of stories drawn from Greek mythology and indebted to Greek poetry, full of idiosyncratic language and technical craft, all packed into 400 or so lines. On first glance that description seems a bit intimidating, and it's true to say that Greek and Latin poetry of this kind is sometimes so full of learning-for-learning's-sake that it sinks under its own weight. But for me this poem has a lightness about it that really sings.
64 opens with the Argonauts sailing across a deep blue sea, en route to Colchis in search of the golden fleece, as sea-nymphs appear in the waves and follow their ship like dolphins. The story proper begins and ends with the marriage of Peleus and Thetis, the union of a mortal man and a goddess that will produce Achilles, the (anti)hero of the Trojan War. We follow the guests arriving to the ceremony in Peleus' home-place, see the glittering treasures of the palace, and hear the three Fates, the Parcae, gather together their weaving materials to sing the future: the lovers' union, the child to be born, the war to come. We're in a time before the fall, before the gods have disappeared from the earth and left mortals to their own often murderous devices. So amidst everything else this poem is a wedding song, and like all wedding songs it celebrates a couple and looks to the future (good and bad) with a steady gaze.
But that's not all. In the middle of this story, Catullus has inserted another one, with its own series of twists and turns. On the couch reserved for  the bride Thetis at her reception, there is a purple quilt, on which is embroidered in intricate detail the story of Theseus and Ariadne. And this quilt allows Catullus to leap into his second story: Theseus' trip to Crete, his killing of the Minotaur and his escape from the labyrinth, his desertion of Ariadne; Ariadne's lament, her cursing of Theseus and the loss of his father, Aegeus; her rescue by Bacchus on his lynx-drawn chariot. Throughout all these fantastical narratives, the pace never drops.
I hope that's enough to give you a sense of the poem. But for a real glimpse of its particular brand of magic, colour, and romance, I think I can go one better. If you go to the Hugh Lane Gallery at the top of Parnell Square in Dublin, you'll find a window made by the Irish stained-glass artist Harry Clarke (1887–1931). It's called The Eve of St Agnes, and it depicts, like Catullus 64, a mythic theme: how young women could, having followed certain instructions, fall asleep on 21 January and dream of their future husbands. Clarke was commissioned to make the piece by a man from Jacobs', and he took his title and subject from the poem of the same name by John Keats.
The window's fourteen panels are a swirl of blues and pinks. An old servant is saying his prayers on a chill winter's night, as Madelaine sleeps. Porphyro bursts in, dressed to the nines and lute in hand; Madelaine wakes and two flee across the moors and into the night. Look for the sea-creatures that decorate the lunettes at the window's top, the tiny signature and date in the bottom right. Like Catullus' quilt, the window is a beautiful object with a story to tell. Its narrative panels mimic the structured progress of 64's own complex narrative, as both artists use myth to give full rein to their creative powers. And both pieces are, in a certain sense, countercultural. Catullus seems to identify, not with Theseus, but with Ariadne, writing about love from a position of vulnerability that challenges preconceived notions of masculinity. And Clarke, too, seems to put himself completely into his art, his window is a useful reminder that Ireland in the 1920s was not just a place of nation-building and counterrevolution but one that had its artists and its colour too.
Note: There are many translations of Catullus's poetry into English available in bookstores and online; for an edition as Gaeilge see Pádraig Breandán Ó Laighin, ed. Catullus Gaelach (Dublin: Coscéim, 2010). Harry Clarke's window is best viewed in person at the Hugh Lane Gallery, which has free admission (https://www.hughlane.ie/); for an illustrated account of his life and work see N. Bowe, Harry Clarke: The Life and Work, revised edition(Dublin: History Press, 2012).