11.12.19 At Last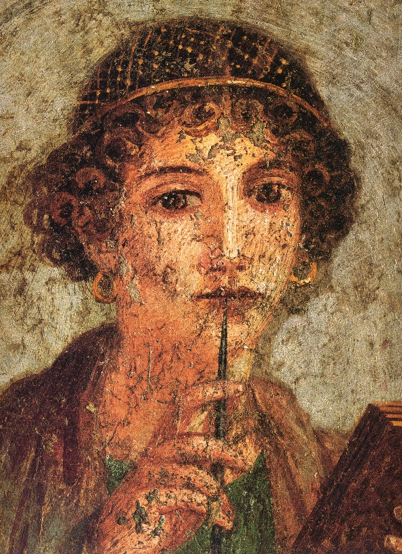 'Woman with wax tablets and stylus', an image of a fresco from Pompeii, now at the National Archaeological Museum in Naples.

It's Rome in the 20s BCE. Virgil, Horace, and Propertius are at the height of their fame, while Octavian is busy consolidating his one-man rule as Roman forces divide and conquer across Europe. In the midst of all this a young woman decides to write poetry. She's the niece of a statesman and as such is a member of his aristocratic and literary household, in which politicians and orators rub shoulders with (sometimes double up as) poets and their patrons. Six of the short poems she writes – forty lines of verse – survive, jumbled up in a manuscript containing the poetry of Tibullus and others, and in fact misattributed (often to Tibullus himself) until the nineteenth century. This woman's six poems become the only poetry written in Latin by a woman to survive complete from classical Rome. We have some names of other women poets, some short fragments, and there is of course a whole host of women's literature beyond the canon, from funeral epitaphs to letters to words and images etched on the walls of Pompeii. But in terms of complete poems by a named poet, this is it.
The young woman's name was Sulpicia, and, as with most stories from ancient Rome, the details of hers are contentious. Certain scholars have tried to argue that Sulpicia didn't write the poems at all, that they are, in fact, the work of Tibullus (or some other male poet) ventriloquizing a female voice. Others have questioned the quality of the poems, based upon their supposedly awkward syntax. I tend to side with those other scholars, like Oliver Lyne and Alison Keith, who suggest that, in the absence of secure evidence to the contrary, we should take these poems for what they appear to be: the work of a young Roman woman, writing in the 20s BCE, moving in the same circles as her uncle Messalla Corvinus.
What does she write about? She writes about love, in ways that put me in mind of the great jazz singers of the twentieth century. Etta James' At Last, Peggy Lee's Black Coffee, Nina Simone's version of Bessie Smith's I Want a Little Sugar in My Bowl. Women singing unapologetically about love, lust, and desire from a woman's point of view, a point of view which, in the long history of love poetry, from Sappho to the Beatles, has always been underrepresented. So often it's men who've held the floor on falling in and out of love, on wanting someone madly, on absolute heartbreak. Catullus and Petrarch. Marvell and Sinatra. Nowadays things are better, in both poetry and music, but there's an historical imbalance there.
It's important not to end up with a simplistic notion of 'men's' and 'women's' writing, each the sole province of its respective sex: good work always tends to be universal. And gender itself it not something rigid and innate but something constructed and performed, as many scholars, activists, and artists teach us. But it's equally important to realize the persistent structures which, in a patriarchal society, seek to control and suppress female sexuality and its expression. Given that the Latin canon, traditionally defined, is entirely woman-less, a gender-blind approach to the teaching of Latin poetry – an approach which says that the maleness of the canon is irrelevant, it's quality alone (however defined) that counts – seems to me pretty inadequate.
Here are two of Sulpicia's poems so you can read them for yourself. I've had a go at translating them, and tried to get across their feeling above all, or at least how that feeling comes across to me. 'True translation', John Berger writes, 'is not a binary affair between two languages but a triangular affair. The third point of the triangle being what lay behind the words of the original text before it was written. True translation demands a return to the pre-verbal.' Anyway, I hope you enjoy.
One
At last: here's love. Not to be kept quiet, either,
but shouted from the rooftops without shame.
Venus and the Muses have answered my prayers
and put him in my lap. Yes, Venus has kept her word:
here's joy for you, all you without your own!
Not for me those sealed tablets to keep our notes
from prying eyes: it's a thrill to fall, a pain to play the lady.
Well-matched, my man and me, is what they'll say.
Two
Don't let me be for you – my light – so mad a care
as I seem to have been these last few days.
If there's anything at all – in my whole
stupid youth – that I really regret, it's this:
that yesterday night I left you on your own,
wanting to hide my love.
Note: for this post I've used A. Keith's 'Critical Trends in Interpreting Sulpicia', Classical World 100(1): 3–10 (Fall, 2006), and R. O. A. M. Lyne's '[Tibullus] Book 3 and Sulpicia 1', from his Collected Papers on Latin Poetry, eds Lyne and S. J. Harrison (Oxford, 2007). The Latin originals of the poems above are labelled 3.13 and 3.18 here (with the rest of Sulpicia's poems in between); the John Berger quote is from page 4 of his Confabulations (Penguin, 2016). It's time for me now to wrap up for Christmas, but I'll be back in the new year with a new season of posts. In the meantime a big thank you for reading, and please feel free to browse and share with anyone who might enjoy.