22.9.21 Artisans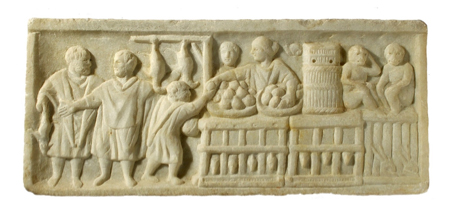 Shop sign, Ostia Museum inv. 134, second half of 2nd c. CE (Credit:
Ostia Antica
).

What do you see? A shop, a shopkeeper. Two pet monkeys, two caged hares. Some chickens – maybe – poking their beaks through the barred crates, pecking at the grain below. A wicker basket and, to its top left, a little snail, signifying its contents. Two dressed geese hanging upside down, ready for sale, and three customers, one of whom is taking a vegetable, or perhaps a piece of fruit, from the shopkeeper's hand. This is an ancient shop-sign, and it comes from Ostia, the bustling port-town which supplied Rome and its hungry citizens, freed people, and slaves, a place with a population of around 40,000 people in the second century CE, the time when this sign was made. The proprietor, a woman, is front and centre. Who is she? There is no inscription to tell us: perhaps an employee, perhaps a co-owner, perhaps even the owner of the shop. I came across this sign earlier this year when reading John R. Clarke's fascinating study Art in the Lives of Ordinary Romans, and was intrigued and excited by its gathering of evidence for – as the title suggests – the lives of ordinary people; in this case, the hustle and bustle of a busy shopping street not unlike the one imagined by Livy for Camillus in Tusculum.
A century or so earlier, a Roman citizen commissioned a monument for himself, his wife, and two of his freedmen (or ex-slaves) who, we are told, contributed toward the cost. The citizen's name was Longidienus, and he was a shipbuilder, a faber navalis, at Ravenna on Italy's north Adriatic coast. Ravenna was where the Roman imperial fleet was stationed, and Longidienus' name may even be Celtic in origin, 'Swiftship', concealing the ancestors of the Irish words long and dian. In the lower section, beside the representation of the two freedmen, there's a little image of Longidienus, with an inscription that reads: 'Publius Longidienus, son of Publius, busy at work.' In the upper section, beside Longidienus himself, is his wife Longidiena: her face damaged and mostly missing, as sometime after its completion the monument found itself recycled as a block in Ravenna's city walls, and was rediscovered only in 1588. The upper inscription reads: 'Publius Longidienus, son of Publius, of the tribe of Camilia, shipbuilder, established [this monument] while he was alive also for Longidiena Stacte, freedwoman of Publius.' Lots of interesting details, then, about the four figures who appear, the relationships between them, and we would love to know more than we do. Longidienus freed from slavery the woman who became his wife. What was their relationship like? And how did the two freedmen view their former master? What's unusual about this memorial, Clarke notes, is the emphasis given to the man's profession. Elite Romans portrayed themselves in stone like this very often, but rarely (and for obvious reasons) included details from the world of work.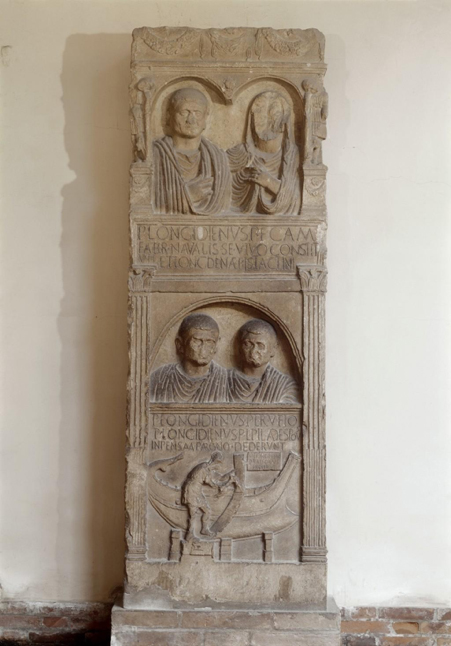 Funerary Stele of the Shipbuilder, Longidienus, Ravenna, early 1st c. CE (Credit: Artstor)

Lastly, to Rome, and an artefact now in the collection of the Vatican Museums. It's an altar dedicated to two metalworkers, made around the same time as the memorial for Longidienus and his companions. They tell us who they were through an inscription on the front: 'Lucius Cornelius Atimetus [dedicates this altar] to himself and to Lucius Cornelius Epaphra, his meritorious freedman, and to the rest of his freedmen and freedwomen and to their descendants.' On the left- and righthand sides of the altar are two reliefs of high quality ('characteristic of many such monuments from the city of Rome', Clarke writes). The right side displays a sales scene, the left side, pictured here, a scene from their workshop. You can see blades and tools hanging overheard, the anvil in the centre between the two men, and the outline of a bellows to the left. The man on the right is about to bring down a hammer, his muscular arm and the folds of his tunic shown in fine detail. 'The closeness of the figures in the smithing scene and the clutter of goods cornucopiously displayed in the sales scene', writes Clarke, 'express Atimetus's desire to show the viewer both how he does his work and what an abundance of fine products he provides for his customers'.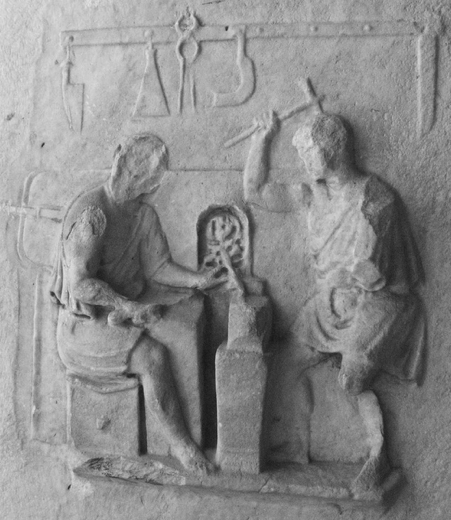 Altar-ossuary of Atimetus and Epaphra, Rome, 2nd c. CE (detail). Credit:
Musei Vaticani
.

Looking at these images I'm reminded that these are the kinds of people who, much more so than the senators and generals, made up the majority of those we call ancient Romans. Like the weavers, in a peculiar way they stand in for the artisans, crafts- and tradespeople who have worked with their hands in creative and productive ways throughout human history, and do so still. These days that work is often undervalued and marginalized by economies and education systems in many parts of the world, including Ireland's, but its true value remains. And it's these old-time Romans who help me remember that.
Further Reading
Clarke, J. 2003. Art in the Lives of Ordinary Romans: Visual Representation and Non-Elite Viewers in Italy, 100 BC – AD 315 (Berkeley: University of California Press).
Delamarre, X. 2013. 'Longidienus, faber navalis à Ravenne, le toponyme Lombard et le thème longo- 'navire' en vieux celtique', Zeitschrift für celtische Philologie 60(1): 19–26.