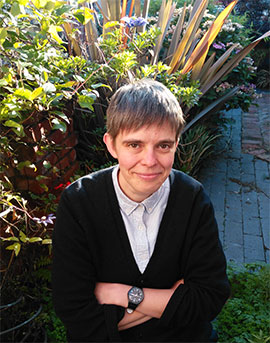 Dr Clare Tebbutt
Assistant Professor in Gender and Women's Studies
they/them
I am a historian of sex, gender, sexuality, and the body, with a strong interest in queer and feminist social movements. My main focus has been on cultural and social histories of modern Britain. I received my PhD from the University of Manchester in 2015 on 'Medical and Popular Understandings of Sex Changeability in 1930s Britain'. This examines the popular dissemination of the idea that a person's sex was changeable, in a context of endocrinological advances and shifting gender norms. I am especially concerned with the many articles that appeared in the 1930s British press about people whose sex had been reclassified – predominantly from female to male – and how positively the press treated these accounts. I am developing this research into a monograph drawing on sources including press reports, medical case studies, and personal testimony.
Before coming to Trinity, I was a Lecturer in Modern British Social History at the University of York, UK. Prior to that I taught at the University of Nottingham and the University of Manchester, and held a research post at Nottingham Trent University on the archive of the activist and broadcaster Ray Gosling.
Publications
'Tebbutt, C. 'The Spectre of the 'Man-Woman Athlete': Mark Weston, Zdenek Koubek, the 1936 Olympics and the uncertainty of sex', (2015) Women's History Review, 24.5: 721-738.
Le Roux, G. with Saeed, H. and Tebbutt, C. 'Proudly African and Transgender', (2012) Women: A Cultural Review, 23.1: 79-95.
Teaching & Supervision
I teach a postgraduate module on 'Changing Bodies,1886-1953: The Unfixity of Sex and Gender' and an undergraduate Sophister module on 'Histories of Sexuality in the Modern Western World, 1885-1993'. I also contribute to core modules of the MPhil in Gender and Women's Studies. I am keen to supervise work on the history of sexuality and gender, including research on intersectional queer politics, transgender and intersex studies, and feminist movements.
Contact Details
Centre for Gender and Women's Studies
University of Dublin Trinity College
Rm. B6.013, 6th Floor, Arts Building
Dublin 2
Telephone: 00 353 1 896 2225
Email: tebbuttc@tcd.ie