News & Events (Calendar)
September 2019
November 2018
Career Development Symposium

23rd November

Register here
September 2018
TCD Immunology Research Forum 2018-19
The IRF consists of monthly informal presentations from TCD Immunology labs, with the goal of obtaining quality feedback on projects, enhancing collaboration, and building internal awareness of TCD Immunology research.
Date & time Speakers Venue
Thurs 27th Sept (9:30-11:00) Aisling Dunne, Ed Lavelle B2.72-B2.74
Fri 26th Oct (9:30 - 11:00) Nollaig Bourke, Rachel McLoughlin B2.72-B2.74
Wed 28th Nov (9:30 – 11:00) Jean Fletcher, Cliona O'Farrelly B2.72-B2.74
Fri 21st Dec (9:30 – 11:00) Padraic Fallon, Mark Little B2.72-B2.74
Fri 25th Jan (9:30 – 11:00) David Finlay, Sarah Doyle B2.36-B2.38
Fri 22nd Feb (14:00-15:30) Ursula Fearon, Pat Walsh B2.72-B2.74
Fri 29th March (14:00-15:30) Seamus Donnelly, Clair Gardiner B2.72-B2.74
Fri 26th April (9:30 – 11:00) Fred Sheedy, Emma Creagh B2.72-B2.74
Fri 31st May (9:30 – 11:00) Sinead Corr, Joe Keane B2.72-B2.74
Fri 28th June (9:30 – 11:00) Kingston Mills, Derek Doherty B2.72-B2.74
Fri 26th July (9:30 – 11:00) Luke O'Neill, Mark Robinson B2.72-B2.74
August (Fri 30th TBC) Gareth Brady, Andrew Bowie TBC
Sept (date TBC) Lydia Lynch, TBC TBC
Format
Tea, coffee and cakes served (kindly sponsored by Biosciences)
Two presenters from PI labs listed: 30 mins + 15 mins discussion each
June 2018
The 8th Annual Irish NEXT GENERATION SEQUENCING Meeting take place on 7th June in Tercentenary Hall, TBSI. See … for full details
May 2018
Arthritis Ireland Annual Lecture Annual Lecture 2018 by @dougveale is an opportunity to hear about remarkable developments in treatment of #arthritis as well as about groundbreaking new research. Saturday 26 May in TBSI. Book your ticket
January 2018
24th January

Public Lecture: Biomedical Frontiers@18:30 pm in the Stanley Quek Theatre, Trinity Biomedical Sciences Institute, 152-160 Pearse Street. All welcome; admission free

The Glycobiology World Why sugars are good for you and how they have revolutionised medicine and biotechnology by Professor Gavin Davey Glycobiology is the science that studies glycans or sugars in the body. These sugars hold cells together, they allow cells to communicate together and they are extremely important across medicine and biotechnology. Without sufficient sugar our brains rapidly degenerate and communication ceases. Too much sugar and diabetes and cancer can develop. For many years inadequate technologies have hampered our understanding of glycan complexity. Fortunately this has recently changed and glycobiology researchers are revealing amazing new aspects of how the natural world works. This lecture will explore some of these discoveries and demonstrate why glycobiology is one of the most fascinating biomedical frontiers.
16th January

Burkitt Medal lecture "Precision Medicine and Cancer: Challenges and Opportunities" Presented by Dr. Mariano Barbacid 16th January 2018 @ 17:00 Tercentenary Hall Trinity Biomedical Sciences Institute 152-160 Pearse Street, Dublin 2

Trinity has a strong tradition in translational cancer research. One of the people who is the embodiment of the best of Trinity is Denis Burkitt, a surgeon and research scientist, a household name in the medical profession. He received his BA, 1933 and graduated as a physician in 1935 from Trinity. In Africa he developed exceptional observational and analytical skills, which led him to develop a successful treatment for the commonest childhood cancer in Sub Saharan Africa – Burkitt lymphoma. His contributions to cancer remain salient today, and his discoveries continue to generate new research

Mariano Barbacid is AXA-CNIO Professor of Molecular Oncology at the Spanish National Cancer Research Centre in Madrid. Born in Madrid, Mariano Barbacid was awarded his PhD from the Universidad Complutense in 1974. Having trained as a postdoctoral fellow at the National Cancer Institute (NCI), Bethesda, Maryland, USA, in 1978 he started his own group to work on the molecular biology of human tumours. Dr Barbacid's work led to the isolation of the first human cancer gene, H-RAS, in the spring of 1982 and to the identification of the first mutation associated with the development of human cancer. These findings, also made independently by two other groups, have been seminal to establish the molecular basis of human cancer. Dr Barbacid's achievements have been recognised widely. In 2012, he was inducted to the National Academy of Sciences of the US as a Foreign Member and in 2014, elected Fellow of the AACR Academy.
December 2017
October 2017
25th October, Public Lecture

School of Biochemistry and Immunology presents @ 18:30hrs in TBSI's Stanley Quek "In Search of Lost Time - what makes a memory" by Professor Thom&aacutes Ryan. Admission Free. Everybody is welcome. Poster
13 October, Career Development Symposium 2017

09:30-13:00: keynote and invited speakers working in Academia, Industry, Science communication and Publications. VENUE: Stanley Quek Hall and lobby (Level B1, TBSI)14:00-16:00: interactions/discussions with speakers from Industry, Academia, Communication, Trinity Innovation Centre and Career Advising Centre. VENUE: Knowledge Exchange (2nd floor, TBSI). Everybody is welcome ! For more information and REGISTRATION please visit webpage
September 2017
Friday 29th September: part of PROBE . We will be open here in TBSI from 5-7pm for "Jab Lab" - a chance for visitors to try out some activities to do with vaccination and hand washing. All of this will culminate in a debate at 7pm in the Tercentenary Hall exploring the topic of mandatory vaccination. Our panel consists of a researcher, clinician and ethicist. Is this an issue Ireland will soon be facing due to the anti-vaccination movement? Is it ethical to force someone to undergo a procedure they don't agree with? Come to find out more and discuss this important but controversial topic. Free ticketed event, register here The Cancer Research Frontiers will also be taking place at TBSI from 4-6.30pm in the Stanley Quek lecture theatre. Researchers will shed light on the latest developments in cancer research and potential outcomes for patients. Free ticketed event, register here
Irish Society for Immunology, Annual Meeting 14th and 15th September 2017 in the Tercentenary Hall, TBSI
August 2017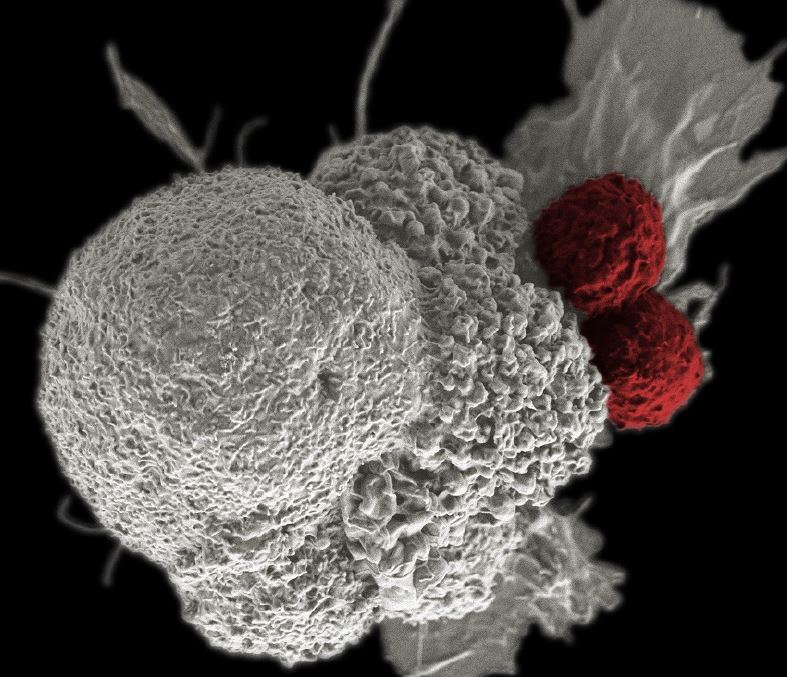 Cytotoxic T-cells attacking an oral squamous cancer cell. Image by Rita Elena Serda. Image shared courtesy of the NCI, USA.
CANCER & IMMUNOLOGY WORKSHOP 23 August 2017 in Tercentenary Hall and Knowledge Exchange TBSI, 9 am - 1 pm.

Cancer and Immunology research themes are internationally recognised strengths in Trinity and both themes overlap in cutting edge research aimed at understanding how the immune system interacts with cancer cells. Profs. John Reynolds and Kingston Mills, will kick off a joint half-day workshop with thematic overviews, followed by a quick-fire series of 5 minute talks from Cancer and Immunology PI's. The morning will be rounded off with a break-out session in the Knowledge Exchange with refreshments to allow 1-1 discussion aimed at stimulating greater synergy between cancer and immunology researchers that will spark new collaborative opportunities for the future.

Further information can be obtained by emailing: cancer.immunology@tcd.ie Programme Biosketches
June 2017
May 2017
April 2017
Dr. Orn Almarsson &quotMessenger RNA: A Novel Therapeutic Approach&quot - Monday 3rd April, at 14:00 in the Tercentenary Hall, on the second floor in TBSI All Welcome!

Abstract: Recently, messenger RNA has been proposed as a new therapeutic modality. Delivery of modified mRNA in vivo elicits protein production with significant reduction in immune stimulation relative to natural mRNA delivery, highlighting exciting prospects for mRNA therapeutics. mRNA provides an orthogonal approach to protein biologics with prospects for gain-of-function protein synthesis in multiple therapeutic areas. Due to extraordinary molecular size, physical and chemical properties, formulating mRNAs for intracellular delivery with cytosolic bioavailability presents numerous challenges as well as opportunities for engineering. A brief overview of this rapidly evolving field will be provided.
Short Bio: Dr. Almarsson received his Ph.D. in bio-organic chemistry from the University of California at Santa Barbara and held a post-doctoral position in biotechnology at MIT, prior to moving to industry. He has more than 20 years of experience in pharmaceuticals and biotechnology and has worked on translation of drug candidates from discovery into development through studies of pharmaceutical materials science and drug delivery applications. Prior to Moderna Therapeutics, he has worked in pharmaceutical R&D at Merck, TransForm Pharmaceuticals/J&J PRD and Alkermes.

Event Poster
December 2016
November 2016
October 2016
Immunotherapy: A revolution against cancer 20th October, Stanley Quek Lecture Theatre, Trinity Biomedical Sciences Institute 18:30 - 20.30 FREE to public

poster
The 10th International Cancer Conference "New Frontiers in Personalised Cancer Care" web link 17-18 October, Stanley Quek Lecture Theatre, Trinity Biomedical Sciences Institute, 12 CPD points are awarded Burkitt Lecture &quot Cancer Prevention: from Denis Burkitt to the Human Genome Project &quot by Dr Paul Brennan, Head of the Genetics Section of the International Agency for Research on Cancer (IARC), Lyon, France, 17 October, 16.00, Stanley Quek Lecture Theatre Trinity Biomedical Sciences Institute
Trigeminal Neuralgia Awareness Symposium. Friday 7th October 2016. Trinity College, the Neuroscience Society of Trinity College, in association with Trigeminal Neuralgia Ireland Support group are hosting a public evening meeting (Trigeminal Neuralgia Awareness Symposium) for Trigeminal Neuralgia in the Trinity Biomedical Sciences Institute on the 7th October 2016 from 6-9.30pm. This symposium is open to the public, patients, their carer's and healthcare professional To register your interest in attending this free event please email tgnas2016@gmail.com about Poster
September 2016
Celebrate TBSI's 5th Anniversary. Monday 5th September 2016.

#TBSI5 The Trinity Biomedical Sciences Building was opened by An Taoiseach Enda Kenny on 17th June 2011. On Monday 5th September TBSI celebrates its 5th Anniversary with a Symposium which reviews progress, landmark research and future research directions.

Progress Report 2016
May 2016
17 May. Trinity and RCSI Host Next-Gen Life Sciences Innovation Showcase press release
April 2016
March 2016
TBSI welcomes Dr. Dan Kastner. The ISI are pleased to announce that Dr. Dan Kastner (National Human Genome Research Institute, National Institutes of Health, Bethesda, MD, USA) is the 2016 recipient of their Public Lecture Award. This will be hosted in association with the Irish Times. Dr. Kastner will present his public lecture entitled: "Old Dogs, New Tricks: Autoinflammatory Disease Unleashed." in the Tercentenary Hall, Trinity Biomedical Sciences Institute (TBSI), TCD at 6pm on Wednesday, 23rd March 2016. (Doors will open for the event from 5.30pm and no pre-booking of tickets is required).
December 2015
September 2015
July 2015
The Catalysis and Sensing for our Environment Symposium 2015 (CASE 2015) 9th and 10th of July (FREE) registration The CASE Symposium will be held in Trinity College Dublin (TCD) at the Trinity Biomedical Sciences Institute (TBSI) and in at Royal College of Surgeons in Ireland (RCSI) in Dublin, Ireland on the 9th and 10th of July 2015, respectively. Registration is essential and we ask you to register as soon as possible if you are intending to join us as we need to know the final numbers for catering reason.
June 2015
25th June 2015. Mark Pollock Trust, Anatomy Dept, TCIN & TCBE present a talk by Professor V Reggie Edgerton Neuromuscular Research Laboratory UCLA. The potential of painless cutaneous enabling motor control (pcEmc) in recovery of motor function after paralysis Where: Paccar Theatre, Science Gallery When: Thursday 25th June at 12:30pm 'A new approach to paralysis' To book your free ticket on line go to For more details contact njmahony@tcd.ie
24th June 2015. Post Doc Day The 2015 TBSI Postdoctoral Research Day. Thirty six abstracts, spanning the breadth of research endeavour within TBSI. (abstracts from postdocs in the School of Medicine, the School of Chemistry, the School of Biochemistry and Immunology, and the Trinity Centre for Bioengineering).
9th - 11th June 2015. The 2nd Joint Symposium of the Trinity Biomedical Sciences Institute and The Weizmann Institute of Science. "Progress in the fight against Inflammatory Diseases and Cancer" Abstract Book - (6.68 mb PDF)
April 2015
Irish Society of Immunology PUBLIC LECTURE   "Immune Diseases Today - a microbiological explanation for almost everything". Prof Fergus Shanahan will receive the 2015 Irish Society for Immunology Public Lecture Award tomorrow, April 29th, at 7pm in the Trinity Biomedical Sciences Institute, Pearse Street, Dublin 2. The talk is free, open to the public and booking is not required. For more information, email irishimmunology@gmail.com
Trinity Week runs 11th - 17th April events
March 2015
Public lecture on "Food Fight: Your Immune System vs Diseased Cells presented by Professor David Finlay. This lecture will discuss the idea that nutrients are an important commodity that can affect the balance between our immune systems and various diseases, and how new therapies could be devised to shift the balance towards immune destruction of diseased cells.

Date: Wednesday 18th March Time: 6:30pm Venue: Stanley Quek Theatre, Trinity Biomedical Sciences Institute, 152-160 Pearse Street, Dublin 2 All welcome and admission is free Details of the other lectures in the series are available contact Nóirín: nicabhan@tcd.ie
February 2015
Public lecture on inflammation. "Natural Killers against cancer: harnessing the immune system for cancer therapy" presented by Dr Clair Gardiner. Our immune systems have various ways to eliminate cancer cells. These include white blood cells, called Natural Killer cells that can directly kill cancer cells as they arise. Understanding this has allowed us to develop therapies around NK cells as an anti-cancer treatment. However, cancer cells can hide from the immune system and stop it from doing its job. We are discovering how this happens and based on this, we can design better cancer treatments that harness the immune system in the fight against cancer.

Date: Wednesday 18th February Time: 6:30pm Venue: Stanley Quek Theatre, Trinity Biomedical Sciences Institute, 152-160 Pearse Street, Dublin 2 All welcome and admission is free Details of the other lectures in the series are available contact Nóirín: nicabhan@tcd.ie
December 2014
November 2014
Wednesday 26 November

DCCR Network Annual Scientific Meeting 2014 with presentations from principal investigators and researchers active within the Dublin Centre for Clinical Research. It will be held in the Tercentenary Hall, TBSI, Trinity College, 152 – 160 Pearse St, Dublin 2 on Wednesday 26 November from 3:00 – 6:30 pm with a reception to follow. Keynote Speaker: Professor Hilary Chapman, University of Sheffield NHS Foundation Trust. All welcome. To register email info@molecularmedicineireland.ie - registration is free.

Public lecture 'Zombies, clones and replacement body parts' presented by Dr Vincent Kelly Date: Wednesday 19th November Time: 6:30pm Venue: Stanley Quek Theatre, Trinity Biomedical Sciences Institute, Pearse Street All welcome and admission is free Details of the other lectures in the series are available on the School's website
October 2014
Public lecture on inflammation. 'Inflammation....too much of a good thing' presented by Dr Emma Creagh Date: Wednesday 22nd October Time: 6:30pm Venue: Stanley Quek Theatre, Trinity Biomedical Sciences Institute, Pearse Street All welcome and admission is free Details of the other lectures in the series are available on the School's website
September 2014
July 2014
First joint yearly conference of the Trinity Biomedical Sciences Institute and the Weizmann Institute of Science will be held in Dublin in July 27-29. Seven keynote speakers, including five Nobel Laureates (James Watson, Aaron Ciechanover, Bruce Beutler, Ada Yonath and Jules Hoffmann) and many colleagues in TBSI will be presenting. The speakers will present cutting edge progress in the study of mechanisms of inflammation and cancer in the two institutes and the applications of such advances to new ways of therapy. Registration is free. Register for the Conference Keynote speakers Programme
June 2014
May 2014
2014 Ireland-China Symposium on Nanotechnology 12-14 May: Cutting Edge Symposium on Nanotechnology bringing together leading experts from China and Ireland. poster
2014 TBSI Annual Symposium (9th May): 'Research at the Interface'. Guest speakers: Professor Stanley Appel, Professor of Neurology, Weill Cornell Medical College of Cornell University. Professor Kevin Shakesheff, Professor of Advanced Drug Delivery and Tissue Engineering, University of Nottingham. Professor Hidde Ploegh, Professor of Biology, MIT. Professor Dennis McGonagle, Professor of Regenerative Medicine, University of Leeds. poster
Trinity Centre for Bioengineering: Seminar - An Example of an Impactful Study on a Biological Material: The Articular Cartilage Paradigm. Van C. Mow, PhD Stanley Dicker Professor and Founding Department Chair (1995 - 2011) Columbia University, New York, NY. Date: Thursday 8 May 2014, Time: 4.00pm , Venue: Stanley Quek Theatre, TBSI. poster
March 2014
Young Life Scientists Ireland symposium in TBSI on the 1st March 2014
February 2014
January 2014
TBSI Seminary Series, #1 31 January 2014 , Tercentenary Hall. 'Building an antibiotic pipeline in academia - theranostics for superbugs' Prof. Matthew Cooper, Institute for Molecular Bioscience, The University of Queensland, Australia poster
December 2013
November 2013
October 2013
TAP terrifying tales day in TBSI. 200 little vampires descend on Trinity. Hosted by the TAP, DU Players and TBSI.
September 2013
Discover Research Night, held on 27th September 2013 The event was part of an EU initiative held Concurrently in 300 cities across Europe. Members of the public were welcomed to TBSI and heard researchers describe their research and its relevance for human health. Prizes awarded for best posters to Jennifer Lennon , and best presentations to Ashley Bray and Alette Brinth
9th International Conference HOMOCYSTEINE AND ONE-CARBON METABOLISM The symposium is dedicated to the memory of Professor John Scott from Trinity College Dublin Professor Scott pioneered research in this country into folate biochemistry and its relevance to human health and disease, in particular in relation to neural tube defects, such as spina bifida.
July 2013
Provost's Teaching Awards Recognise Lecturers' Commitment to Teaching and Learning
May 2013
Date for your Diary: ChemComm-RSC Prizes and Awards Symposium - TBSI 24th May (View Details)
Trinity College Dublin welcomes Governor Deval Patrick of the Commonwealth of Massachusetts, in conversation with students. (View Details)
Opsona Therapeutics, a Trinity College campus biotechnology company focused on novel therapeutic and preventative approaches to autoimmune and inflammatory diseases announced the completion of an €33m financing. Opsona Therapeutics was founded in 2004 by three of Trinity College Dublin's immunologists: Professor of Biochemistry, Luke O'Neill and Professor of Experimental Immunology, Kingston Mills – both at the School of Biochemistry and Immunology along with former Professor of Medicine, Dermot Kelleher. Opsona's research lab is located in TBSI. 'Opsona is delighted to announce this round of funding which is among the top 5 rounds internationally in the past 12 months' said Luke O'Neill cofounder and chief scientist.
Researchers in the School of Biochemistry and Immunology, TBSI, secured €3.8 million funding for a prestigious Marie Curie PhD training network project, 'Training in neurodegeneration, therapeutics intervention and neurorepair' (TINTIN)
The last lecture in the School of Biochemistry and Immunology's public lecture series, Biomedical Frontiers, takes place on May 1st entitled "It's in the blood: Sleeping Sickness the Scourge of a Continent". The lecture will be given by Dr Derek Nolan from the School of Biochemistry and Immunology. Dr Nolan has spent 30 years studying the molecular and cell biology of trypanosomes. He will describe how basic research on trypanosomes has led to a deeper understanding of why they are such deadly parasites and how this work may ultimately lead to safe, effective treatment of this global health problem. Stanley Quek Theatre, School of Biochemistry & Immunology, Trinity Biomedical Sciences Institute All welcome and admission is free (Public Lecture on Wednesday 1st May 2013 at 18.30pm - poster)
April 2013
On April 30th, TBSI had the honour of hosting a visit from Dr James Watson, just 60 years since the ground-breaking paper on the structure of DNA was published in Nature on April 25th, 1953. An informal meeting with over 50 key Trinity cancer researchers took place

Dr. James Watson spoke to the TBSI Postdoc Society about his career, what motivated him and inspired him to become a scientist. Congratulations to postdoc Dr. Alette Brinth who was presented with a signed copy of the book "Double Helix" by the author Dr. Watson. "Postdocs should travel, talk, and think big" (Blog from Naturejobs - Claire O'Connell, contributor) read blog
Read about what's happening in Ireland's premier Biomedical Sciences research laboratories full booklet
16th April: 2nd Irish NMR Meeting This event consists of an update on NMR technology and the launch of our 800MHz NMR facility. Please see the attached. Along with highly- respected speakers such as Göran Karlsson, Christina Redfield, and Phil Williamson, all of the NMR-related PIs in Ireland and Northern Ireland will give short summaries of their current research to serve as a sampler of Irish NMR activities/capabilities. This event will mark the official launch of our 800MHz NMR facility. The 800MHz NMR installed in TBSI is equipped with multiple probes including an exceptional cold probe. It is one of a handful of such units available in Europe and gives options for analytical investigation in Ireland which were hitherto impossible. (NMR facility opening) (2nd Irish NMR Meeting Programme )
March 2013
February 2013
Professor Luke O'Neill is delighted to announce a visit to TBSI this Friday 15th February by the distinguished Professor Stephen O'Rahilly, of the University of Cambridge. The talk is entitled "Human Metabolic Disease: Lessons from Genetics". Professor O'Rahilly is Professor of Clinical Biochemistry and Medicine, and Director of the Metabolic Research Laboratories in the Institute of Metabolic Science. His current research focus includes Molecular and Pathophysiological Mechanisms in Obesity and Mechanisms of Human Insulin Resistance. About Professor O'Rahilly
January 2013
December 2012
Dr. Rachel McLoughlin, Dr. Nigel Stevenson and Prof Cliona O'Farrelly and Dr. James Harris, otherwise known as the "Immunewars Team" were recently awarded a bursary by the Royal Dublin Society to develop an interactive "Science Live" lecture. Their demonstration lecture entitled "Immune Wars:Bugs&Beyond" aims to introduce primary school children to the concept of bacteria and how our immune system defends against infection. The Immune Wars Team rolled out their interactive lecture to a total of 86 primary school children in the RDS on November 8th and took their lecture on the road and visiting two primary schools in December. (view here)
"How can we work together to accelerate the discovery of pioneer medicines for inflammatory diseases" (Prof Chas Bountra Tercentenary Hall, TBSI 7th December 2012 )

Prof Chas Bountra is Chief Scientist at the Structural Genomics Consortium and Professor of Translational Medicine at the University of Oxford. His current research is aimed at determining the 3D X ray structures of novel proteins, generating novel small molecule inhibitors, using these to dissect disease networks and hence identifying new targets for drug discovery. The SGC publishes all findings immediately (> one per week), works closely with >100 academic labs across the world and 6 pharmaceutical companies, and shares all reagents and expertise freely.
November 2012
As part of its mission to promote the molecular life sciences on the island of Ireland, the Irish Area Section of the Biochemical Society awards a medal for sustained excellence in the field of biochemistry demonstrated by work carried out on the island. The 2012 medal was presented to Prof. Luke O'Neill. (IAS Award)
October 2012
September 2012
July 2012
May 2012
April 2012
February 2012
Ireland's Future Doctors to Benefit from Trinity College Dublin's New State-of-the-Art School of Medicine.