Involved in a club or society? See some photos below and please send us in any you have by clicking here. Alumni are still active members of the Clubs and Socs community. Check out our pictures of alumni attending events alongside students!

DUFC Annual Alumni Dinner and alumni vs student match

This match took place on December 3rd. The students won!


CSC Awards 2017

The CSC Awards took place on March 8th. The winners of TDA sponsored awards were Best Individual, Molly McAvoy, DU Players and Best Largest Society Best Trinity Cumann Gaelach


DUHC - Trinity Hockey Alumni Drinks

The Trinity Hockey Alumni drinks took place on December 13th.

The Phil Society Honarary Members Debate

This event took place on March 9th.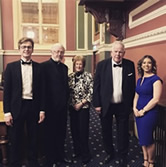 Look for pictures from upcoming events in the near future, including:
The Anna Liffey Annual Dinner on Saturday, 25 March
Young Fine Gael 40 Year Anniversary Event on Tuesday, 28 March
Trinity Regatta Luncheon 2017 on Saturday, 15 April