Funding, Fees and Scholarships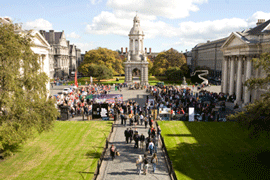 The Department of Political Science generally admits six students per year to the PhD programme, and typically provides financial support in the form of tuition grants, stipends, teaching and research assistantships, along with support for postgraduate conference and research travel. In the 2019-2020 academic year, the department also offered two fully funded PhD studentships through the Provost's PhD Project Awards.
Applicants are strongly encouraged to investigate other PhD scholarships/funding options.
Students in their second year have been very successful in attracting funding from the Irish Research Council (formerly the Irish Research Council for the Humanities and Social Sciences).
Graduate students are also given the opportunity of teaching and tutoring on the Department's undergraduate courses, useful preparation for going onto the job market.
Fee levels may increase in subsequent years. As mentioned above, the Department typically pays these fees on students' behalf.
The School of Social Sciences and Philosophy also provides financial support to a limited number of PhD students through the Grattan Scholarships.