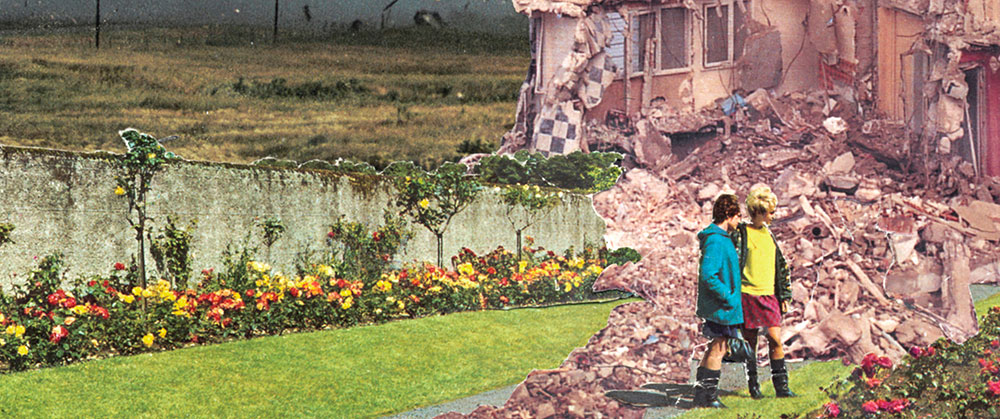 RuinNation
The ruin in Irish art and visual culture 1916–2016
A symposium presented by TRIARC, Trinity's Irish Art Research Centre
2nd April 2016; 10.00 am – 5.15 pm (Registration from 9.30 am)
Emmet Theatre (Room 2037), Arts Building, Trinity College Dublin.
ALL WELCOME.
Keynote: Luke Gibbons
Contributors: Justin Carville : Terence Dooley : John Gerrard : Anthony Haughey : Sean Hillen : Fionola O'Kane Crimmins : Ellen Rowley : Yvonne Scott
Chairs: Declan Long : Niamh NicGhabhann
Selected films by Clare Langan
including The Floating World (winner of the Prix Videoformes 2014)
Convened by: Yvonne Scott
What do ruins mean? How are they depicted?
Over the course of the last hundred years, the ruin in Irish art and visual culture has emerged as a potent symbol of social, political, economic and ecological circumstances and transitions. This symposium explores and interprets selected strategies of representation in art and visual culture at various points during a dynamic era of unprecedented significance in Ireland. Papers range in their focus from the shocking photographs of devastation in the wake of the 1916 rising to the challenging work of contemporary artists addressing recent and current issues and concerns, of relevance to Ireland in a global context. The contributors include historians and analysts of art and visual culture, and contemporary artists addressing relevant themes in their artwork.
PROGRAMME
9.30 Registration
10.00 - 12.45 Session 1: Chaired by Niamh Nic Ghabhann
Yvonne Scott
Welcome and Introduction
Terence Dooley
"Tombstones of a departed ascendancy": the Irish Country House in Ruins
Justin Carville
Topographical Memory and the Imperial Streetscape: Photography, Ruins and Urban Revolution
Short break
Finola O'Kane Crimmins
Ireland's Ruins; Representations of a Ruined Ireland?
Ellen Rowley
Erasing Ruins: Concrete and Post-Conflict Reconstruction in 1920s Dublin
Questions and discussion chaired by Niamh Nic Ghabhann
12.45 – 13.45 Lunch break
13.45 – 16.15 Session 2: Chaired by Declan Long
John Gerrard
Functional Ruins
Anthony Haughey
A Landscape of Crisis: Photographing post Celtic Tiger Ghost Estates
Sean Hillen
Never Waste a Good Ruin
Short break
The Floating World (2014), and other work by Clare Langan will be screened
Questions and discussion chaired by Declan Long
16.15 KEYNOTE ADDRESS
Luke Gibbons: The Rising of the Ruin: Easter 1916 as Modern Event