A Reading Group for Deleuze, Guattari and the Art of Multiplicity
Wednesday, 17 January 2018, 5 – 7pm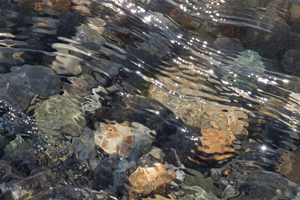 The challenges of the contemporary world in the age of the societies of control, statelessness, economic inequalities and impending environmental collapse make us rethink the philosophical presuppositions that underlie critical approaches in the Arts and Humanities. In response to what might be called 'the environmental' and 'the philosophical turn', Professor Steve Wilmer and Dr. Radek Przedpełski are organising a reading group about the writings of Gilles Deleuze and Félix Guattari on art and multiplicity. Multiplicity makes possible the conceptualisation of emergent, contingent processes of change. The notion of multiplicity thus allows us to tackle the issue of potential, nuance, affect and difference in the complex societies of today, beyond the reductive logic of binary oppositions.

Following the seminar on 'Deleuze and Aesthetics' in 2016, that led to the very successful conference on 'Deleuze+Art', we will again be meeting in Hilary Term on Wednesdays from 5pm to 7pm in the seminar room on the first floor of the Trinity Long Room Hub (17 January—7 March 2018). This new reading group is being organised partly as preparation for an international symposium on 'Deleuze, Guattari and the Art of Multiplicity', featuring several distinguished keynote speakers from abroad, on March 9 in the Long Room Hub.

Some of the areas we plan to cover in the seminar are:
♦ philosophical influences on Deleuze and Guattari such as Spinoza, Bergson, Nietzsche, Simondon, and Ruyer; as well as
♦ specific issues related to art and multiplicity such as technology/the post-digital, animals, new materialism, spirituality/the incorporeal.

We plan to assign one or two chapters to be read in advance of each session (approx. 20 to 30 pages) to be discussed after a brief presentation (10-20 minutes) by the seminar leaders. The ensuing discussion will then be framed by a recapitulation of major philosophical points raised in the text. The readings for each session will be emailed to the group as pdfs., at least one week before the session.

Please note we have now announced the topics of the first four sessions. Make sure you have registered via our Trinity Long Room Hub Google doc form in order to receive the assigned readings ahead of the sessions. We still have some places available but please make sure you make your booking quickly to avoid disappointment.

Session 1 | Wednesday 5-7pm, Galbraith Seminar Room, 1st Floor, Trinity Long Room Hub, 17 January 2018 | Spinoza
Session 2 | Wednesday 5-7pm, Galbraith Seminar Room, 1st Floor, Trinity Long Room Hub, 24 January 2018 | Nietzsche
Session 3 | Wednesday 5-7pm, Galbraith Seminar Room, 1st Floor, Trinity Long Room Hub, 31 January 2018 | Simondon
Session 4 | Wednesday 5-7pm, Galbraith Seminar Room, 1st Floor, Trinity Long Room Hub, 7 February 2018 | Ruyer
It is important that you register for this event if you are interested in attending.
Register here
Campus Location
:
Trinity Long Room Hub
Accessibility
: Yes
Room
: Galbraith Seminar Room,
Event Type
: Arts and Culture, Lectures and Seminars, Public, Workshops and Training
Type of Event
: One-time event
Audience
: Postgrad, Alumni, Faculty & Staff, Public
Cost
: Free (but registration is essential)
Contact Name
: Prof Steve Wilmer (
swilmer@tcd.ie
) and Dr. Radek Przedpełski (
przedper@tcd.ie
).