NEWS ARCHIVE (Sept 2014- Sept 2015)
Launch of The Centre for Inclusion & Intellectual Disability 19th May 2015
20th May 2015
The Centre for Inclusion & Intellectual Disability Top Right: L-R: Prof. Mary McCarron, Provost Dr Patrick Prendergast, Dr Paula Flynn (Director), Dr Michael Shevlin, Vice Provost Prof. Linda Hogan, Ms Denise Kelly (NCCA) & Dr Carmel O'Sullivan.
L-R: Dr John Kubiak in conversation with graduates Mei Lin Yap, Margaret Turley & Tomás Murphy Top Right: Provost Dr Patrick Prendergast
L-R: Dr. Carmel O'SullivanTop Right: L-R: Ms Sarah Johnston & Dr Paula Flynn
To celebrate the move of the National Institute for Intellectual Disability (NIID) to the School of Education following ten productive years as part of the School of Social Work and Social Policy, the School of Education is delighted to announce the formal launch of the newly re-designed Centre for Inclusion and Intellectual Disability, or 'The Centre' as it will be more commonly known. This celebratory event took place in The Paccar Theatre, Science Gallery, TCD, at 5 pm on Tuesday, 19th May. We are delighted that the Provost officially launched 'The Centre' in the company of students, graduates and family members, as well as staff from across college and representatives of business partnerships, whose consistent support is essential to promote pathways to employment for our graduates. A number of long term supporters of the NIID and colleagues from support services also attended the event including members of the former management committee.
Congratulations to our CCL Student's with their sporting achievements
15th April 2015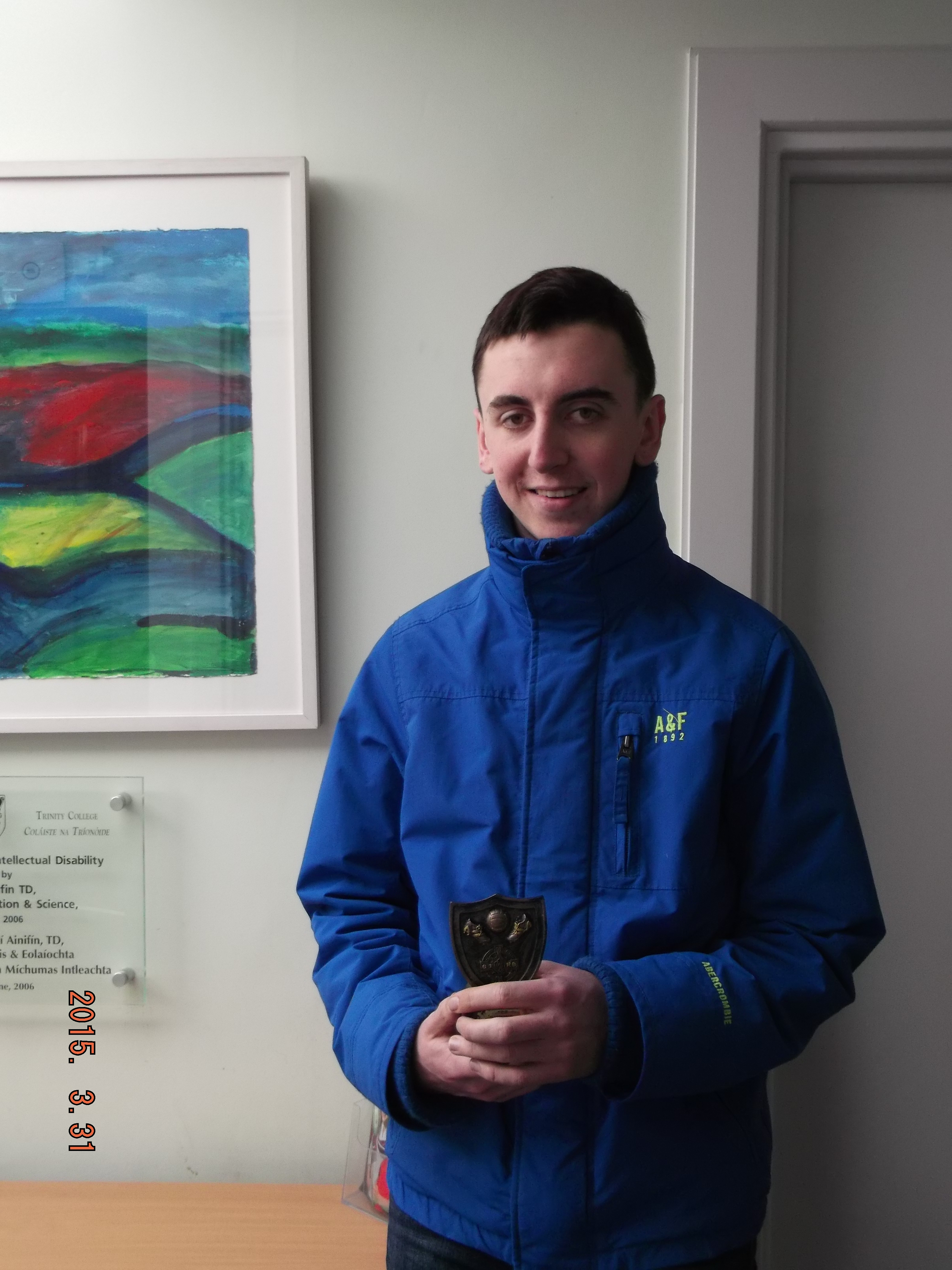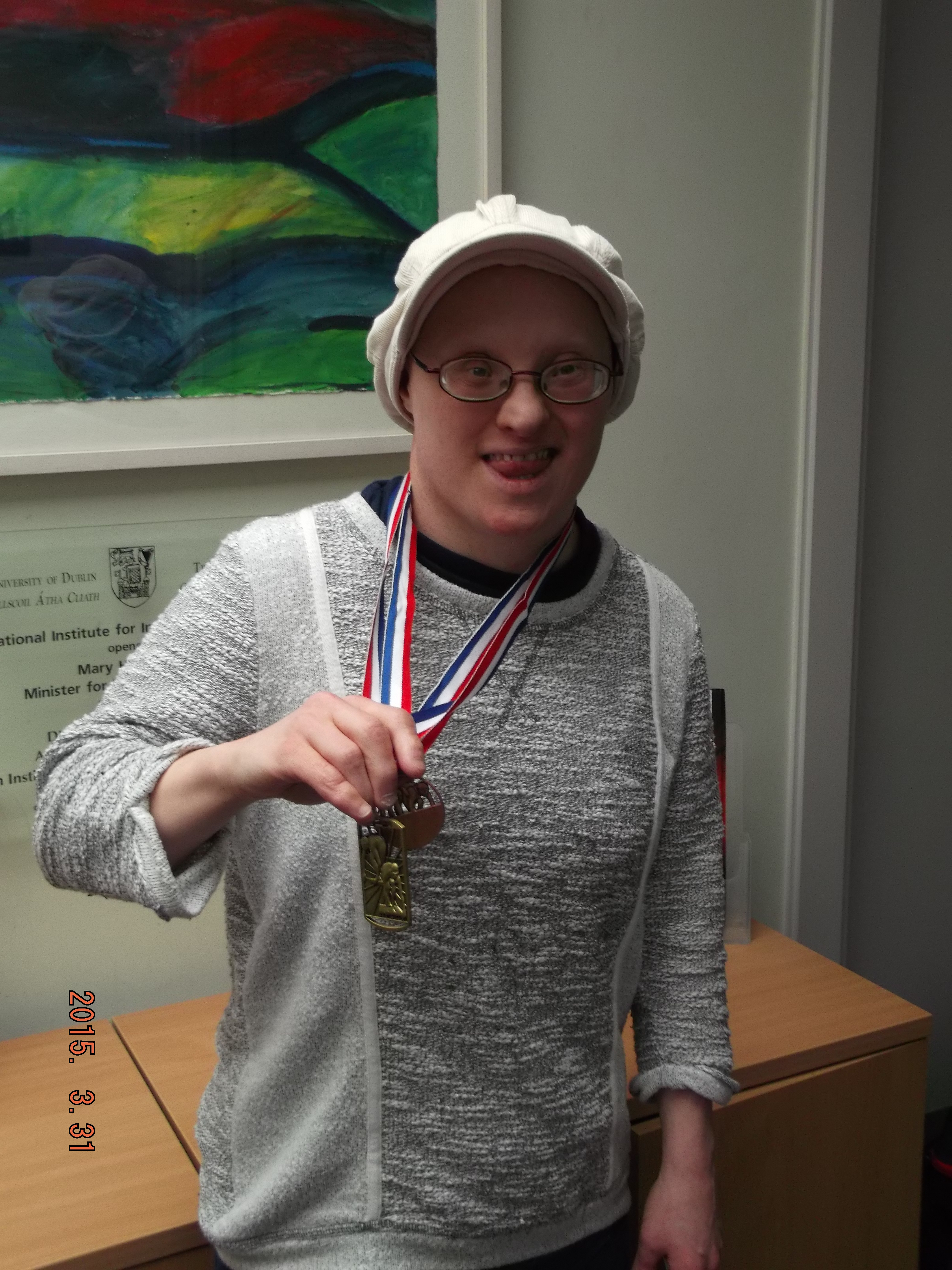 From left; Fiachra Costello From Right: Maeve Philips
Trinity's Swim scholar Maeve Phillips won bronze in the backstroke 50m and gold in the butterfly 25m at The European Down Syndrome Swimming Championships 2015 in Southampton. Maeve also claimed the European record, knocking 3 seconds off the previous record. Fiachra Costello, Gaelic Football scholar also received a trophy for sportsperson of the year from his coach. Brilliant achievements all around!
Intake 2015 - 2016 Announcement
01st April 2015
We are pleased to announce that with the successful transition of the National Institute for Intellectual Disability to the School of Education, Trinity College Dublin, the Certificate in Contemporary Living Programme will be redeveloped over the next twelve months with the intention of situating the course on the National Framework of Qualifications. We look forward to introducing the newly conceptualised programme in September 2016, however, this means that we will not take on a new cohort of students in September 2015. Further updates regarding our next Open Day in 2016 will be added to our website news page
New Book 'Inclusive Education for Students with Intellectual Disabilities'
26th March 2015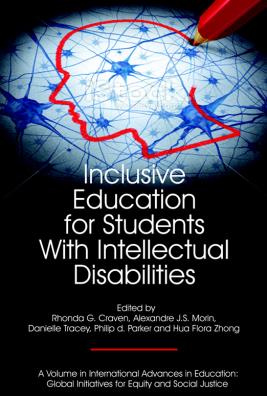 New Book Information:
A chapter entitled 'Experiences of Learning: Students With Intellectual Disabilities in Higher Education in Ireland' by John Kubiak and Michael Shevlin, has been included in the book Inclusive Education for Students with Intellectual Disabilities, A volume in International Advances in Education: Global Initiatives for Equity and Social Justice, (Series Editors: Elinor L. Brown, Rhonda G. Craven, and George F. McLean).
For more information please click here
CCL Students visit the Mansion House to meet the Lord Mayor of Dublin
26th March 2015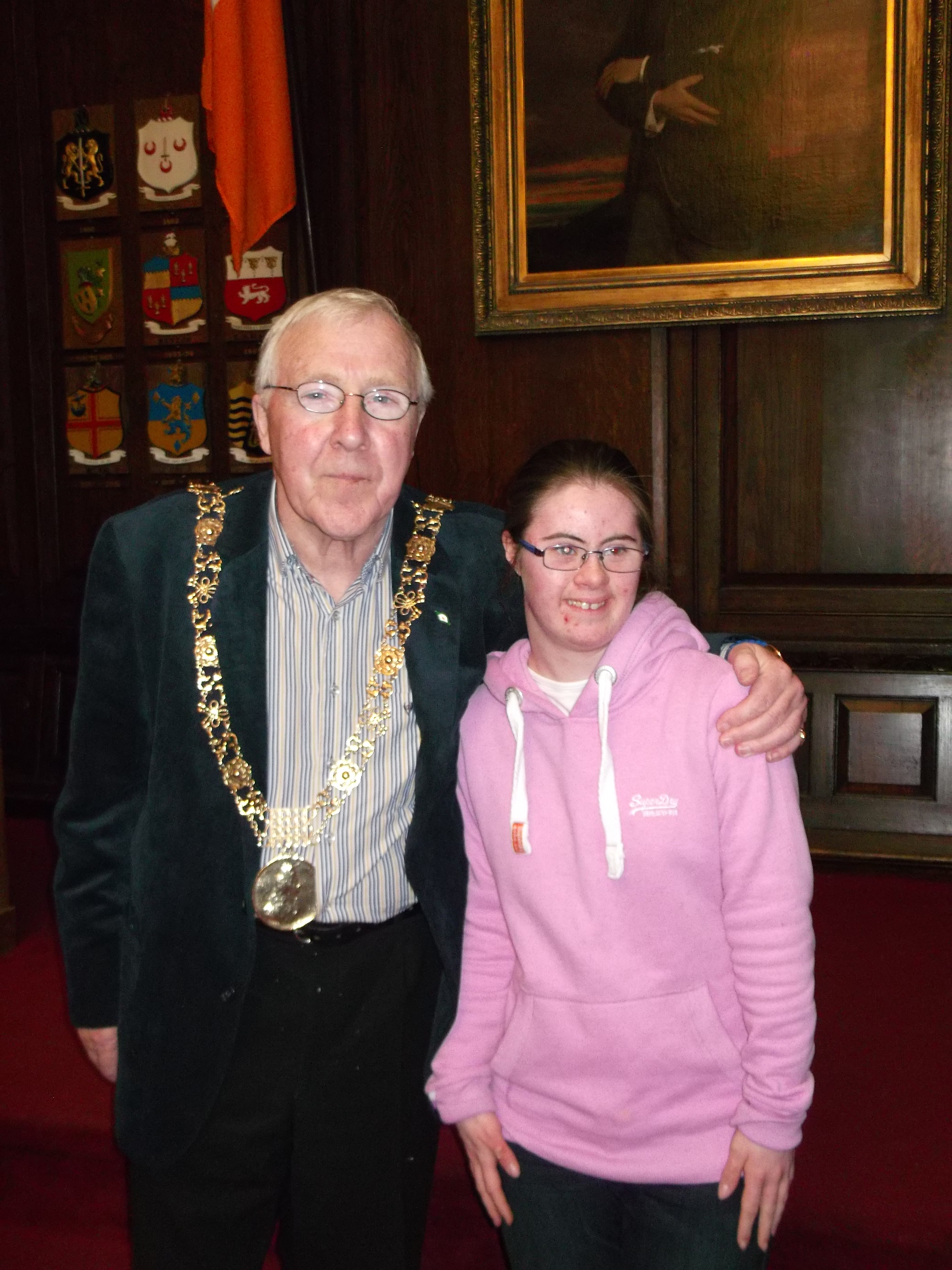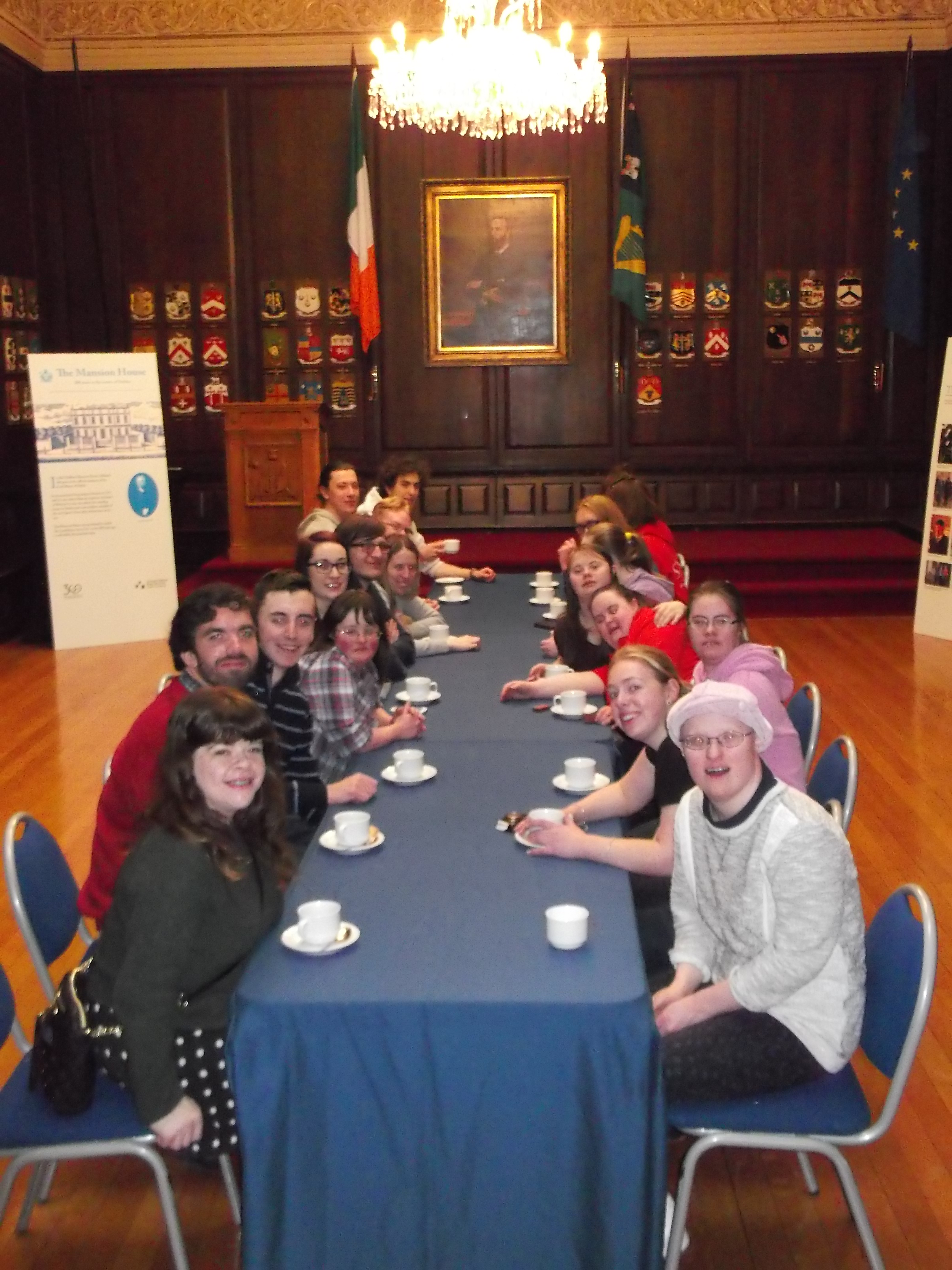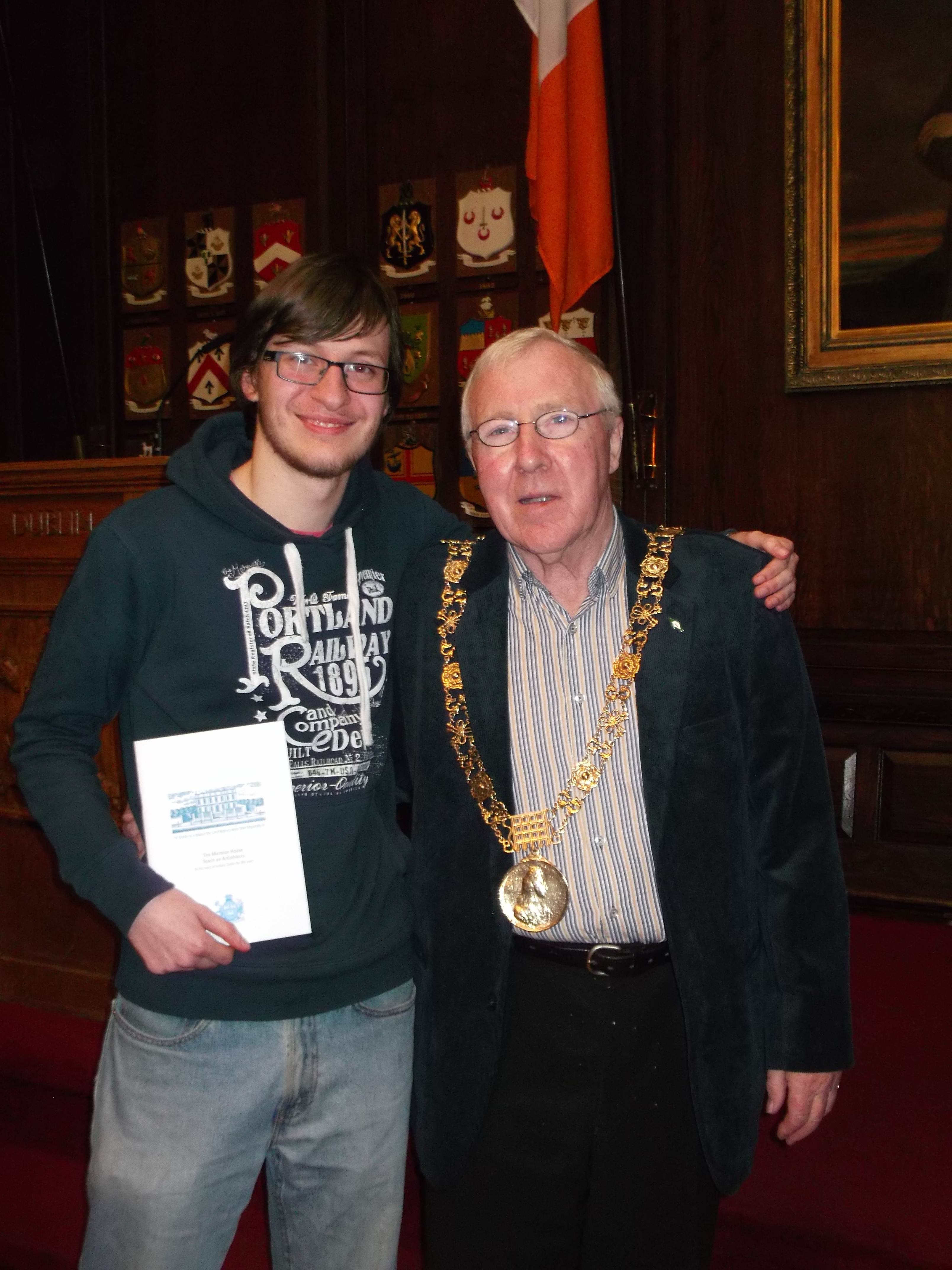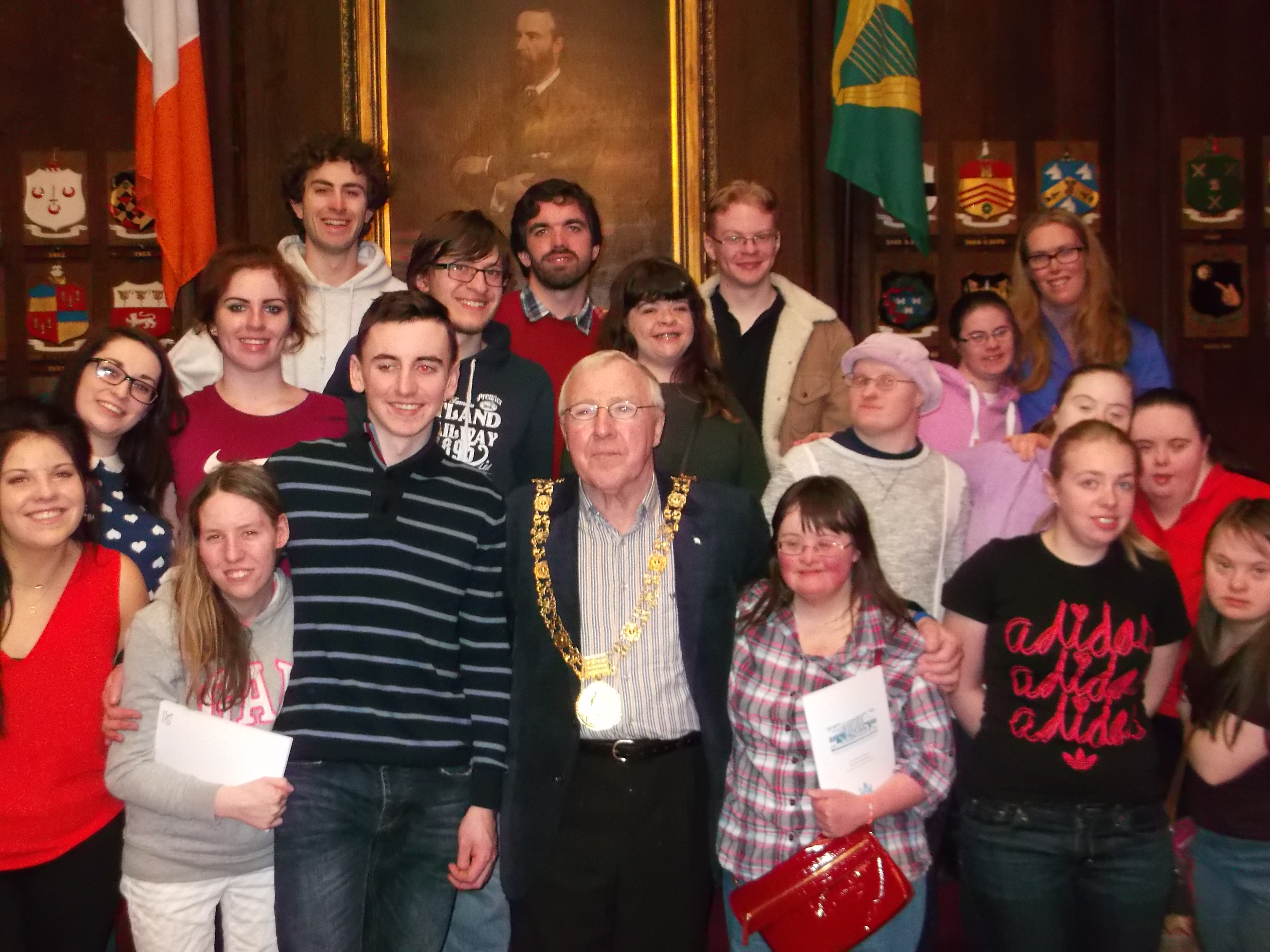 Certificate in Contemporary Living class 2014 - 2015
The Certificate in Contemporary Living students had a recent trip to the Mansion House to meet the Lord Mayor of Dublin. The CCL Students thoroughly enjoyed this outing. The trip was planned and organised by the St. Vincent de Paul club who run a social group with CCL students every Wednesday at lunchtime.
CCL Student Maeve Philips launches the Water Polo Intervarsity's competition
04th March 2015
Water Polo team with Maeve Philips
From left Brid Philips, Maeve Philips and Maura Gallahue
From Right Maeve Philips with Kevin Johnston
Our swimming scholar Maeve Philips launched the Water Polo Intervarsities Competition held in Trinity Sports Centre on Friday 30th January.
As it's a combined swim/water polo club, Maeve and her family were invited to attend with Maeve throwing in the ball for the first game to start the tournament.
Also in attendance were members of the club committee along with Trinity's water polo sports scholar, Kevin Johnston, and some representatives from various governing bodies.
Trinity went on to do the double at the Water Polo Intervarsities winning both men's & ladies finals. Well done to all involved.
CCL Students Fiachra Costello and Maeve Philips awarded Sports Scholarship
04th Dec 2014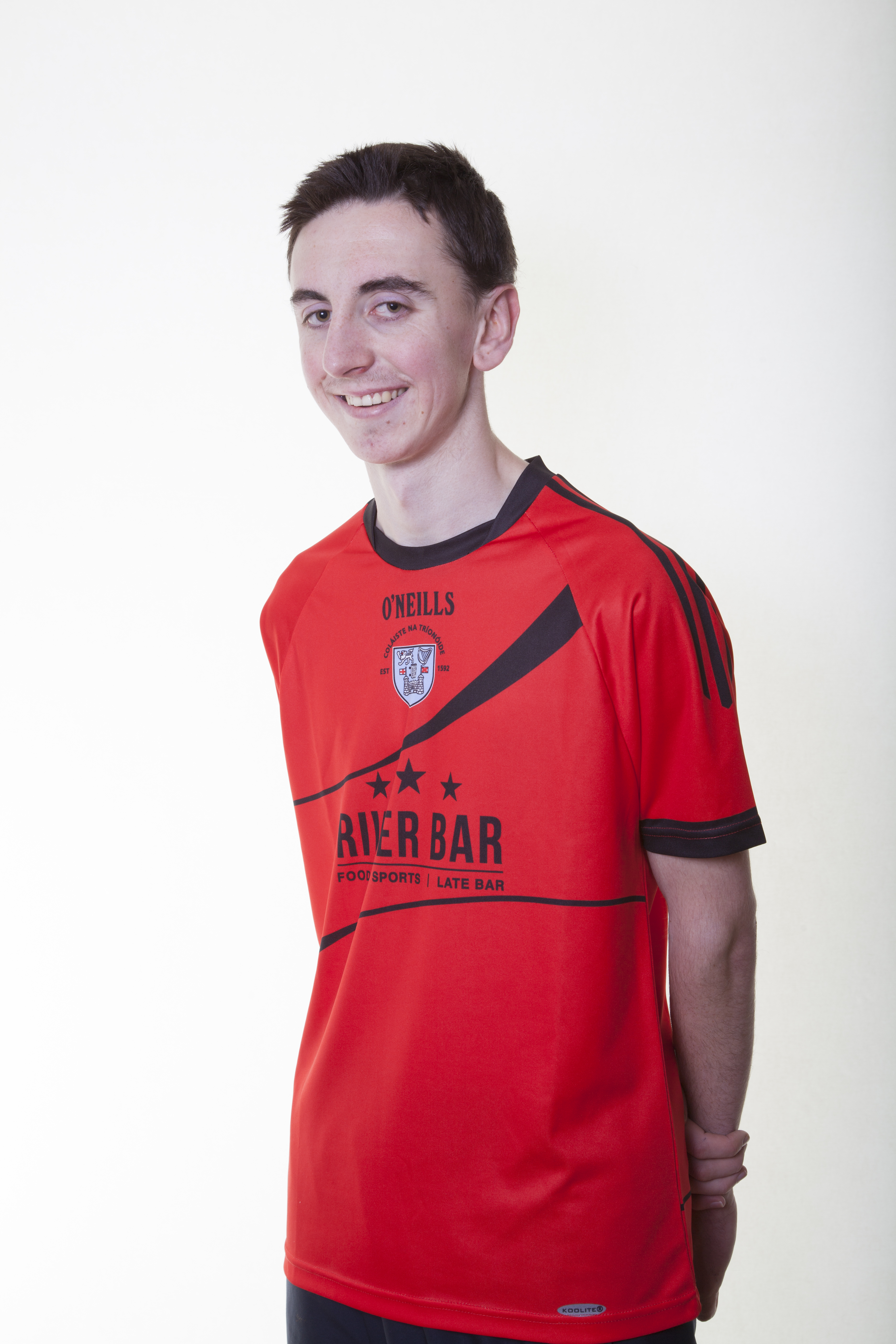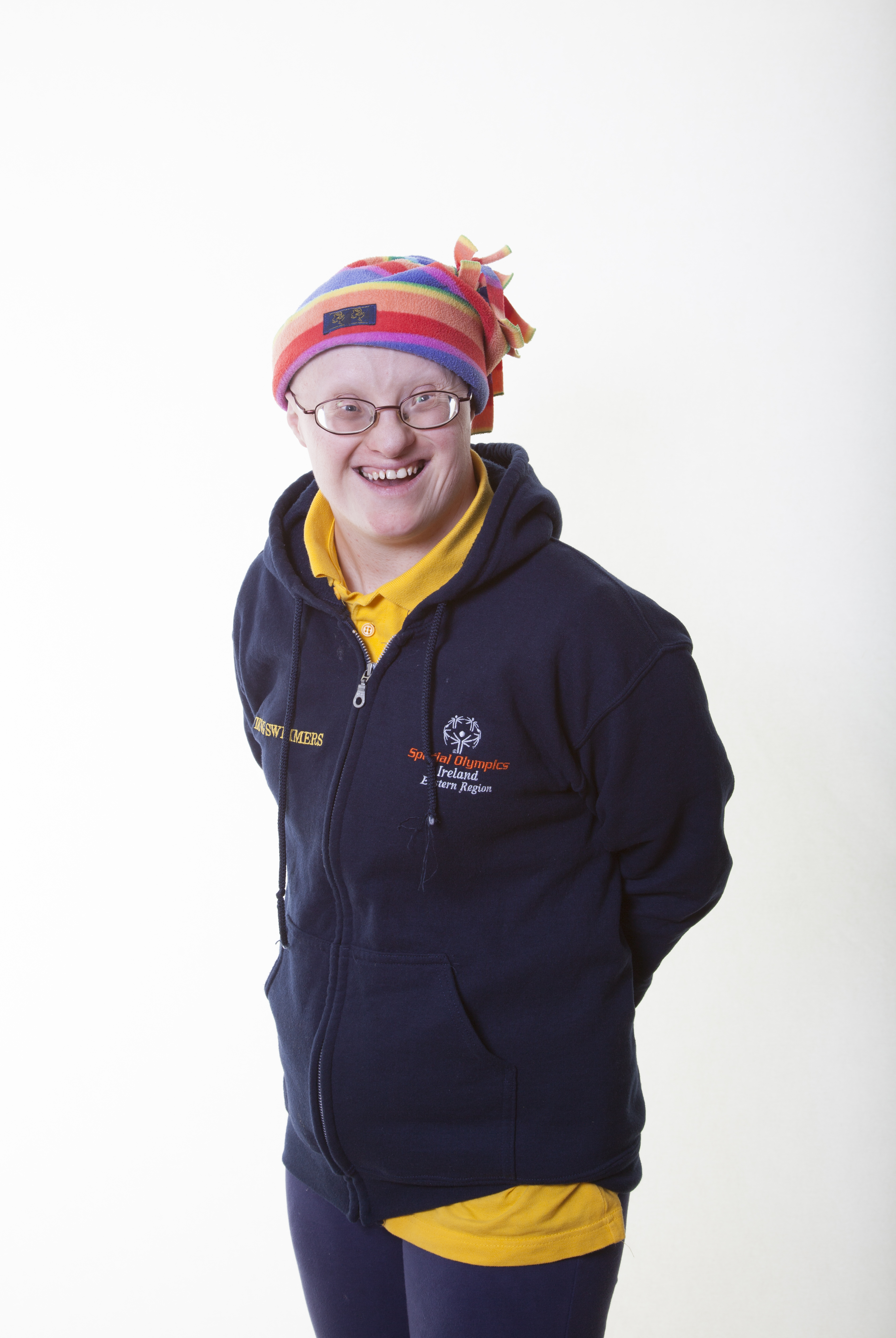 From left; Fiachra Costello From Right: Maeve Philips
Two outstanding athletes from the National Institute for Intellectual Disability (NIID) were presented with the Trinity College Sports Scholarships at a ceremony last night in the Pavilion Bar. Fiachra Costello and Maeve Philips, who are both first year students on the Certificate in Contemporary Living (CCL), were awarded the first ever sport scholarships for students on the CCL programme.
Fiachra and Maeve were presented with their award by Trinity's Head of Sport and Recreation Michelle Tanner as well as former Irish rugby international Hugo MacNeill who has been a champion of the NIID for many years.
Fiachra was awarded his award for Gaelic Football and is currently training and playing on the college Fresher's team. Maeve is a keen swimmer and a Special Olympian. Maeve is hoping to qualify for next year's World Games in Los Angeles. Watch this space!
Congratulations to both recipients of this year's inaugural NIID Sports Scholarships awardees who are the first CCL students to have the honour of representing the University. We hope they will aspire to even greater successes in their retrospective sporting ambitions.
Congratulations CCL Graduates 2014!
26th Nov 2014

Students of the Certificate in Contemporary Living (CCL) - a course for people with intellectual disability - graduated at a ceremony in the Public Theatre on Friday, November 14th. The sixteen students who were awarded their certificates are now the seventh cohort to graduate from this pioneering and innovative Trinity programme.
The CCL allows people with an intellectual disability an opportunity to experience tertiary education and the richness of life as a college student. There are three aspects to the CCL programme - academic learning, personal growth and career development. The programme provides support through taught sessions, careers advice, work placements and personal planning to enable individuals to gain in independence and receive recognition for their achievements. The certificate course has been recognised nationally and is beginning to gain international recognition for its innovative commitment to inclusion.
Commenting on the significance of the achievement of CCL graduates, course co-ordinator Dr John Kubiak said: 'Since 2008, over one hundred students have graduated from the course. A number of them are in employment while others are pursuing education or training opportunities. Every one of them is a role model and an ambassador for the CCL and their experiences and achievements will inspire future students.'
CCL Graduate Clare Knox was the recipient of the annual Margaret McLoughlin Student Prize. The prize was established in the National Institute for Intellectual Disability (NIID) by a generous gift from the McLoughlin family and friends and was presented to Clare by Joan McLoughlin at a reception in the NIID after the graduation ceremony.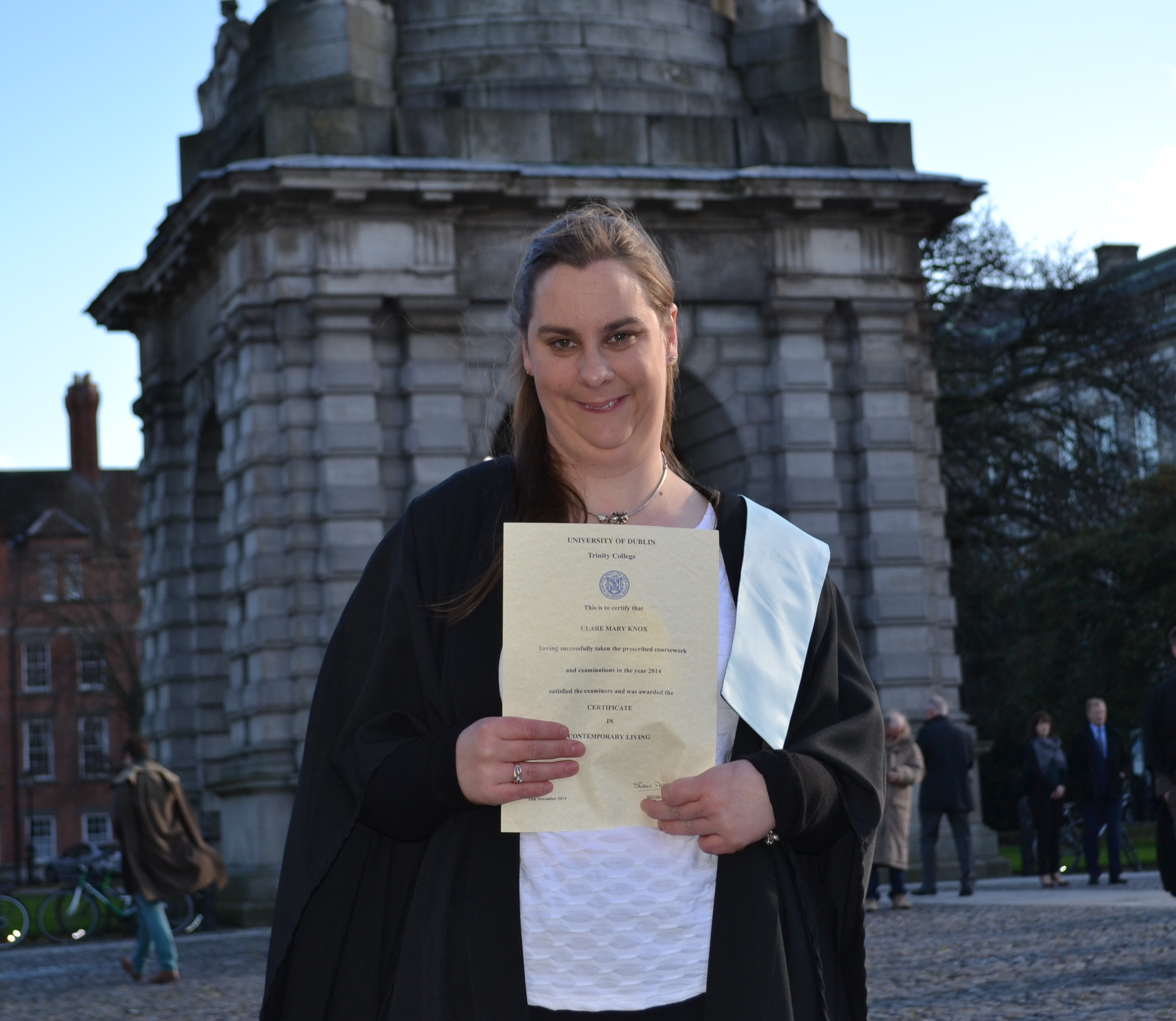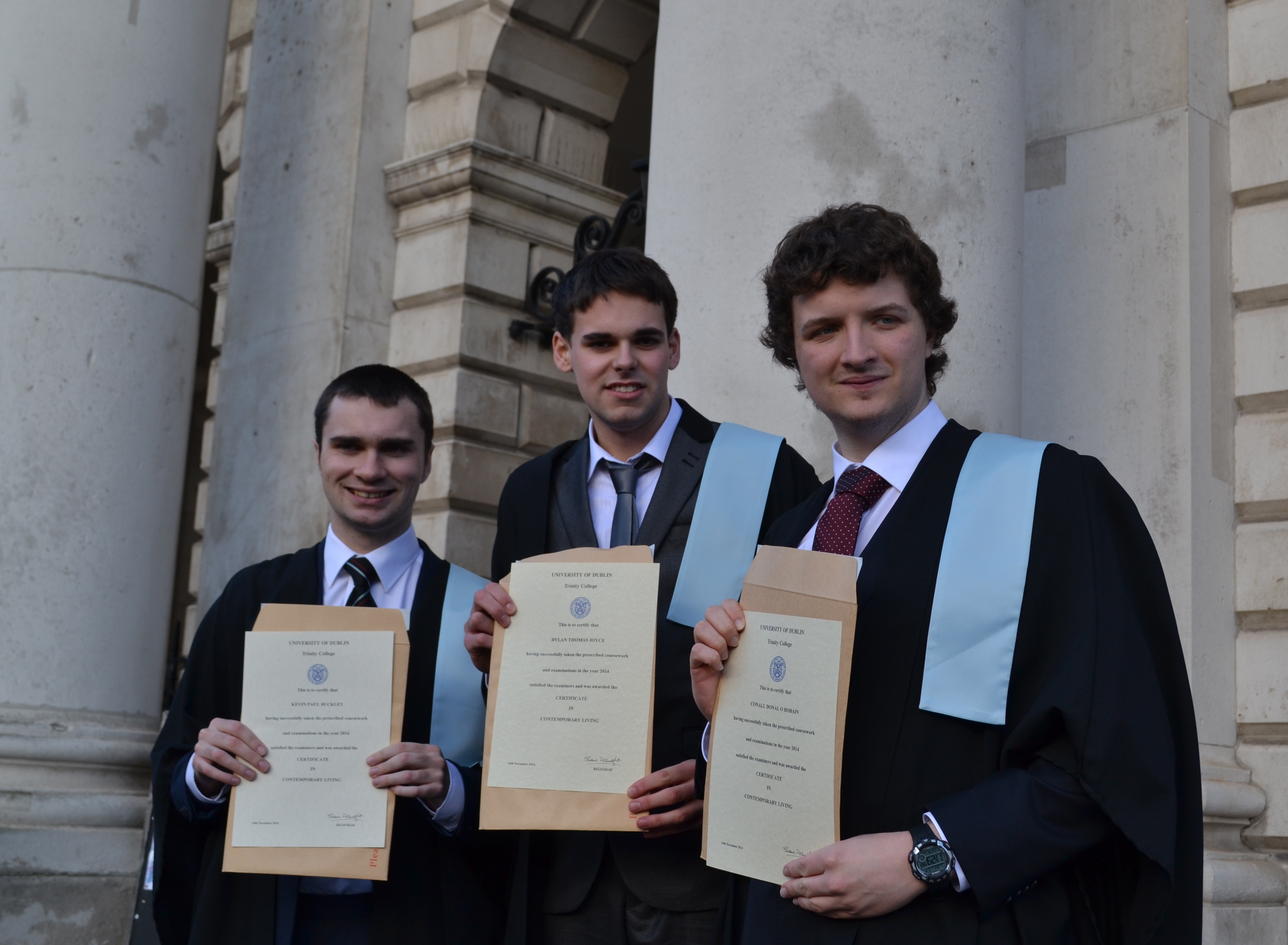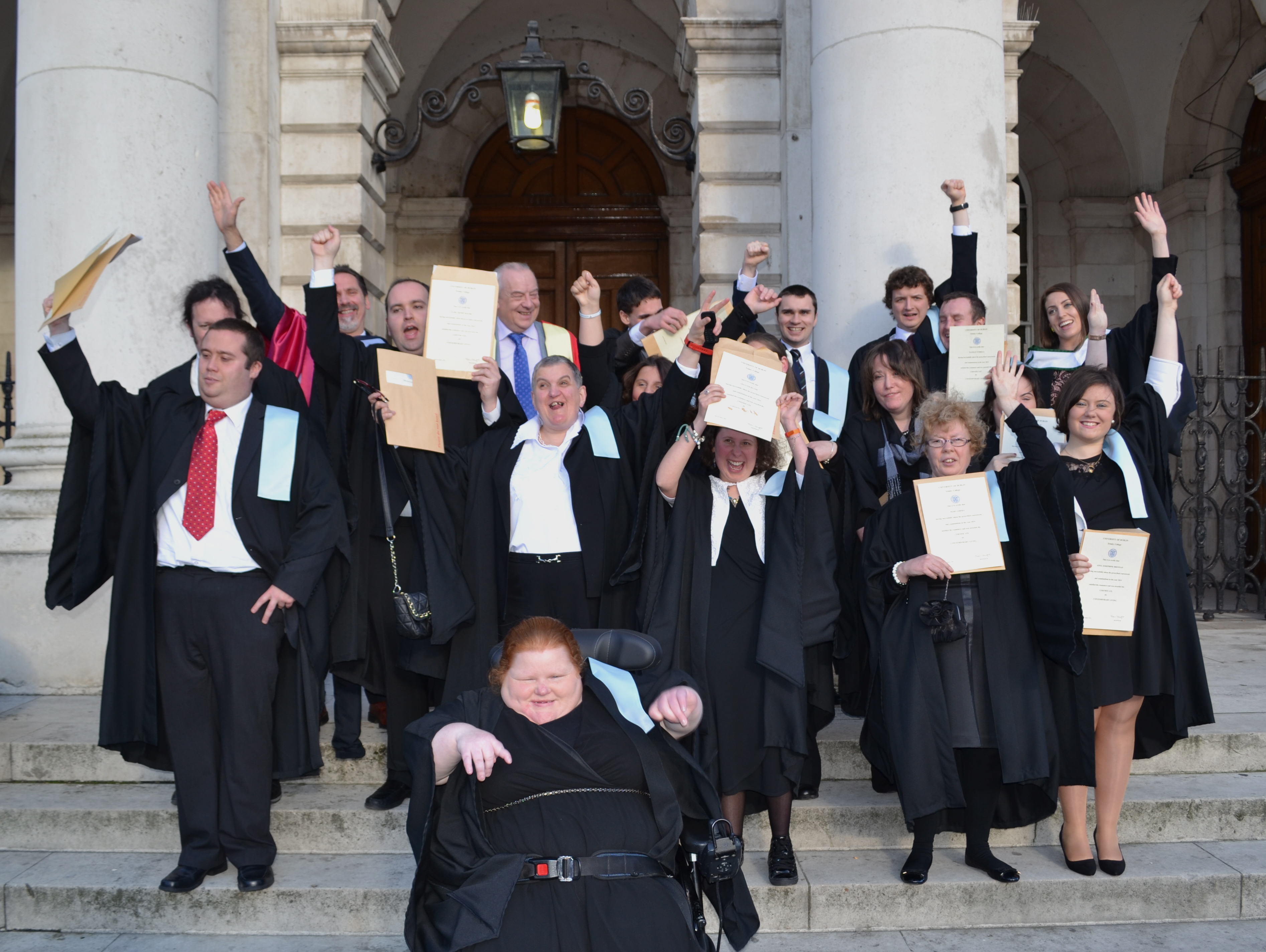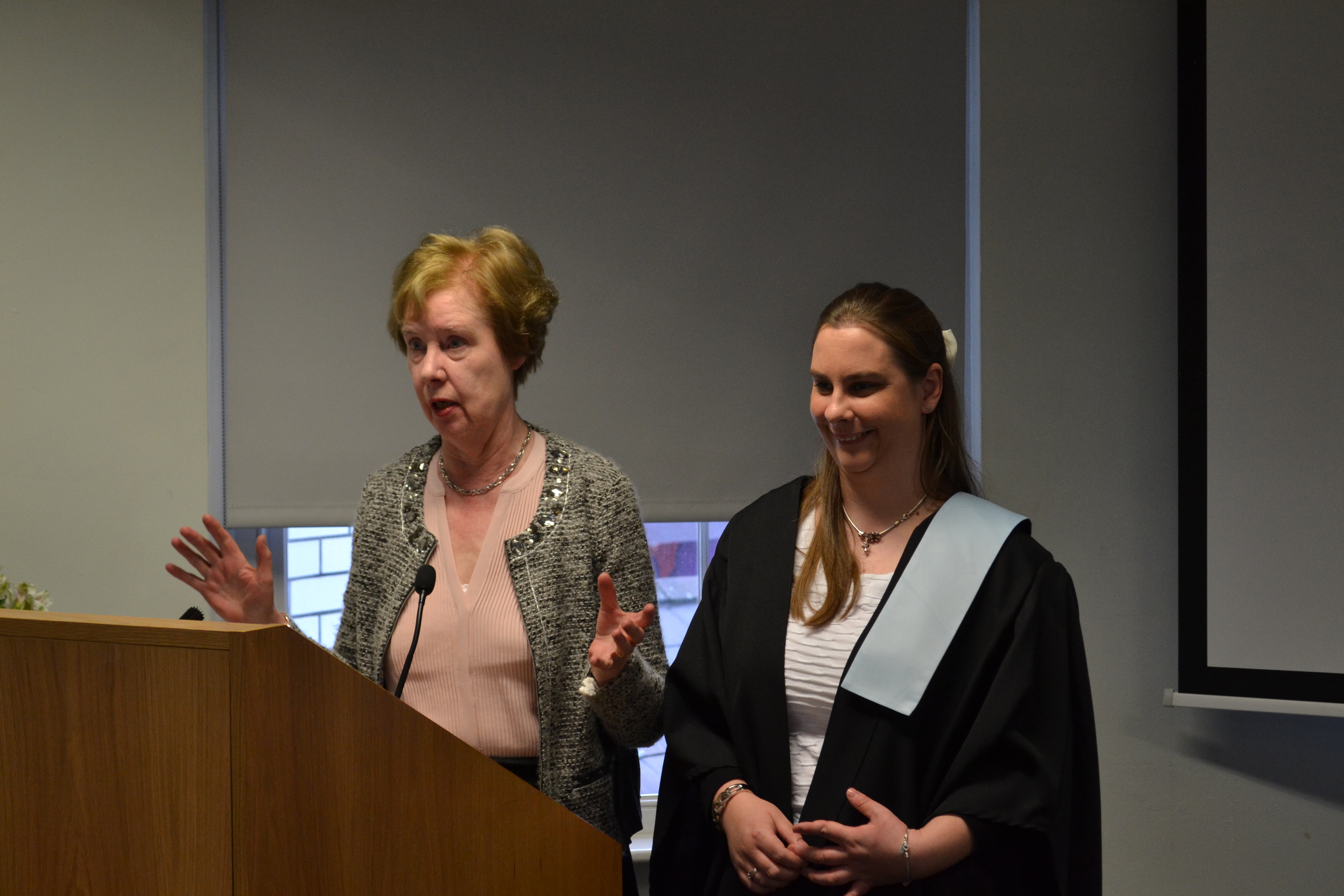 Pic 1: Clare Knox winner of the Margaret McLoughlin student prize
Pic 2: CCL graduates Kevin Buckley, Dylan Joyce and Conall O'Hobain
Pic 3: CCL group
Pic 4: Joan Mc Loughlin and prize winner Clare Knox
Welcome first year Certificate in Contemporary Living Students 2014 - 2015!
28th Oct 2014

The NIID welcomed a group of new first year students who officially began their CCL journey in Trinity College on September 23rd. Students were delighted to discover all of what Trinity has to offer, including tours of the campus, library and sports centre. One of the highlights including the collection of the coveted Trinity student card!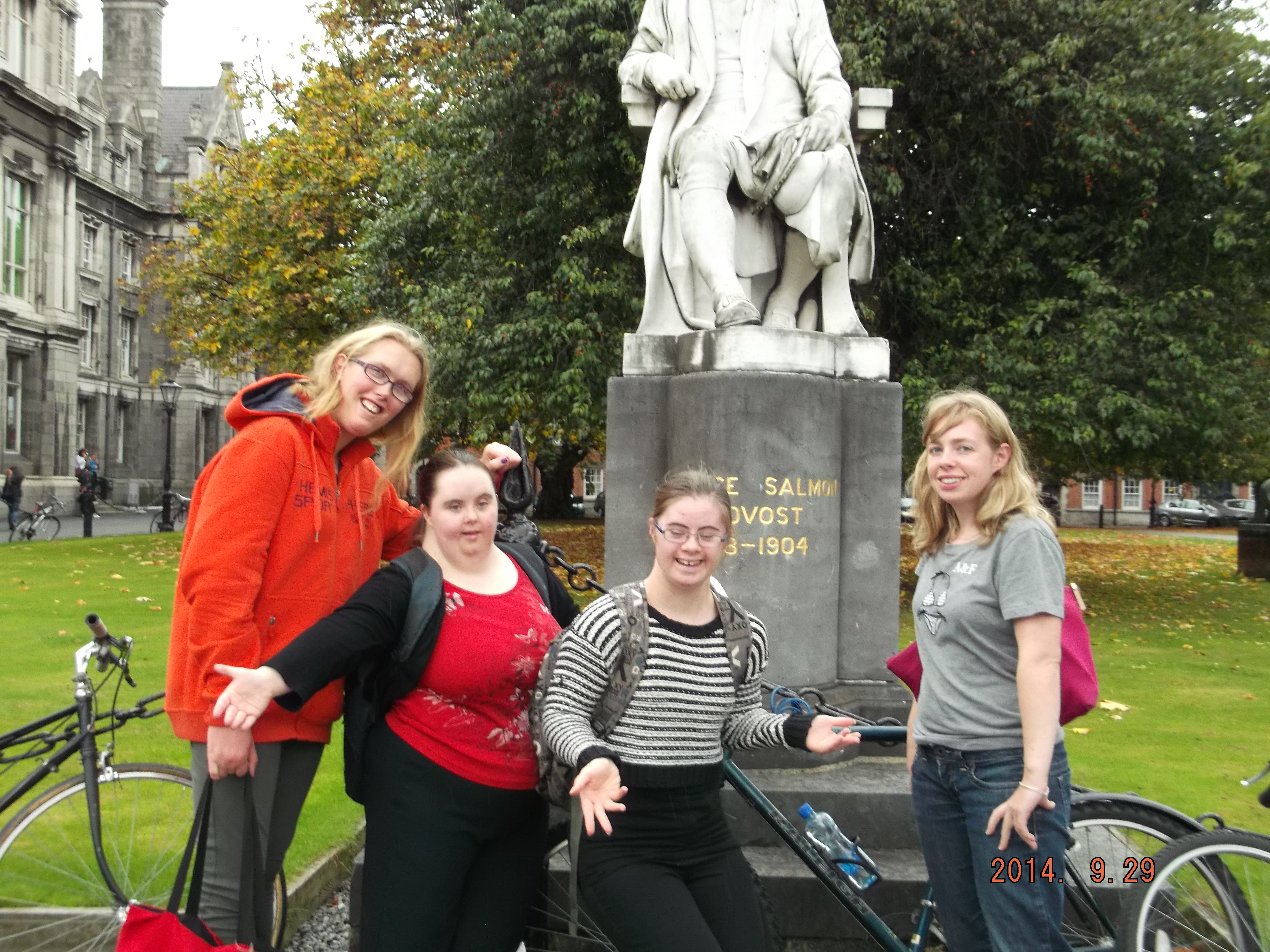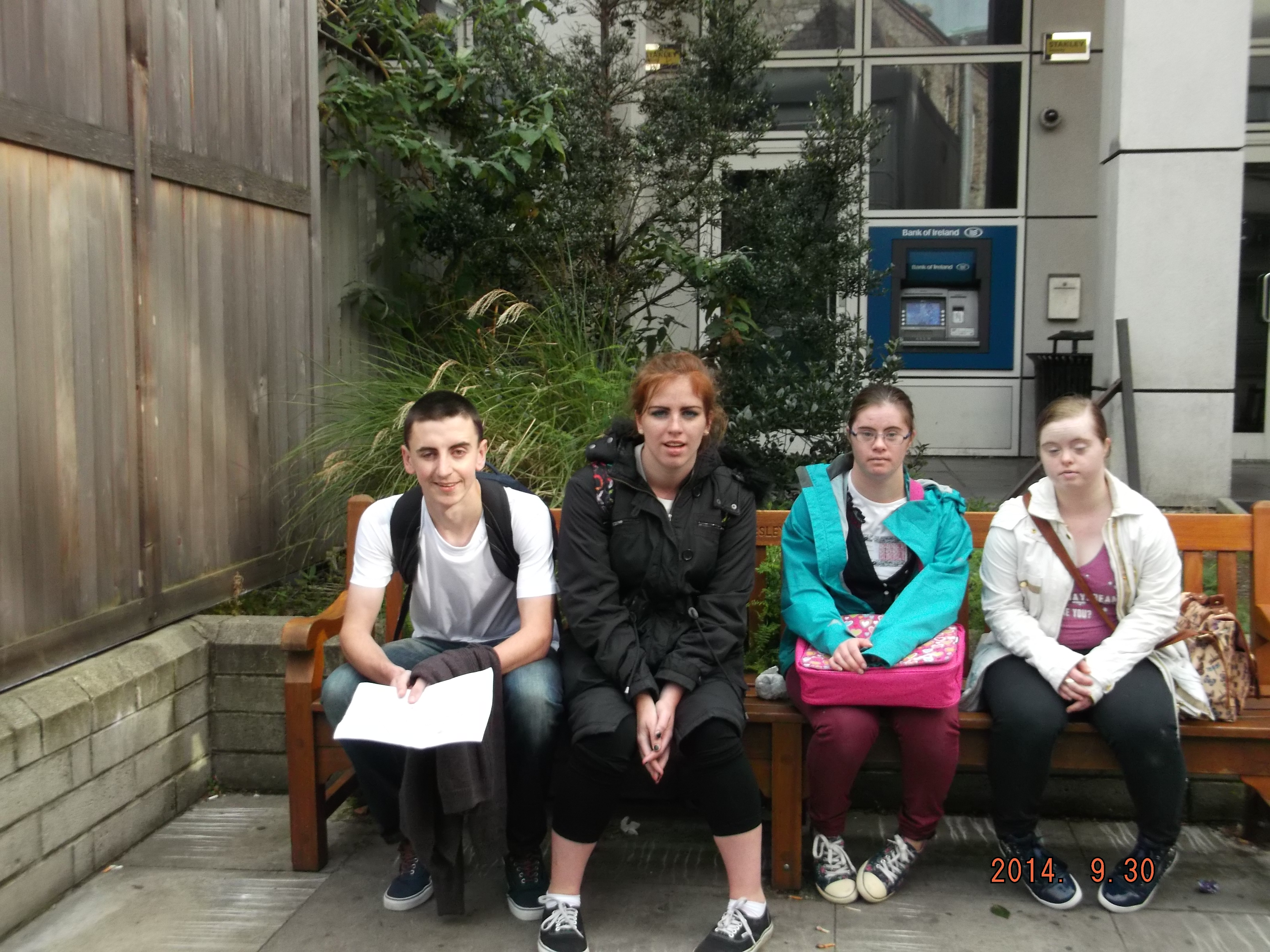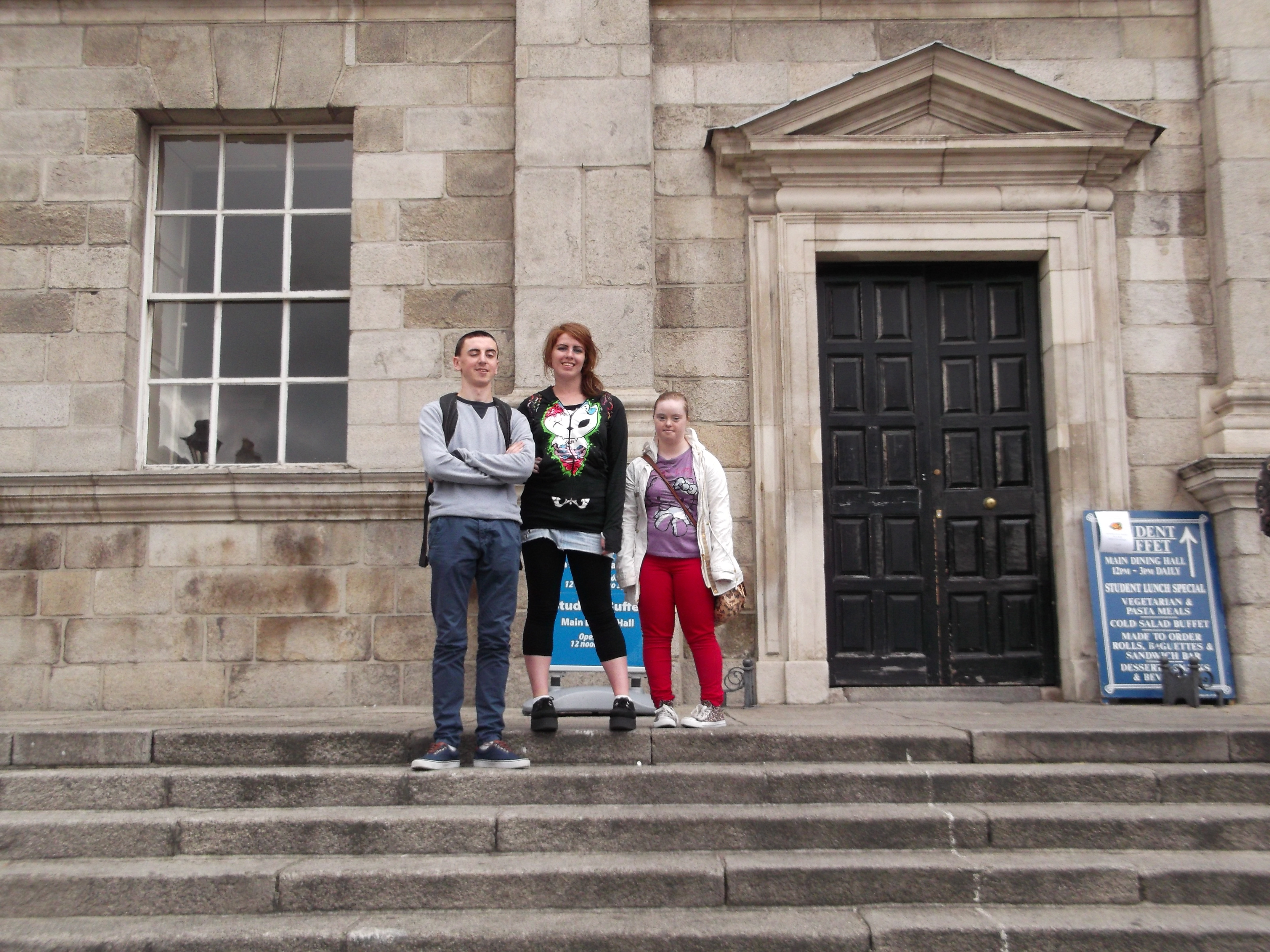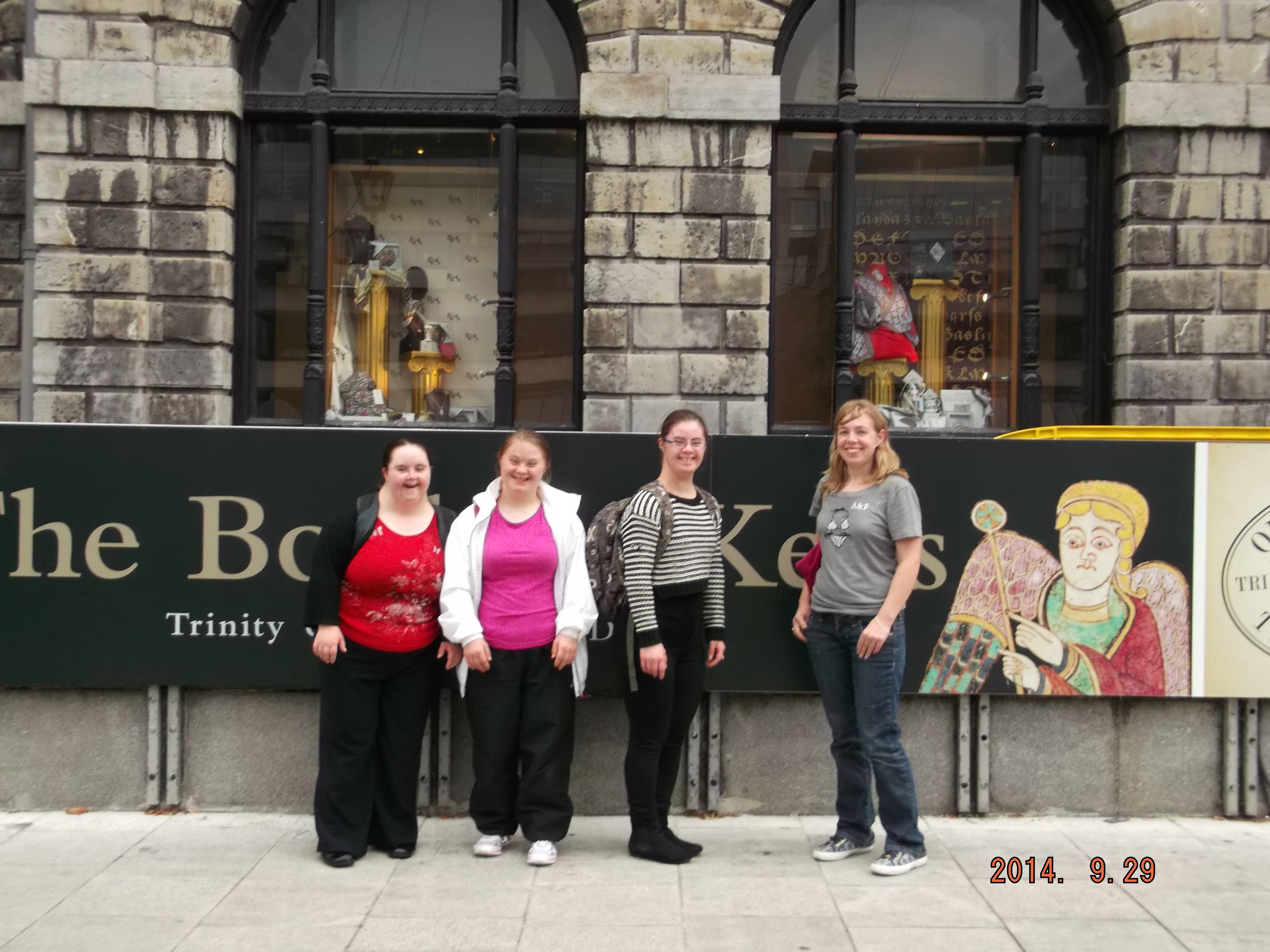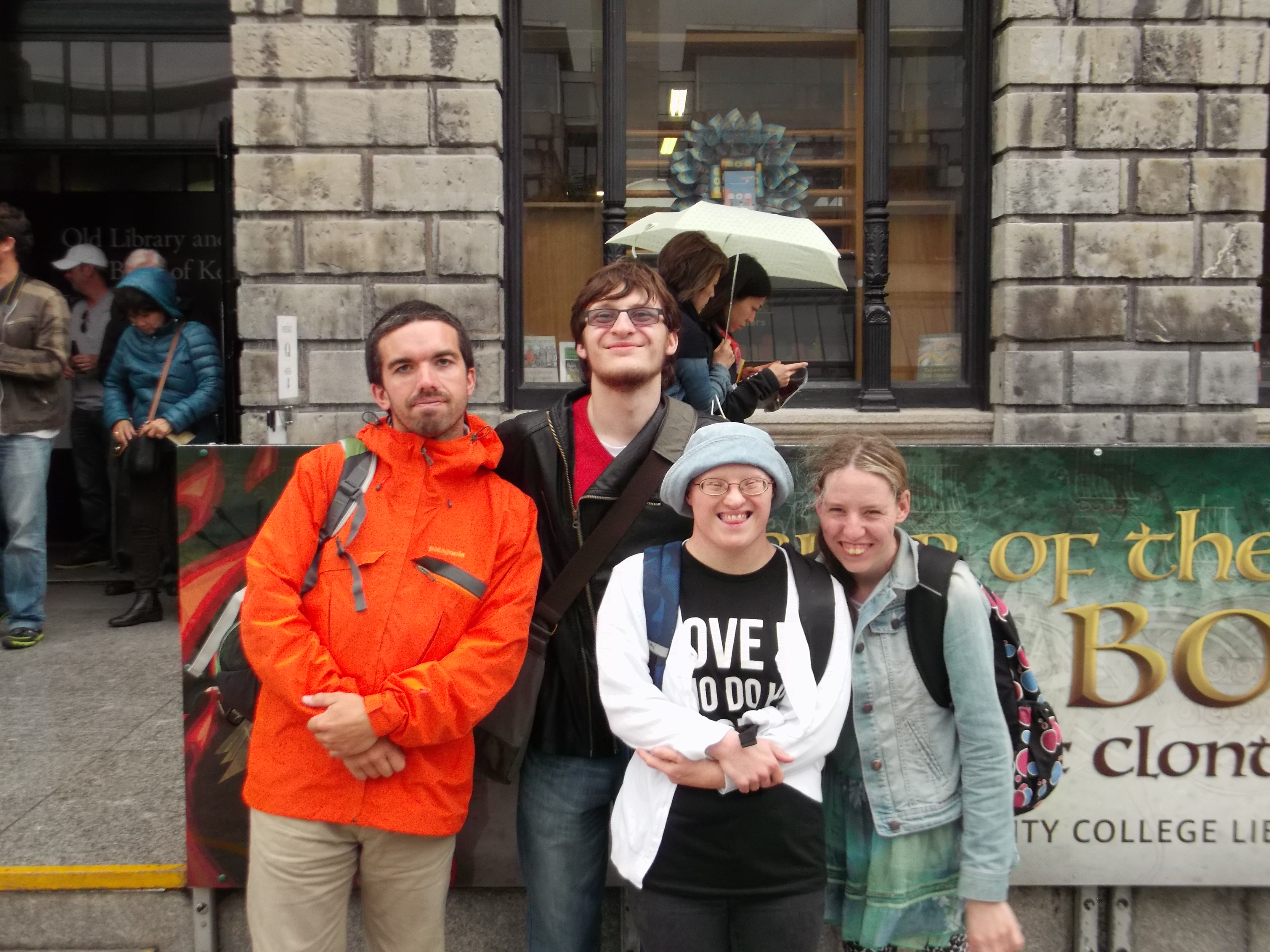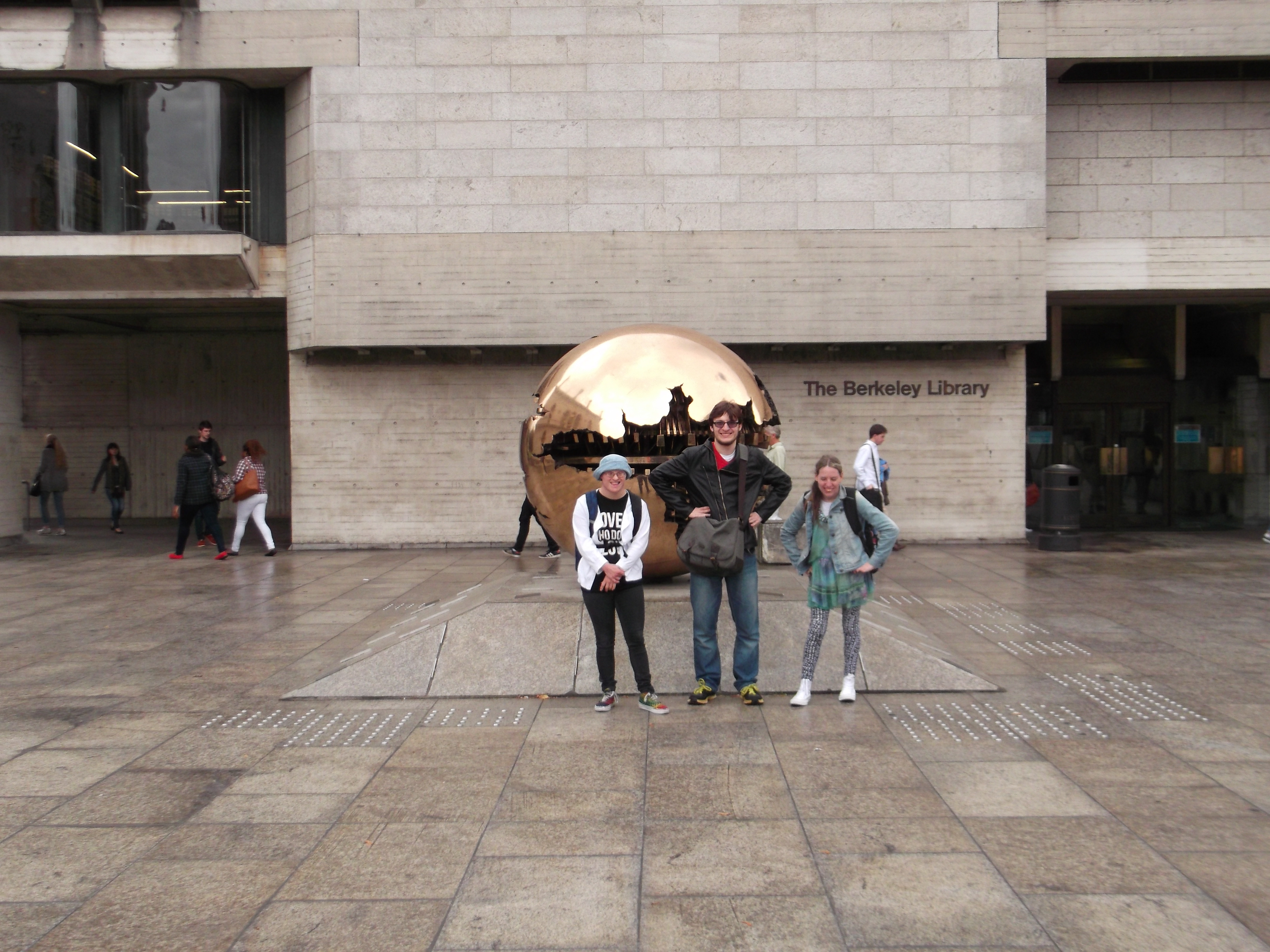 Paula, a first year student, reflected on her first week in Trinity as she starts her next chapter in college:
'I met so many new friends on my first week in Trinity College. I felt so excited on my first week in Trinity College. I enjoyed my first week in Trinity College.
I went to the library on the Trinity campus. I enjoyed it. I felt so happy going home on my last day. I was tired. My highlight was going to the Trinity College campus for my lunch and to get my student card. I feel so happy to be a student in Trinity College now. My wish has come true.' Paula
For all of our students reflections on their new and exciting next phase, please see below or read more on what the CCL Students had to say about their experience of starting in Trinity.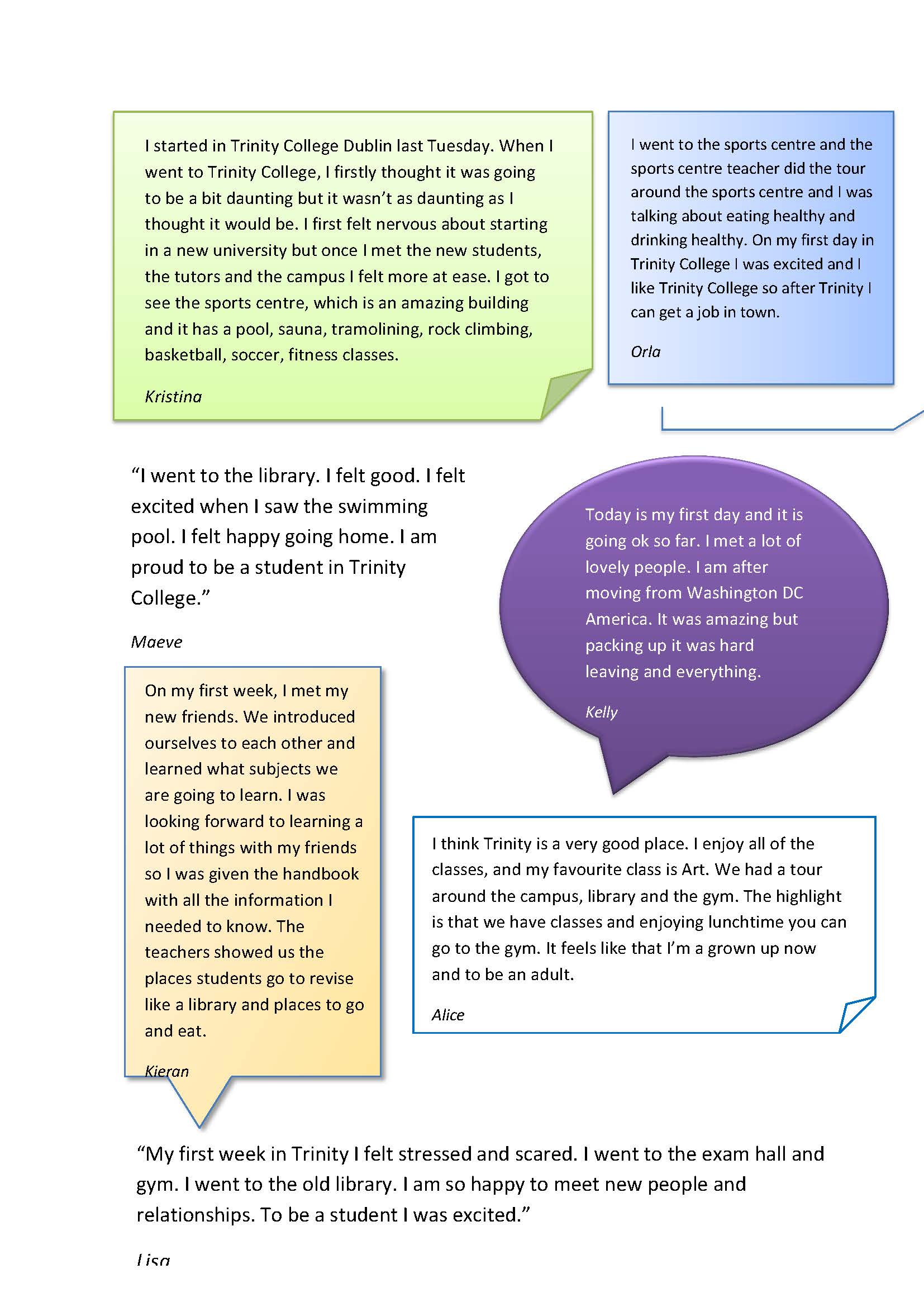 We hope your Trinity experience can be a time for you to frame your ambitions, heighten your expectations, and place yourself on the path to realising your highest aspirations.
Open Evening 2014-2015
26th June 2014
The open day for the Certificate in Contemporary Living (CCL) took place on the following date:
Date: Wednesday July 2nd 2014
Place: NIID, Room 4.02, 4th Floor, 3 College Green, Dublin 2
Time: 5 - 6pm
Please note all applications must be received by Wednesday July 9th 2014. These can either be sent in via post or emailed to niid@tcd.ie Successful applicants will be notified of when Interviews will take place following the Open Evening.