NEWS ARCHIVE (Sept 2013- Sept 2014)
Dr John Kubiak delivers a paper at the Twenty-first International Conference on Learning, Lander College for Women, New York City, United States.
24th July 2014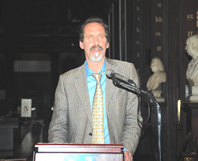 Dr John Kubiak recently delivered a paper at the Twenty-first International Conference on Learning, Lander College for Women in New York. The four-day conference ran from 14th to the 17th July and hosted a wide range of papers from over fifty countries. Ten themes were covered that included: Pedagogy and the Curriculum; Learning in Higher Education; Early Childhood Learning, and Learner Diversity and Identities. John's paper entitled 'Using Voice to Understand what College Students with Intellectual Disabilities say about Learning' outlined how the voices of students on the Certificate in Contemporary Living were used to gain a deeper understanding of the teaching and learning process. The paper's PowerPoint can be viewed here
Launch of book 'Pen & Palette' by graduates of the Certificate in Contemporary Living (CCL)
04th July 2014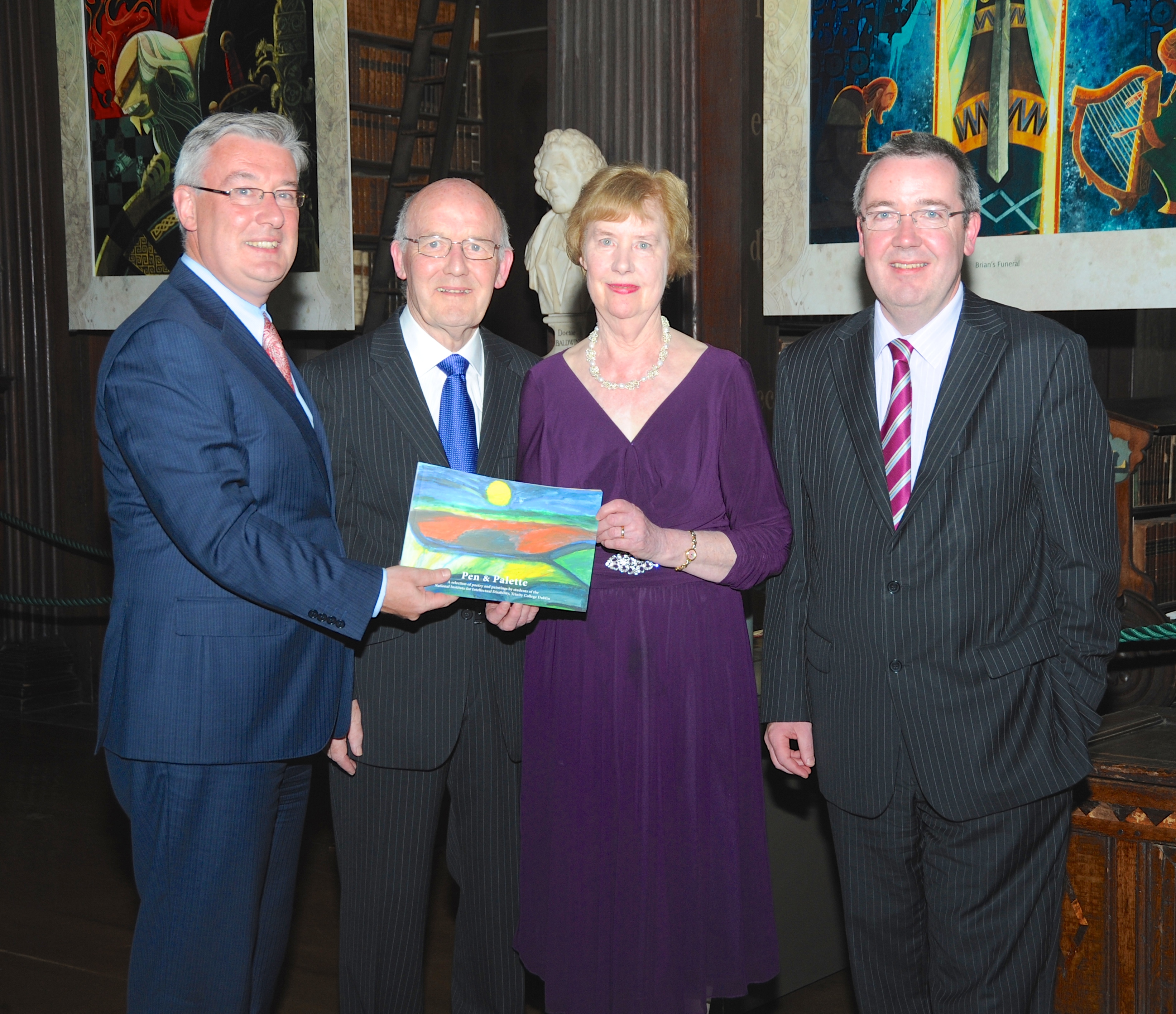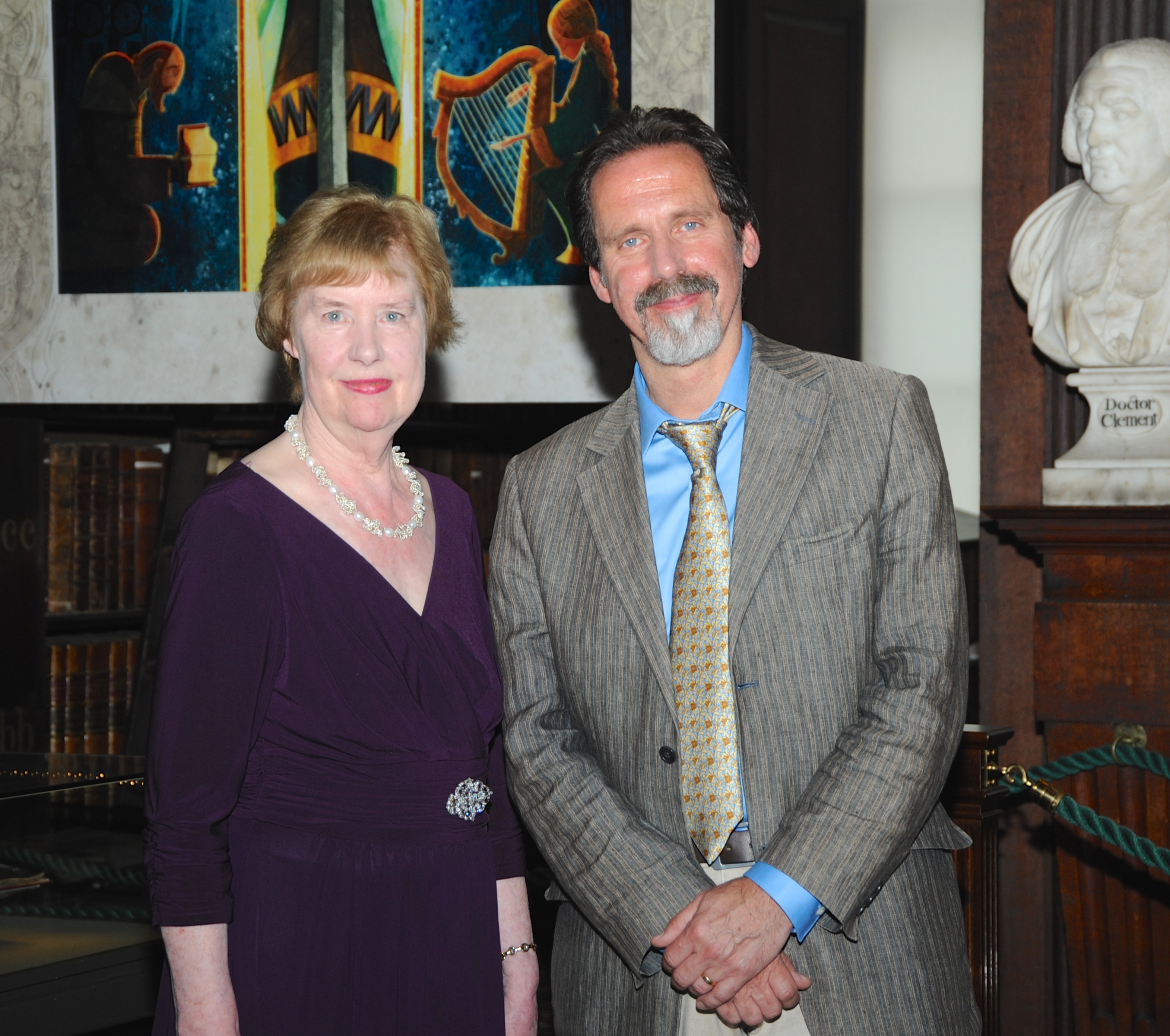 Above left: Mc Loughlin Family
Above right: Joan Mc Loughlin with Dr John Kubiak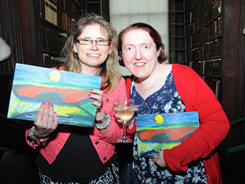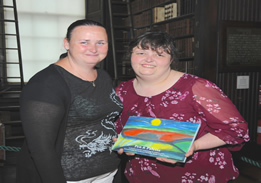 Above left: CCL Graduate Students Emma Mc Philips & Aine Lawlor
Above right: CCL Graduate Student Gina Wilkin

'Pen & Palette: A selection of poetry and paintings by students of the National Institute for Intellectual Disability, Trinity College Dublin' was formally launched in the Old Library on the 26th June by the Vice-Provost of Trinity College, Professor Linda Hogan.
Speaking at the launch, the Vice-Provost paid tribute to the poets and painters who contributed to the book and remarked on the quality of the artwork and the depth of the poems.
'Pen and Palette' was published as part of the Margaret McLoughlin Art Project which was launched in 2010. As part of this expressive arts project, CCL students have worked with professional artists and have had exhibitions in a number of galleries, including the Hunt Museum in Limerick, the National Gallery in Dublin and the Printing House and Atrium in Trinity College.
In a footnote to the book, the McLoughlin family pay tribute to staff of the CCL programme and the Trinity Foundation Office who 'provide a great outlet for the development of the talent and personalities of CCL students, who for so long were assumed to be more or less devoid of talent and to show little potential for personal development… It is wonderful to know that there are people with the vision to realise the importance of this work and its value as a truly significant form of education, very much in keeping with the ethos and sociological concerns of Trinity College Dublin.'
'Pen and Palette' is dedicated to the memory of Margaret McLoughlin, ensuring that her spirit lives on in the lives of the many students who participate in the CCL at the NIID. Copies of the book are available by emailing: niid@tcd.ie
Somebody to love: Sexuality and Disability in Ireland Seminar
01st April 2014
The M.Sc. In Disability Studies, School of Social Work and Social Policy, Trinity College Dublin, presents the seminar 'Somebody to love: Sexuality and Disability in Ireland'
Date: Friday, April 25th
Time: 10 am - 1 pm
Venue: Long Room Hub
This seminar explores issues of sexuality, decision making capacity, and current legislation in the context of the UN Convention on the Rights of Persons with Disabilities. The recently released documentary 'Somebody to Love' will open the seminar by presenting the stories of Irish people with disabilities around sexuality and relationships. The documentary director, Anna Rodgers, and four of the documentary participants, Mandy Finlay (TCD graduate) and her mother Frieda Finlay, Sarah Fitzgerald (TCD graduate) and her partner JP Fitzgerald will discuss their experiences on these issues. A presentation by Dr. Rosarie McCarthy, Senior Policy and Public Affairs Adviser at the National Disability Authority (NDA), will follow on the Assisted Decision Making (Capacity) Bill 2013 and the Criminal Law (Sexual Offences Act) 1993. Darren McCausland will close the seminar with the findings from the Intellectual Disability Supplement (IDS) to the TILDA study on older people with intellectual disabilities' relationships. All are welcome.
To book a place contact Sheila Mc Groarty 01 896 3885 or email niid@tcd.ie. Please let us know if you require any access accommodations when you RSVP.
For further information on the M.Sc. in Disability Studies, please click https://www.tcd.ie/swsp/postgraduate/disability/.
DanceAbility Workshop takes place in the NIID March 2014
28th March 2014
Students on the Certificate in Contemporary Living (CCL) were treated to a week of classes in DanceAbility which took place at the Sports Centre, Trinity College Dublin.
DanceAbility is a dance method accessible to all people. Classes focus on improvisation and creative movement and are designed to be inclusive of all people. As dancers gain experience, they can also move into choreography that celebrates individuality and relationships.
Connie Michael led the workshop which also included 12 participants who are interested in undertaking the CCL programme in 2014. Connie is the Assistant Dean of Liberal Arts and an Assistant Professor in the School of Dance at the University of the Arts in Philadelphia. Connie has taught full time for over 20 years and has taught in the areas of somatic awareness, health and fitness for dancers, composition, pedagogy and dance education. She serves on the DanceAbility Board of Directors and is a certified DanceAbility Teacher. Connie will be assisting the founder of DanceAbility, Alito Alessi, at the ImPulsTanz - International Dance Festival in Vienna, in the 4 week Teacher certification program in July 2014.
The three-Day DanceAbility Workshop in Trinity College included the following:

• Foundation exercises introducing basic concepts of movement improvisation
• Introduction to the unique language of each person's body
• How to communicate non-verbally with a partner
• How to communicate non-verbally in larger groups
• Work in self-directing small groups to shape short dance pieces
• Integration of 'Contact Improvisation,' learning to improvise using physical contact
• A performance at the conclusion of the workshop where participants show some of the short pieces they've designed and/or a demonstration of some group improvisations.
DanceAbility International's mission is to encourage the evolution of mixed-abilities dance by cultivating a common ground for creative expression for all people. The mission is accomplished through performance, educational programs, teacher training and workshops. http://www.danceability.com/index.php
Some participants' comments of the three day workshop:

'It was exciting and fun and it made me happy!'
'I would like for this workshop to last forever…thank you!'
'Connie was great - caring, intuitive and inclusive…she paced the workshops well and worked at a level where all could participate. More please!'
'This type of dance could benefit countless numbers of people in many ways'
'It was a lot of fun and helps the body and mind'.
'I loved doing different dance sculptures'.
'Please thank everybody at NIID for the Danceability workshop. It's been very positive for our daughter & given her such a boost. She is more aware of her interactions & has been making a conscious effort to improve her communication. it's also shown her the possibilities for the future & given her a goal. So from me, many thanks. Who knew there would be so many positives'.

Acknowledgements
We are deeply grateful to the Ireland Funds whose generous contribution made this event happen.
Thanks also to Caroline Duggan and all the staff of the Sports Centre, TCD who are always on hand to make CCL students welcome.
NIID and Trinity Sports Centre - Winner of Equality Fund Project 2013-2014
14th March 2014
Students on the Certificate in Contemporary Living (CCL) at the NIID have been attending weekly classes at the Trinity Sports Centre since the beginning of the Michaelmas term 2013. The success of these sessions was made possible by the contribution of the DUCAC clubs as well as the Sports Centre staff. NIID staff and the Sports Centre staff are also collaborating in developing a new CCL module entitled 'Sports, Exercise and Nutrition'.
The Equality Fund Sub-Committee has selected the project entitled: 'Supporting students with intellectual disabilities to become credited sports coaches' for 2013-2014
.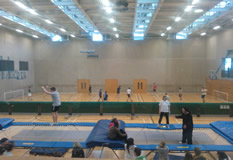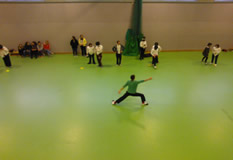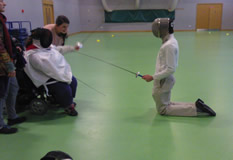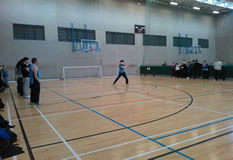 This proposed initiative would create an opportunity for CCL students to add to the above achievements by gaining two different coaching qualifications in Gaelic football and Soccer at foundation level. This project would involve CCL students taking part in the coaching coarse spread over a number of weeks. The FAI & Ladies Gaelic Football Association would facilitate the courses, which would comprise practical and theory elements including communication skills, practical skills of the game, how to plan a session and teaching a skill. These are fundamental skills of coaching but are tools that will be invaluable to the NIID students promoting self-esteem, positive communication, peer learning and teaching and importantly empowering them to have the confidence in their abilities. Upon completing this initiative, CCL students will be trained coaches who will be empowered to use their new skills and qualifications in the wider community.
Link/Contact: Dr John Kubiak kubiakj@tcd.ie
Ms Maura Gallahue gallahm@tcd.ie
Ms Caroline Duggan dugganc4@tcd.ie
Certificate in Contemporary Living 2013 Students Graduate
20th November 2013

Fifteen students were awarded the Certificate in Contemporary Living (CCL) when they graduated on Friday 15th November.
This is the 6th year that students with intellectual disabilities have graduated from Trinity College, and since 2008, approximately 90 students have graduated from the CCL programme, providing a rich and varied network of relationships within Irish communities and organisations.
Commenting on the aims of the course, NIID's Teaching and Learning Officer Dr John Kubiak said: "The fact that the awarding of the Certificate has become a regular procedure in the Commencement ceremonies, speaks volumes not only for the NIID, but also for the wider college. Now we are so used to seeing our students in college that it is easy to forget a time when the sight of a person with a disability on campus was either rare or non-existent. Everybody in the college community gains when members of so-called 'non-traditional' groups attend a university such a Trinity College. Students gain from the peer learning and social interactions that take place. Teaching staff gain when they realise that all students in their classes - not just students with intellectual disabilities - learn in different ways. The college community gains when the university campus becomes a true reflection of our diverse and varied society. I'm proud that The Certificate in Contemporary Living is a living example of a programme that embraces and works with the diversity of its students and their individual ways of learning."
Top left: Evan Hogan, Clara Keogan, Mark Claffey
Top right: Jason Baird & Helen Cooney
Bottom left: Margaret McLoughlin won this year's Student Prize
Bottom right: Seamus Conry, Jennifer Clarke, Maria Minihane
Public Lecture by Professor Tamar Heller
24 October 2013
Prof. Tamar Heller delivered last Friday, October 18th, a fascinating public lecture on family support to a diverse audience of approximately 50 people including students, self-advoactes, families, researchers, and service providers. This public lecture was organized as part of the M.Sc. In Disability Studies Public Lecture Series in collaboration with the recently established Irish Disability Studies Association. Three formal responses followed Prof. Heller's lecture, by Margaret Turley, a graduate of the Certificate in Contemporary Living, Paddy Connolly, CEO of Inclusion Ireland, and Prof. Patricia Noonan Walsh, Chair of the Irish Disability Studies Association.
My PATH Review CCL Students Plan their Future 2013-14
07th Oct 2013
Margaret Turley centre picture (2nd Year Student 2012-2013)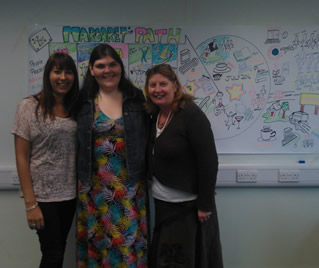 What is PATH?
PATH was developed by Jack Pearpoint, Marsha Forest and John O'Brien. It can be used as a planning style with individuals and with organisations. When used in person centred planning, the person and the people she wants to invite meet together with two facilitators to work through the process. PATH works well when an individual has a group of people around her who are committed to making things happen. Using the PATH process enables people to understand and take control of the situation. "PATH is there when a situation is complex and will require concerted action, engaging other people and resources, over a longish period in order to make an important vision real."
Pearpoint J, O'Brien J and Forest M, 'PATH: A workbook for planning positive, possible futures Toronto Inclusion Press.
Second year students, who have recently completed the Certificate in Contemporary Living, undertook an individual PATH process to enable them to plan their future after college. The 2 + hour process was facilitated by Dr John Kubiak, Ms Zoë Hughes and Ms Maura Gallahue.
Two reflections on the PATH…
1) Student's perspective: Margaret Turley You can read more about Margaret's PATH
2) Parent's perspective: Áine Turley You can read more about Margaret's PATH from her Mother's perspective
---
Communication Skills for Parents
04th Sept 2013
We are currently not providing a workshop this year 2013 - 2014.
In previous years we held workshops for 2 hours, one day a week over 7 weeks with Facilitators:Frieda Finlay and Angelina Viega.
Frieda Finlay is a parent, a rights Campaigner, Chariperson of Inclusion Ireland, member of LEAP and a member of the education and research committee of the National Institute for Intellectual Disability.
Angelina Veiga is a facilitator, an advocate, a psychotherapist, a member of LEAP and has worked for many years with people with intellectual disabilities.
---
Advocacy
At the heart of the National Institute for Intellectual Disability, and the work we do, is a dedication to advocacy for people with intellectual disabilities and their families. As one of the three pillars of the NIID (the others being education and research), advocacy threads are woven throughout all our activities.
We act as advocates on macro and micro scales. Within our education and research initiatives, advocacy is a key concern. Using outcomes from our research projects, and also the Certificate in Contemporary Living and Masters in Disability Studies programmes, we advocate for larger societal change in policies and systems that impact and inform what life is like for people with intellectual disabilities. The NIID houses a number of initiatives that feed directly into these goals, such as the Business Partners Programme and the NIID Alumni Association (for our Graduates).
We offer our support directly to a number of independent advocacy initiatives across Ireland who use the NIID as a base for their activities, including;
We have made links with many more organisations who work in the intellectual disability field in Ireland and globally. This has facilitated a network of like-minded individuals and groups to be created, furthering our advocacy agenda.
The National Institute for Intellectual Disability is also proud to offer events which feed into our passion for advocacy on the micro and macro scales. These include our annual Summer School.
To view older news stories, please see our news archive
---
The National Anti-bullying Advocacy Group
Who we are:
We are a group of self-advocates and colleagues from around Ireland. We have learned how to run workshops about bullying for people with intellectual disabilities.
Bullying is endemic in our community. Our mission is to address this sensitive topic through peer to peer discussions. Our message to workshop participants is:
You are NOT alone
It's NOT your fault you are being bullied
You CAN DO something about it!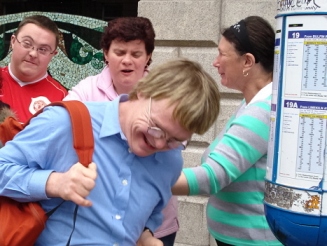 Photo above: group members from the Anti Bullying Workshop role playing bullying at the bus stop.
NDA Research Study
The National Institute for Intellectual Disability (NIID), in conjunction with the National Anti-Bullying Advocacy Group, has recently secured a 'Research Promotions Grant' from the National Disability Authority, the statutory advisory body to Government on disability issues.
The grant has been awarded for an inclusive research project to explore the issue of bullying of people with intellectual disabilities. A series of focus groups will be undertaken with key stakeholders including people with intellectual disabilities, family members and carers, disability services' support staff, community representatives, health and social care professionals, and policy makers in this area.
The research will culminate in the production of an Easy-to-Read Guide on bullying for people with intellectual disabilities. This research will be carried out by researchers at the NIID in conjunction with researchers from the National Anti-Bullying Advocacy Group, an active group of advocates with intellectual disabilities who provide training and advocacy in the area of bullying.
Fiona Weldon, Development Worker with the National Anti-Bullying Advocacy Group is Research Coordinator. The research team comprises Conn O'Rathaille, William (Bill) Roberts, and Marie Wolfe from the National Anti-Bullying Advocacy Group.
Who supports us?
We work independently of any service or government agency in Ireland. We are grateful for donated administrative support from the NIID and organisations such as the NIID, Inclusion Ireland and the Order of Malta for providing facilities to meet and run workshops.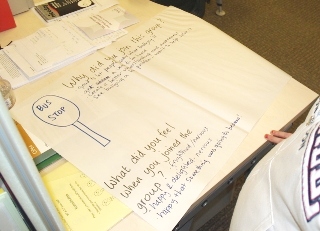 All the workshops are self financing with the presenters giving their time in a volunteer capacity.
What we think should happen about bullying:
anti-bullying should be in the constitution
the bully has power - but we have the power to stop it
speak up!
get help from staff (whoever is in charge)
report bullying
tell bullies to stop
stand up for your rights
complain about it
tell someone if you are being bullied
set up a support group
employ a qualified support worker to deal with the bullying

Can we run a workshop for you?
Please write if you would like the group to come to you (20 - 25 participants required)

Get in touch
If you would like to know more about us, would like to join the group or have ideas about how we can raise some money to support our work, please contact NIID on (01) 896 3885 or you can email on weldonfi@tcd.ie
On the 26 September 2014 the national anti-bullying advocacy (NAAG) group ran the first ever workshop about how the Irish Government works. This workshop was for people with intellectual disabilities because the group felt that having access to educational opportunities such as this one was very important, information is power.
The idea to do this workshop came out of a meeting the group had last Christmas. Two members, Bill Roberts and David Hall wanted to really understand how the government really works. A sub-group was formed and this group worked on contacting members of the Government for help and support.
Two members of the Dáil contacted us and told us they would help us run the workshop. They were Senator Mary Moran and Finian McGrath TD. Over the summer the sub-group met with both Mary and Finian in the Dáil. We talked about what we wanted them to say and together planned the contents of the day.
Emer Costello also came to the workshop and talked about the European Union and what Members of the European Union do.
This workshop was very popular; 21 people came and we have 20 people on a waiting list to come to the next one. Feedback was very good.
People told us they liked the workshop because they felt they were listened too, got to ask questions and learned more about work the Irish Government works. People also said that they got to meet and talk to other people, got to talk about things that were important to them like the water charges, the need for jobs, more educational opportunities and respite services. The questions and answers session was a highlight for a lot of the group. It was agreed that the issues that were discussed on the day will be sent to Mary and Finian.
We will be running this workshop again next year.
Listen here to Senator Mary Moran mentioning this workshop on how the government works in the Dàil.
Pictured below from back row; Suzanne Chalkley, Conn O'Ratheigh, Senator Mary Moran, David Hall, Finian Mcgrath TD, Martin Doohner, Fiona Weldon Development Worker, Paul Alford and Bill Roberts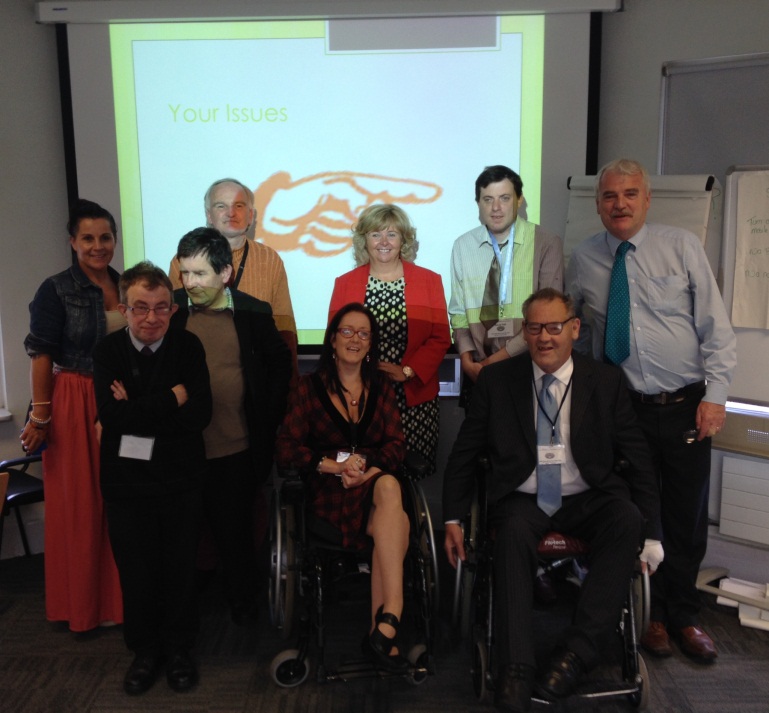 Pictured below; Christine Burke with Finian McGrath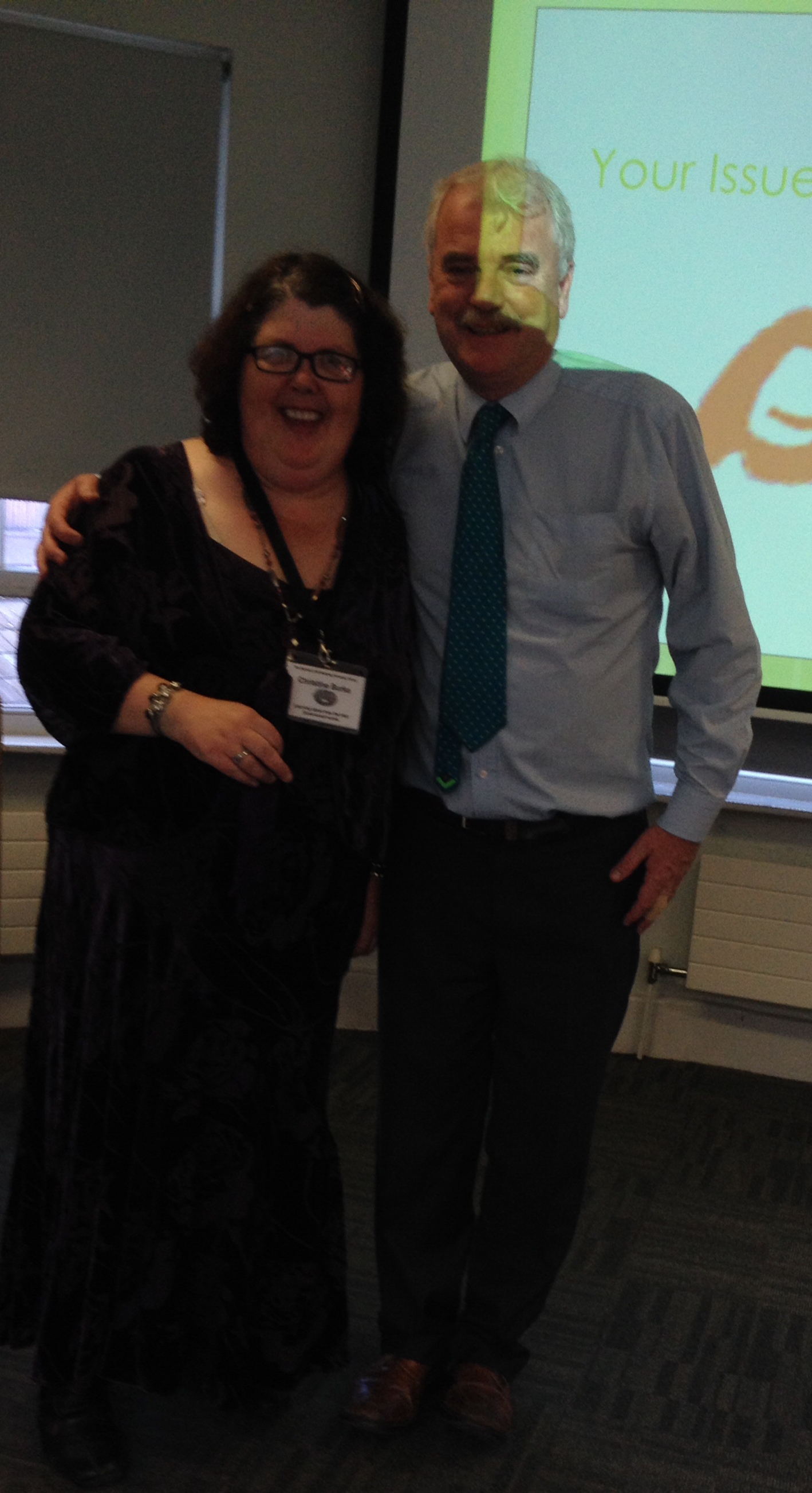 04th November 2014
04th November 2014
01st September 2014
29th August 2014
17th July 2014
17th April 2014
28th March 2014
07th March 2014
21st Feb 2014
24th January 2014
To view older news stories, please see our news archive