News archive Sept 2012- Sept 2013
Abstract by Maura Gallahue (M.Sc. in Disabilities Studies Graduate 2013)
11th July 2013
Maura Gallahue of the National Institute for Intellectual Disability has been awarded an MSc in Disability Studies. To view the abstract of Maura's research entitled 'The Exploration of Multimedia as a Method of Enhanced Learning for Individuals with Intellectual Disabilities'.
Pictured Maura Gallahue
"Just like being at the Oscars!" CCL Student Ball 2013
08th July 2013
That's how one of our students described the Annual NIID Ball which was held on the 31st of May at the Radisson Blu Hotel on Golden Lane. It was a glamorous night with everyone dressing up for the occasion. For some of our students it was the first time they had ever experienced an occasion like this so that made it very special for them. Everyone enjoyed the wonderful food and great music and danced the night away. The students really enjoyed meeting their friends and colleagues socially outside of the classroom setting. The Ball was very well supported by 1st and 2nd year students, their families, friends and the staff from the NIID. A fantastic night was had by all and we look forward to next year and doing it all over again.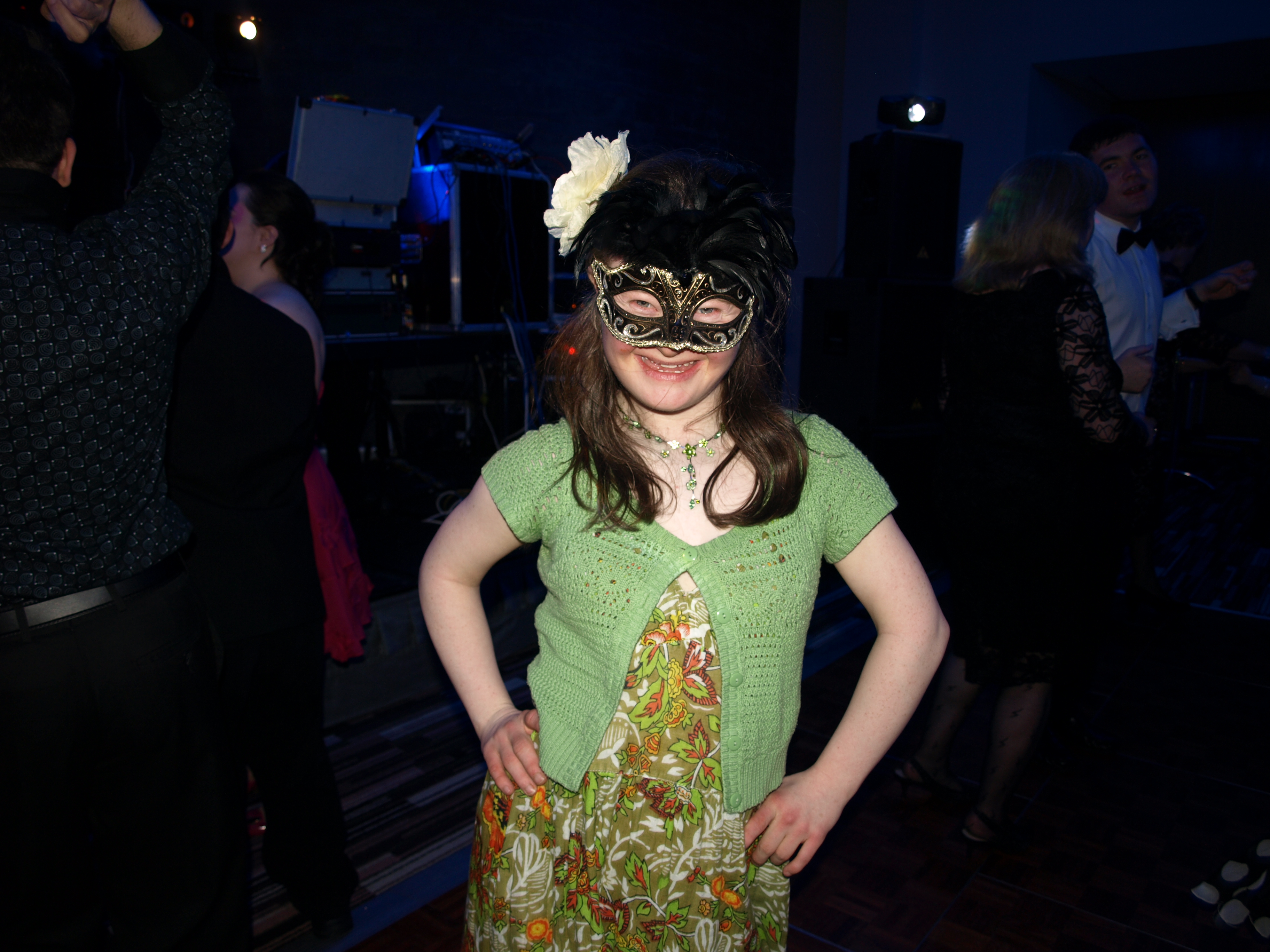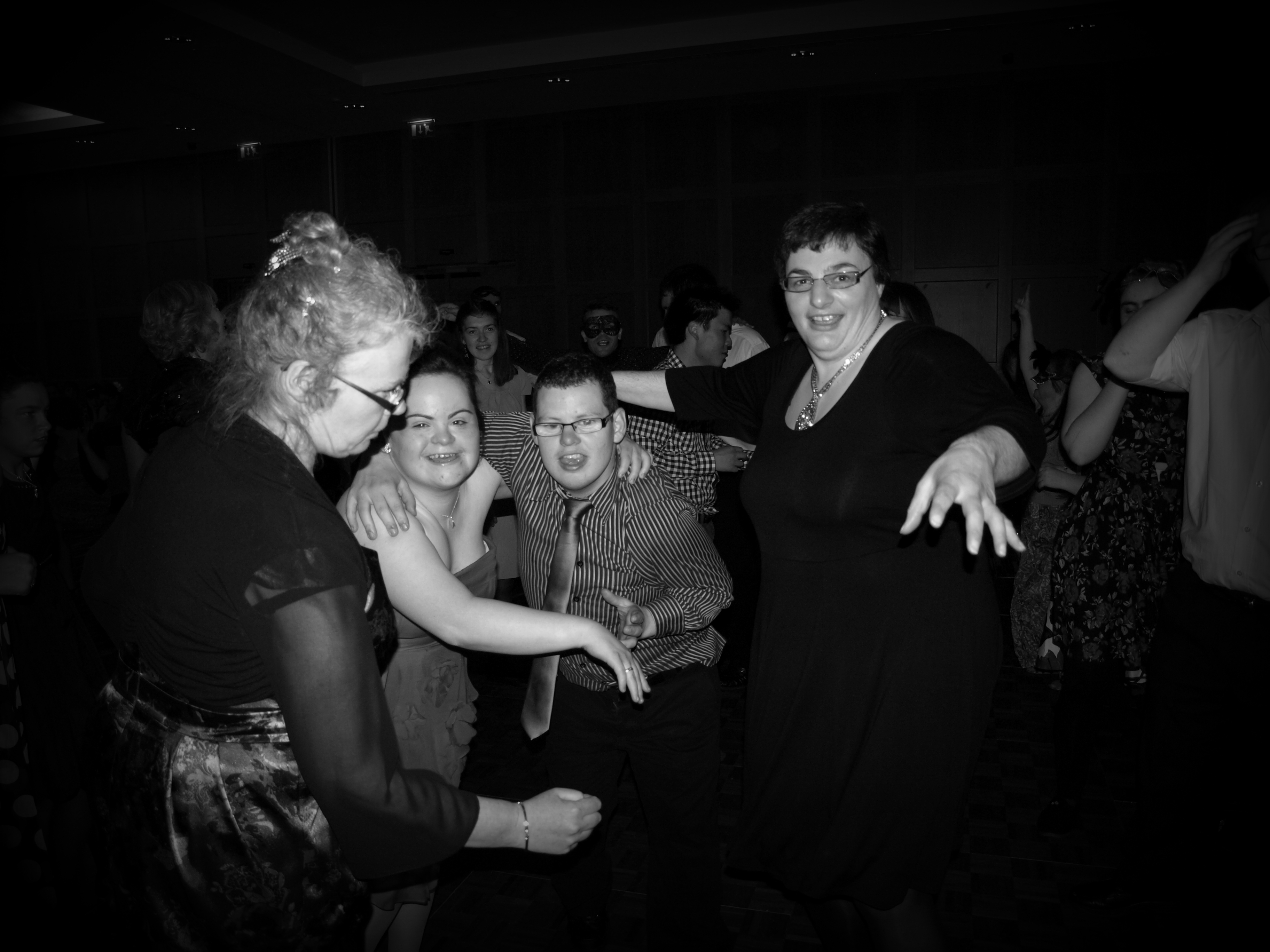 Top left: Kevin Buckley & Conaill O'Hobain
Top right: Clara Keogan
Bottom left: Mary Gibney, Siobhan Donohue, Evan Hogan & Jennifer Clarke
Bottom right:: Anna Brennan & Margaret Turley
2nd Year CCL Student away trip to Barcelona 2013
08th July 2013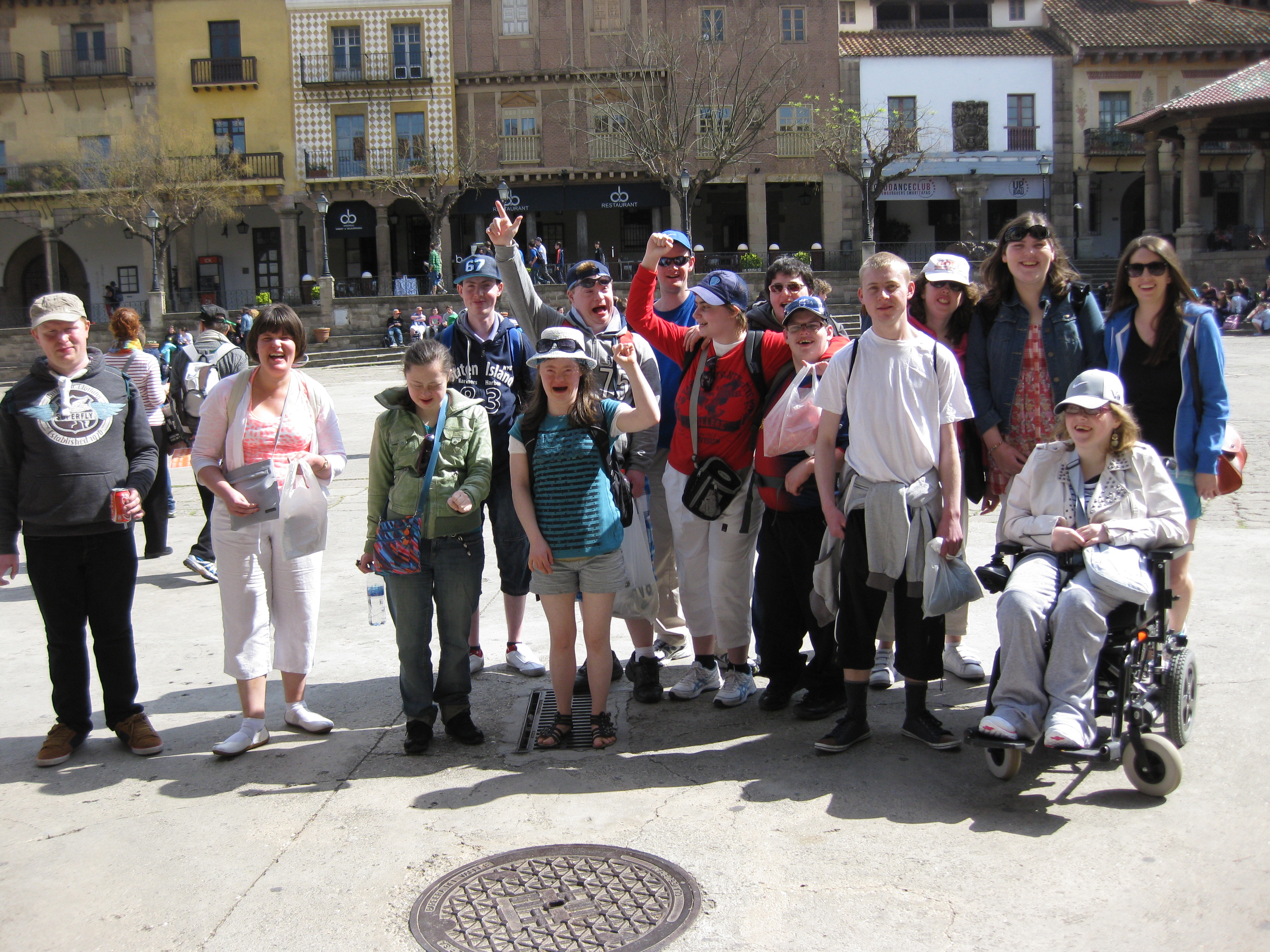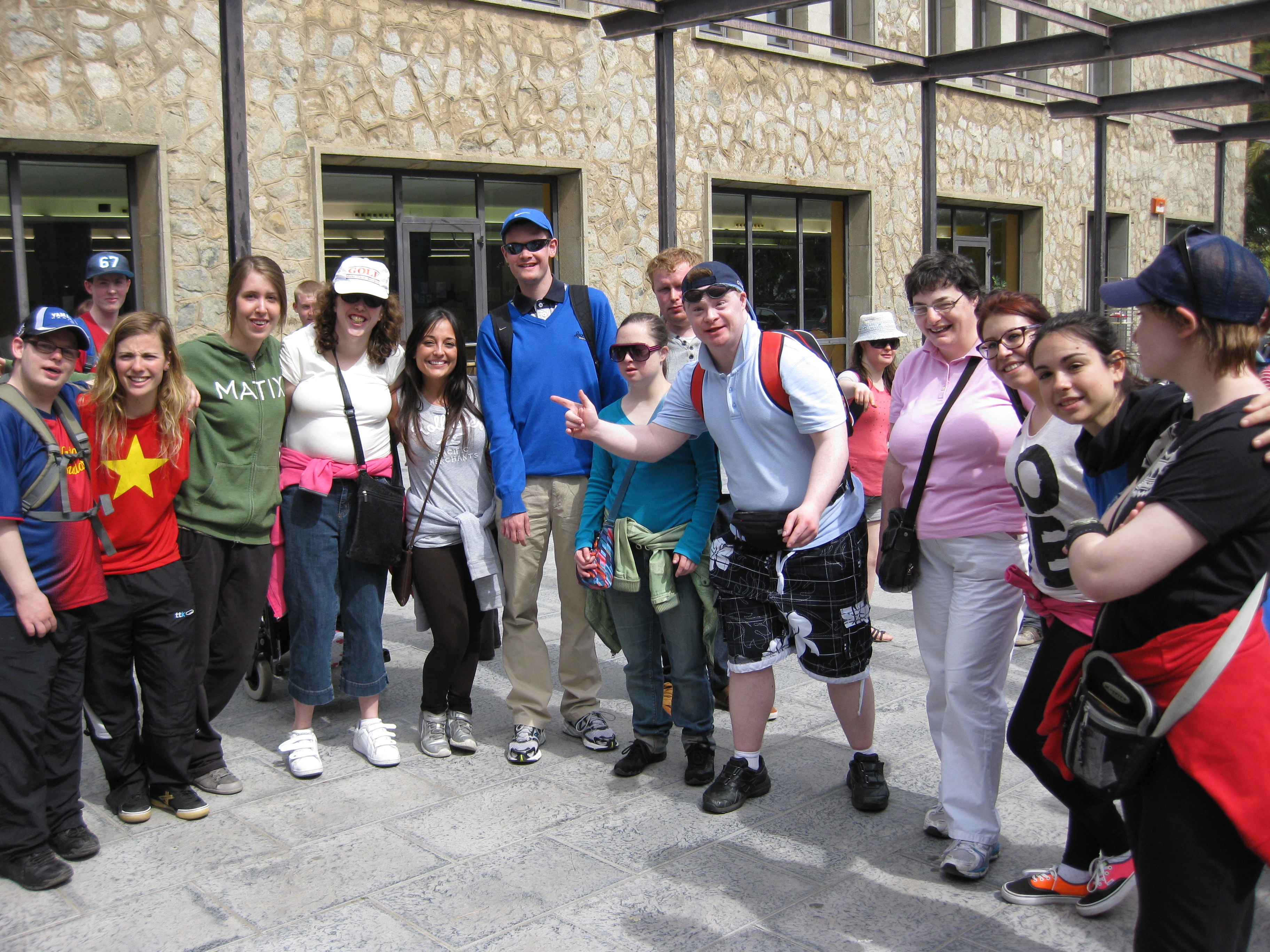 CAPP - Barcelona Group Reflection 2013
This year in April we went to Barcelona for our Social Science International Away trip 2013.
As a group, we have discussed and reflected on what we enjoyed about the trip and what we feel captured with our photographs.

Overall Highlights of the Trip:
We really enjoyed the trip to a university; this was called the Universitat de Barcelona. We enjoyed this because it was interesting to meet the Spanish students and learned about what they studied at the University. We also got the opportunity to talk to them about Trinity College and what we study here on the CCL programme.
It was great fun going for dinner with the group and travelling independently. For some of us it was the first time we had been abroad without our family and we experienced new things like checking in at the airport by ourselves. It was also lovely to experience another culture and nice weather for a change. It also gave us an opportunity to improve our Spanish.

What we enjoyed the most:
After a lengthy discussion with the group we have identified a range of aspects that we enjoyed the most about our 4 days in Barcelona.
The hop on & hop off bus allowed us to see the city in a fun way. Sampling Spanish food in the restaurants was really exciting. For lots of us we enjoyed the Poble Espanyol, this is a Park that represents the different autonomies in Spain. We were given a map which was colourfully laid out to explain the various architecturally designed buildings that represent the different parts of the Country.
It was really interesting listening to the different languages and travelling on the underground to the universities. The shops offer us lots of opportunities to buy gifts and items for ourselves. On the last night we headed to a Spanish Bar, it was great fun to sample the local drinks and experience what the atmosphere is like in a Spanish bar.

New things we learnt on the Trip:
On this away trip we learned how to understand the History and culture of Spain and appreciate the beautiful buildings and architecture. It is so different to Ireland.
We tasted Spanish food for example, Paella, tapas and Spanish omelette. Some people never tried this type of food before and they loved it.
It was interesting listening to the Spanish people speaking and we were able to practise the words we learned in class.
Highlights of the Trip:
Being away from home because it was my first time being abroad without my family. And also checking in on my own for the first time. CCL Student.
Travelling as a group with other students and going out to dinner at night. Loved eating Spanish food as it is very different to our Irish food. CCL Student.
It was great to feel independent even though we were travelling as a group and everyone was very supportive to each other. CCL Student.
John Kubiak of the NIID co-authors journal article on the responses of TCD lecturers to the inclusion of students with intellectual disabilities auditing their undergraduate classes
20th June 2013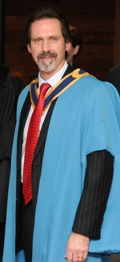 Dr John Kubiak of the National Institute for Intellectual Disability has been awarded a post-doctorate research position and bursary with the School of Education. This award will enable him to publish and disseminate his doctorate research findings both nationally and internationally. You can read more about the abstract of John's research entitled ' Intellectually Disabled Students' Experiences of Learning in Tertiary Education: an Inclusive Phenomenography'.
The Social History of Learning Disability
20th June 2013
(SHLD) research group of The Open University are pleased to announce their 2013 Annual Conference will take place on the 8th July 2013. This year's conference is titled 'Avoiding more Winterbourne Views: What can we learn from history?'

The scandal of abuse at Winterbourne View has horrified the country, and led to numerous reports and vows to do better in future. Yet such scandals occur with depressing regularity - Ely Hospital, Longcare, Cornwall, Sutton and Merton, and now Winterbourne View, and the reports make similar recommendations which do not get implemented. Norman Lamb, the Minister of State now responsible for improving support, recently commented that 'we thought we had addressed the problem of long stay hospitals, but quietly, it was developing again behind the curtains'.

This year's conference looks to history to help us shed light on the times when things don't go wrong - to think about what makes for good care and better systems. Hear and discuss stories of local support, past and present, to improve understanding of what, in practice, has supported people to remain resident in their locality of choice.
We are pleased to announce that Margaret Flynn, author of South Gloucestershire Council's Independent Review of the events at Winterbourne View exposed on the May 2011 Panorama programme, will be our Keynote Speaker. The Conference will feature papers from academics, family members, staff, professionals, commissioners and people with learning disabilities which explore:

* What can we learn from history to help avoid more scandals and abuse?
* What has enabled people, including those with severe and profound disabilities or with challenging behaviour, to stay local?
* What part does life story work play in helping people to receive support in their local area?
* What roles do families and allies play - advocates, friends, relatives, - in making sure care remains good?
* What is the role of advocacy, self-advocacy and circles of support?
* How far have changes in policy and regulatory regimes made a difference?
* The contribution of learning disability professions such as psychiatry, nursing and social work.

Our conferences are inclusive events. All are welcome. We do our utmost to ensure that the event is accessible and that everyone's voice can be heard. More information on this conference here.
NIID Open day 2013 Announcement
03rd May 2013
The NIID is currently undergoing an external review which will continue over the summer months. For this reason, the Management Committee has decided not to proceed with an intake of students for 2013-2014. Consequently the proposed Open Day which was due to take place this May has now been cancelled. The next Open Day will be in May 2014.
Open Evening: M.Sc. in Disability Studies
School of Social Work and Social Policy, TCD
Thursday, March 21st from 16.30 to 18.30
Room 2026, Arts Building, Trinity College Dublin
(Entrance via Nassau Street)
The M.Sc. in Disability Studies at Trinity College Dublin is now taking applications for the 2013 intake.
This M.Sc. programme, which can be completed on a one year, full-time or a two year, part-time basis, is an innovative programme that provides students with a deep understanding of disability from social, historical, cultural, economic, and political perspectives.
Graduates of the M.Sc. are equipped with the knowledge, analytical skills and perspectives to translate rights into reality in the field of disability.
You will have the opportunity at our Open Evening to hear more about this M.Sc. and to speak directly to the teaching team and graduates of the programme.
Apply here: http://www.tcd.ie/courses/postgraduate/az/course.php?id=DPTSW-DISS-1F09
ALL WELCOME!
Please RSVP to Laura Cusack at lcusack@tcd.ie. There will be ISL interpretation at the lecture.
Please indicate if you require access accommodations when you RSVP.
NIID Student Art Exhibition
23 January 2013
The Printing House, Trinity College Dublin 17th - 18th December 2012
Students: Helen Cooney, Ian Brady & Jennifer Clarke.
The fourth NIID student art exhibition took place in The Printing House TCD on 17-18th December 2012. A total of 49 paintings and prints were displayed covering a large variety of subject matter. Titles such as 'Landscape with Church', 'Stare', 'Abstract' and 'Daisies against a Blue Sky' reflect the nature of the personal experiences of the exhibiting artists.

Several of the works were sold over the two day exhibition that was described by the Irish Independent as 'a spontaneous riot of joyous colours… and an astounding body of artworks that bore no labels'.

In his opening address, the Provost of Trinity College Dr Patrick Prendergast congratulated the students: As pioneers in this educational programme, your example will inspire future generations, and will help to determine the direction this programme takes. Your commitment, hard work and creativity, on show today, has meant that not only have you raised the barrier of what we expect of you, but you have helped towards building a more inclusive, ethical and respectful society for the future.

Responding to the Provost's opening address, John Kubiak, Teaching and Learning Officer of the NIID, spoke about the role emotions have in art and how painting was a catalyst for students to become more emotional aware, a process that can help express how students feel on a particular day, whether it is angry, sad, happy or excited. The exhibition was funded by the Margaret McLoughlin Art Project, This funding is helping to expand and enrich the opportunities for students of the NIID to develop their creative intelligence and skills.
USA Trip
23 January 2013
Washington, 28th - 30th November 2012
Building on the success of the 2011 CCL Presentation at the State of the Art Conference on Post Secondary Education in Washington and through support from the NIID Business Network, Molly O'Keeffe , Education Officer on the Certificate in Contemporary Living (CCL) travelled and presented this year with CCL graduate, Tomas Murphy and his mother, Sheila Murphy.
The presentation highlighted strategies used for the inclusion of CCL undergraduate students within the business and employment community in Ireland. It also discussed the development of the NIID Business Network as a source of funding for the course, work placements for the CCL students, while the network continues to develop best practice is in this area and advocate for equality within the workplace for people with intellectual disabilities. It also shared the journey of the CCL and life after college for a CCL graduate and his mother.
This Irish delegation represented one of the two international speakers and from over forty presentations was the only one to include the knowledge, expertise and voices of both a person with intellectual disabilities and their family member. The conference also offered the group an opportunity to meet and discuss a range of potential collaborations which could include a CCL international student exchange programme, a international research study that focuses on post secondary education, the development of best practise in the areas of transition and inclusion employment opportunities for graduates of the programmes like the CCL.
For more information on this conference, please click the link here. http://kihd.gmu.edu/policy/conference/
Disability through the Life Course By Dr. Tamar Heller, University of Illinois at Chicago
2 October 2012
M.Sc. in Disability Studies - 2012-2013 Public Lecture Series
Thursday 4th October 2012, 5.30pm in the Long Room Hub, Trinity College Dublin
In this Disability Studies public lecture, Dr Heller explores how disability interacts with social determinants (e.g., culture and socioeconomic status) and environmental aspects (e.g., services and supports) across the life course, resulting in differing outcomes for people with disabilities. Dr. Heller's talk will focus on changes in health, families, community participation and self-determination throughout the life course.
Tamar Heller, Ph.D., Professor, is Head of the Department of Disability and Human Development, University of Illinois at Chicago and director of its University Center of Excellence in Developmental Disabilities for the State of Illinois. She also directs the Rehabilitation Research and Training Center on Aging with Developmental Disabilities: Lifespan Health and Function and projects on family support and health promotion interventions for individuals with disabilities. One of these projects is the Special Olympics Research Collaborating Center.

Dr. Heller has written nearly 200 publications on family support interventions and policies, self-determination, health promotion, and aging of people with developmental disabilities. She has co-edited and co-written four books and edited special issues of Technology and Disability, American Journal on Mental Retardation, Journal of Policy and Practice in Intellectual Disabilities, and Family Relations.
She is past President of the board of the Association of University Centers on Disabilities. As a co-founder of the national Sibling Leadership Network, she is a member of its executive committee. Her awards include the 2009 Autism Ally for Public Policy Award of The Arc/The Autism Program of Illinois; the 2008 Lifetime Research Achievement Award, International Association for the Scientific Study of Intellectual Disabilities, Special Interest Group on Aging and Intellectual Disabilities; and the 2009 Community Partner Award of Community Support Services. In 2005 she was Senator Obama's delegate to the White House Conference on Aging.