The Migrant Crisis: A Critical Discussion
The School of Social Sciences and Philosophy, Trinity College Dublin is pleased to invite you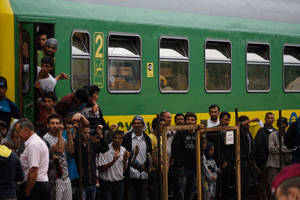 to a critical discussion on the current Migrant Crisis - a phenomenon which by its sheer scale is hard to grasp.
This discussion seeks to make sense of it by using the different methodologies and resources of social science and philosophy. There will be input on the causes of the crisis, ways of describing and classifying the people and institutions involved, possible economic and political results and the kinds of competing values at play in responding. This will be followed by an open floor discussion.
All are welcome to attend however advance registration is recommended:
Event Speakers
The event, which will be chaired by Prof Gail McElroy, Head of the School of Social Sciences and Philosophy, will include the following speakers:
Professor Michelle D'Arcy
Michelle D'Arcy is Assistant Professor in Political Science at Trinity College Dublin. Her research aims to understand the conditions under which political order, democracy and welfare maximizing institutions emerge. She is currently investigating the relationship between democracy and state-building in contemporary African countries.
Professor Elaine Moriarty
Elaine Moriarty is Assistant Professor of Sociology at Trinity College Dublin. Her teaching and research interests include mobility and migration and race and ethnicity. Elaine is currently researching 'New forms of mobility and the Portability of Social Protections in Europe'.
Professor Carol Newman
Carol Newman is Associate Professor of Economics at Trinity College Dublin. Her research relates to the microeconomics of development with a focus on both household and enterprise behaviour. She is currently involved in a number of major projects in South East Asia and Africa.
Professor Paul O'Grady

Paul O'Grady is Associate Professor of Philosophy at Trinity College Dublin. His research focuses on two areas of analytical philosophy - epistemology or the "theory of knowledge" and philosophy of religion. His current research is investigating the nature of wisdom.
Migration photo - ©2015 Mstyslav Chernov, all rights reserved