The Grattan Scholars
In 2012, the School established a new scholarship programme - The Grattan Scholars - with the aim of advancing high quality social science research and teaching. In a rapidly changing global environment such knowledge is central to our economic and social wellbeing, growth and development.
The Grattan Scholars are a cohort of exceptional PhD students, from Ireland and abroad, whose work will have a real impact on Trinity and in helping to understand the evolving challenges facing society. Teaching is also an important part of the Scholars remit, contributing to the academic life of the School while enriching the students' learning opportunities.
Grattan Scholars are chosen not only for their scholarly achievements, but also for their commitment to teaching and ambition to understand and improve society through their research and education. 
The Grattan Scholars Programme has been established with the generous support of Trinity College alumni and friends. Funding for the Grattan Scholarships to date has been made possible thanks to the generosity of The J-P Foundation London, Susannah McAleese, Rupert Pennant-Rea, Peter Sutherland and the UK Trust for TCD.
In the second year of the programme, scholarships were awarded to three outstanding PhD students at special reception hosted by Provost Dr Patrick Prendergast in October 2013: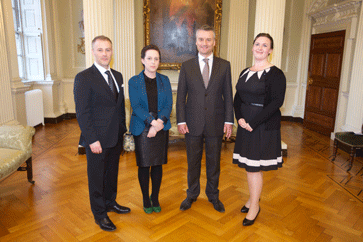 2013 Grattan Scholars
Alan Walsh (left), Lisa Keenan (centre left) and Katarzyna Kozien (right) with Provost Dr Patrick Prendergast
Lisa Keenan's thesis on "Personality, Ambition and Political Careers" will be supervised by Gail McElroy, Professor of Political Science and Head of the Political Science Department.  This project will examine the decision to run for elected office in the Republic of Ireland to tease out why women are ruling themselves out of the electoral game.
Katarzyna Kozien will undertake research titled "Types of Return Migrants and their Reintegration Patterns" in the Sociology Department which is a leading hub for migration research. She will be co-supervised by Peter Mühlau and Antje Röder, Assistant Professors in Sociology.
Alan Walsh will research a thesis on "Migration and Clustering of Creative Workers" under the supervision of John O'Hagan, Professor of Economics. Cultural economics has assumed increasing significance in Ireland in recent years where culture and creativity are seen as possible keys to sustained economic recovery.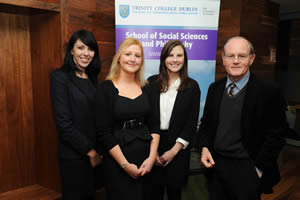 2012 Grattan Scholars
Christina Kinghan (centre left) and Sara Mitchell (centre right) with their supervisors Professors Carol Newman and John O'Hagan
The Grattan Scholars programme was launched in autumn 2012 with the first two scholarships being awarded to the following students:
Christina Kinghan is undertaking research on "Understanding The Foundations of Micro-Enterprise Growth and Expansion: A Development Perspective" under the supervision of Professor Carol Newman in the Economics Department.
Sara Mitchell is researching a thesis on "Synergies from Geographic Clustering of Creative Workers" under the supervision of John O'Hagan, Professor of Economics.
If you are interested in finding out more about The Grattan Scholars, or if you would like information on how to get involved as a supporter please contact:
John O'Hagan
Alumni Director
School of Social Sciences and Philosophy
Phone: + 353 1 896 1065
Email: johagan@tcd.ie
Eileen Punch
Associate Director
Trinity Foundation
Phone: + 353 1 896 1714
Email: eileen.punch@tcd.ie