Caoimhe Whelan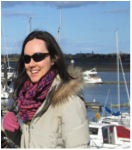 PhD Student
Biography
Caoimhe is a graduate of Trinity College Dublin and of University College Cork. She completed her BA in History and English at Cork where she was College Scholar, and she completed a Masters degree in medieval and Renaissance texts and contexts in the School of English at her alma mater.
Her PhD was undertaken in the department of history in Trinity, exploring the transmission and reception of the historical works of Giraldus Cambrensis in the medieval and early modern period. This research was funded by the Irish Research Council and she was the Irish Research Council Daniel O'Connell Scholar in Irish History.
Current Research
Caoimhe's research explores the transmission, adaptation and circulation of literary works in the medieval and early modern period. She is currently undertaking a two-year project in the department of History: Birth of a Tradition: The origins of English Writing in Ireland. This project, funded by the Irish Research Council, interrogates the birth of the English-language tradition in the English lordship of Ireland.
Select Publications
'James Yonge and the Writing of History in Late Medieval Dublin' in Seán Duffy (ed.), Medieval Dublin XIV (Dublin, 2013), pp 183-95.
'James Yonge: Medieval Notary' in Sparky Booker and Cherie Peters (eds), Tales of Medieval Dublin (Dublin, 2014), pp 119-34.
Greg Hulsman and Caoimhe Whelan (eds), Occupying Space in Medieval and Early Modern Britain and Ireland (Peter Lang, 2016).
Awards / Funding
College Scholar, University College Cork: 2007, 2008 and 2009
CACSSS (College of Arts, Celtic Studies and Social Sciences UCC) - funding for MA thesis
IRCHSS Postgraduate Funding
IRCHSS Daniel O'Connell Scholarship Award in Irish History 2012