Stephen Carroll
PhD Student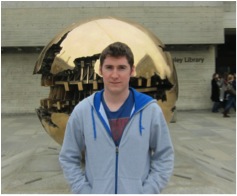 Biography
I am from Dublin and studied Single Honors History at Trinity College, Dublin, from 2003-2007. I started my PhD in 2008 under the supervision of Robert Armstrong.
Research
'The politics of protest in early seventeenth-century Ireland'.
My research investigates the means by which Catholics in Ireland challenged the Dublin government and analyses the effectiveness of such protests. From 1603 the English administration took on a reform agenda that aimed to reduce the power of both the Gaelic Irish and Old English communities in order to secure lasting peace in the kingdom. Current historiography tends to ignore the levels of protest displayed during the early seventeenth century, tending instead to jump to the 1641 rebellion as evidence of opposition to this reform policy. My research focuses instead on the means of resistance used during a period of relative peace, from legal suits, petitioning, to obstruction, seditious speeches, to destruction of property and open revolt. My project treats many different areas of society in this period, covering opposition to religious reform, the reduction of urban autonomy, political marginalisation of Catholic elites, resistance to plantation, opposition to army billeting and the role of martial law.
My other interests include comparative analysis of the legal status of Irish Catholics and native Americans, the legal system in Ireland post-1603, the politics of protest in the 1641 rebellion, European religious wars, the constitutional relationship between Ireland, England and Scotland, and popular politics in England in the sixteenth and seventeenth centuries.
Research papers:
'Resistance to plantation in early seventeenth-century Ireland', paper presented at the 'Tudor and Stuart Ireland' conference at University College, Dublin (September 2011).
'"Commands, law, and proclamations are of no use without the sword to make them obeyed": the use of martial law in the governing of Ireland in the early seventeenth century', paper presented at 'Worlds of Violence' conference at Essex University (September 2010).
'"Nothing but fear and force can teach duty and obedience to such a rebellious people": Martial law, property rights and the British colonial experience', at 'Violence and Empire' conference as part of Trinity-Northwestern-Newberry graduate student exchange programme (May 2010).
'The Dublin parliamentary elections, 1613' at Riotous Assemblies Conference at Mary Immaculate College, University of Limerick (September 2009).
Publications:
'The Dublin Parliamentary Elections, 1613', in William Sheehan and Maura Cronin (eds.), Riotous Assemblies: Riots, Rebels, & Revolts in Ireland (Cork, Mercier Press, 2011).