Multimedia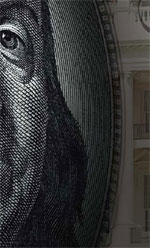 Tuesday 30th October: Annual Public Lecture in American History "Democracy and Money in America: A Historical Perspective on the Election of 2012"
Gary Gerstle addressed these questions in his public lecture, "Democracy and Money in America: A Historical Perspective on the Election of 2012," to be delivered at 7 pm on Tuesday 30 October in the Synge Theater in the Arts Building at Trinity College.
Gerstle is the James G. Stahlman Professor of American History and Professor of Political Science at Vanderbilt University. This year, he is the Harmsworth Professor of American History at Oxford University. He is the author of several major books and articles, including the prize-winning American Crucible: Race and Nation in the Twentieth Century (Princeton University Press, 2001).
Professor Gerstle's lecture is now available as an audio file (.mp3, 46mb).
Depending on your browser's settings this file should open automatically when clicked on, alternatively right click on the link and select "Save As".
31th Oct 2012
Alumni Lectures
2012 May Professor Robin Frame (Durham): Rediscovering Medieval Ireland (Chancery Project Launch)
A public lecture delivered by Professor Robin Frame (University of Durham) Hon. M.R.I.A. at Thomas Davis Lecture Theatre, Trinity College Dublin, on Thursday 10 May 2012, to mark the launch of CIRCLE: A Calendar of Irish Chancery Letters, c.1244-1509

2012 February Professor Richard J Evans (Oxford), How Unique was the Final Solution? (Annual Holocaust Lecture)
Distinguished historian Richard J Evans is Regius Professor of History in the University of Cambridge and President of Wolfson College.
His most recent publication is the widely acclaimed trilogy: The Coming of the Third Reich(2003), The Third Reich in Power(2005) and The The Third Reich at War (2008). His books have been translated into more than twenty languages.
He acted as principal expert witness in the libel action brought by David Irving against Deborah Lipstadt over allegations of Holocaust denial in 2000.