Dr. Gillian Smith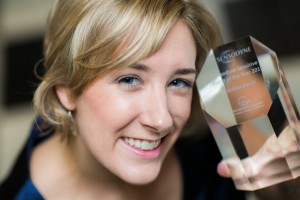 Dr. Gillian Smith, a 27 year old dentist from Bray who patiently and painstakingly treated her special needs patient's gums over four months has been named the Sensodyne Sensitive Dentist of the Year 2012. According to the patient's mother Mary Dhondt, 'Our dentist saved my son with special needs from a traumatic hospital procedure' – This was the kind of care that led Mary to put pen to paper to nominate Dr Gillian Smith for the Sensodyne Sensitive Dentist of the year 2012 Award.
Each year the Sensodyne Sensitive Dentist Awards in association with the Journal of the Irish Dental Association, invites patients all over Ireland to nominate their dentist if they believe they have shown exceptional care. From regular check ups to toothaches, emergency treatment on broken teeth to anxious children in need of coaxing into the chair, the stories all demonstrate the excellence of the modern-day dentist.
While a dental visit remains a daunting date in the diary for lots, most patients can manage to overcome their anxieties, for patients with special needs such as Neal Dhondt, a dental visit can be very traumatic. Neal is a 28 year old man who lives in Camphill Community in Kilkenny midweek, returning home to his parents in Rialto for weekends. As a person with autism, Neal struggles to brush his teeth thoroughly; poor oral hygiene is often an issue for people with special needs.
Neal was diagnosed with periodontal disease a few years ago. According to Neal's mother Mary Dhondt, "We were advised that Neal would need to be admitted to hospital for treatment under full anaesthetic, however, a stay in hospital was out of the question – it would completely traumatise him. We were still advised that hospital admittance was the only way to tackle the extent of his periodontal disease." Mary continues "As luck would have it, a helpful coordinator at Neal's residence home found Dr Gillian Smith who kindly agreed to take Neal on. Dr Smith treated Neal painstakingly over 4 months, treating his gums segment-by-segment using nitrous oxide sedation and local anaesthetic. If we hadn't found Dr. Smith, I just don't know how we'd have got him treated. I know dentists have to treat nervous patients day-to-day in surgery, but treating a patient with severe autism who refuses to sit still is a challenge – I admire her professionalism and patience."
Sensodyne Dentist of the year, Dr Gillian Smith comments, "Treating patients with special needs is an important part of general dental practice. In order to meet Neal's dental needs and take in to account his understanding of treatment we developed a specially tailored plan. Conscious sedation, with nitrous oxide, was a great asset, helping Neal to feel relaxed and comfortable in the dental chair. I am thrilled that we could help Neal restore his oral health and keep him smiling!"
Dr Andrew Bolas, President of the Irish Dental Association said, "Dr Gillian Smith's painstaking approach to Neal Dhondt's treatment meant that he had access to a suitable treatment for his needs. She went out of her way to devise a treatment specific to his special needs by treating himsegment by segment. Treating special needs patients specific challenges to dentists and it is particularly encouraging to see dentists raising the bar, as Dr. Gillian Smith has done."
Chairman of the Judging Panel, Dr Barry Harrington commented, "The success of Dr Gillian Smith in establishing a calm and trusting relationship with her patient, Neil Dhondt, was remarkable. Neil's autism meant that treatment of his oral health needs was even more challenging than usual. Dr Smith's human skills of patience, sensitivity and humour were allied to her clinical skills, especially her use of conscious sedation, to successfully achieve the appropriate treatment."
According to Sensodyne's Michelle Darlington, "This year's winning nomination is testament to the fact that regular dental visits are key to maintaining not just a healthy smile, but safeguarding our overall health. Sensodyne is delighted to recognise the good work of dentists in Ireland."
Gillian completed her Bachelor in Dental Science with us and returned to complete her Postgraduate Diploma in Conscious Sedation. We would like to wish Gillian all the very best in her future career.