Discoveries (from Home page)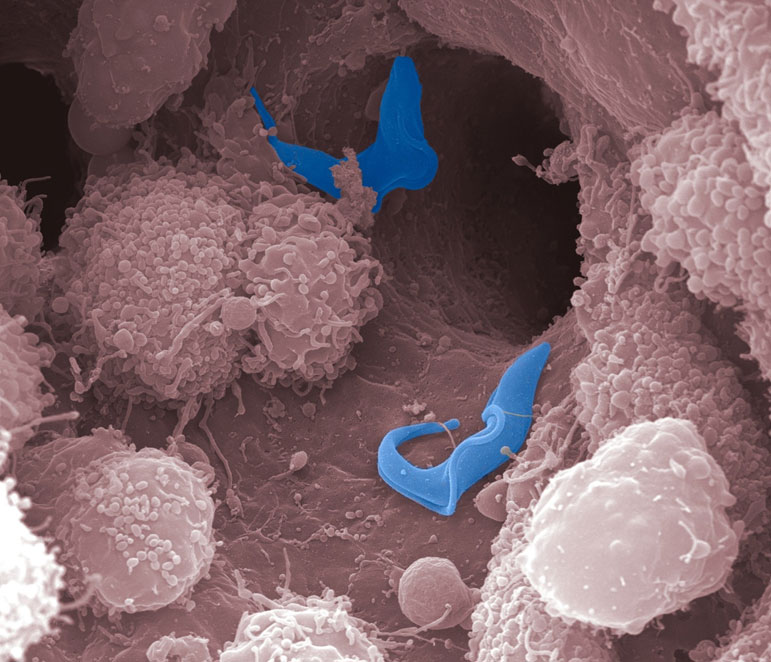 Putting Sleeping Sickness to bed A paper published in Nature this week by a consortium of European researchers including Dr Derek Nolan, PI of the molecular parasitology group in the School of Biochemistry and Immunology,TBSI, has now finally revealed how these parasites have overcome this defence. BBC news African trypanosome PDF PubMed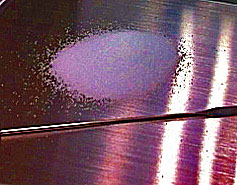 Could table salt be used to make nano-wires? Scientists have discovered that crystals of sodium chloride could 'grow' tiny wires - Prof Thorfinnur (Thorri) Gunnlaugsson, a principal investigator at Trinity Biomedical Sciences Institute, co-authored a study about the findings in ACS Nano.
ACS Nano PDF (Irish Times)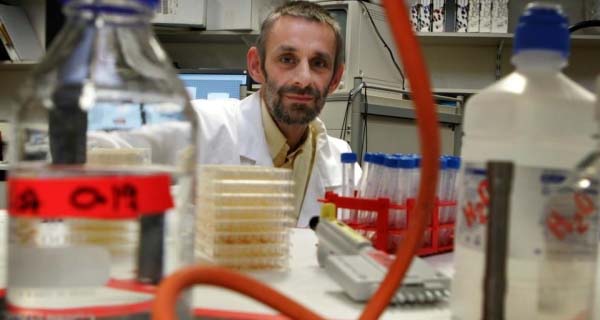 Scientists uncover Protective Influence of Vitamin A against Inflammatory Bowel Disease - Kingston Mills has just been published in the leading Medical journal, The Journal of Experimental Medicine.
(PDF 296KB) (Irish Times)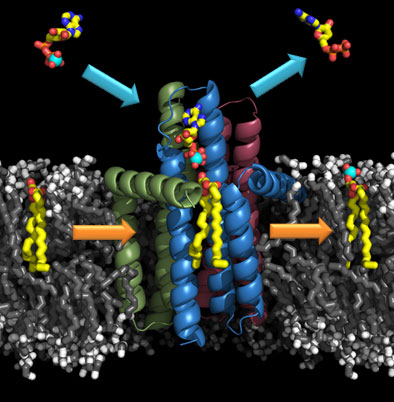 New Crystal Structure helps explain 50 Years of Research on a Novel Membrane Enzyme in E. coli - The research was carried out in Professor Martin Caffrey's Membrane Structural and Functional Biology (MS&FB) group in Trinity's School of Medicine and School of Biochemistry and Immunology.
(PDF 167KB)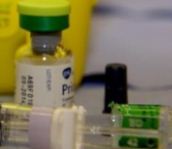 New Discovery may lead the way to Improved Whooping Cough Vaccine. The research led by Professor of Experimental Immunology, Kingston Mills has just been published in the leading international journal PloS Pathogens.
(PDF 300KB) (Irish Times) (Journal PloS Pathogens)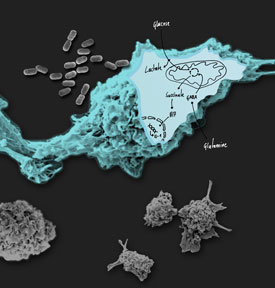 TCD Researchers Reveal that the Immune System is like a Turbo-Charged Hybrid Car. Led by Professor of Biochemistry, Luke O'Neill
(PDF 273KB)
(see 'Nature' journal) (read more)
Associate Professor of Biochemistry and Immunology Rachel McLoughlin was amongst a group of researchers to discover How the Bacterium Staphylococcus Aureus that plays a vital role in spread of MRSA Colonises the Human Nose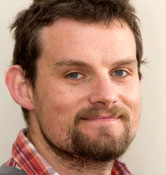 Dr David Finlay of TBSI: Cellular Metabolism Arms T cells to Battle Viruses and Tumours

Self-Eating Cells May Hold key to New Inflammatory Therapies
Read more here.. (link to online Article in The Journal of Immunology)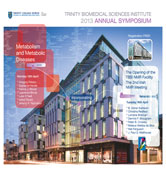 TBSI hosted a special symposium entitled 'Metabolism and Metabolic diseases' on Monday, April 15th. In this wide-ranging conference, a number of diseases were discussed including parkinson's disease, heart disease, type 2 diabetes, sepsis and cancer, the particular focus being the role of metabolism in these diseases.

details of the symposium
(Programme 15th April)
The symposium also incorporated the Second National NMR Meeting which took place on 16th April 2013
(Programme 16th April)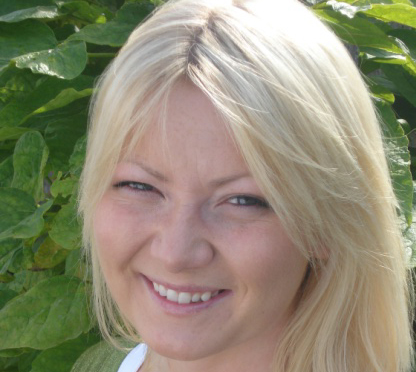 Lydia Lynch: Immune Cells Could Protect Against Obesity
(Immunity Article)
(Irish Times)
(Communications, TCD)
(Harvard Gazette )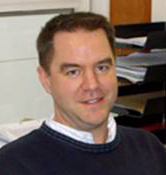 New Ways Viruses Affect Human Immune Response Discovered
Read more on this.. Read Irish Times article..

Scientists Solve Structure of Important Protein in Energy Storage of Cells

Researchers Make Breakthrough in the cause of Premature Birth

Trinity Researchers Report Major Eye Disease Breakthrough

Trinity College Dublin Scientists Discover New 'Off Switch' in Immune Response

Trinity College Dublin Researchers Collaborate in discovery of new targets for the Treatment of Asthma

Discovery of New Vaccine Approach for Treatment of Cancer
News & Events (from Home page)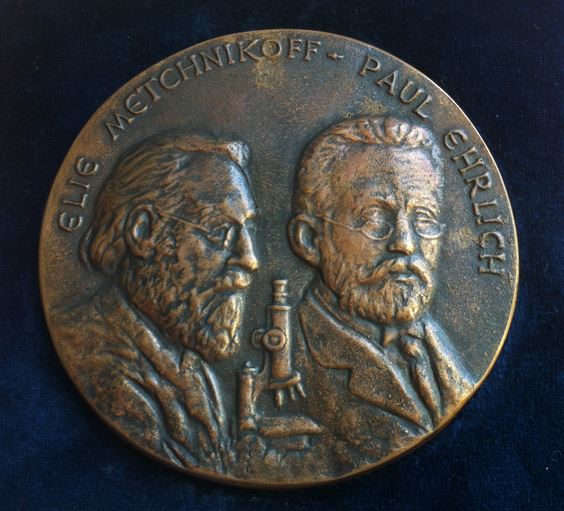 Congratulations to Luke O'Neill on winning The European Federation of Immunology Societies prestigious medal for 'outstanding European Immunologist'.
Discover Research Night - September 26th
Discover Research Dublin 2014 web
The Events, listed
Wow...a taste of what was on show!
Facebook
Follow the event on Facebook
Twitter
@researchdublin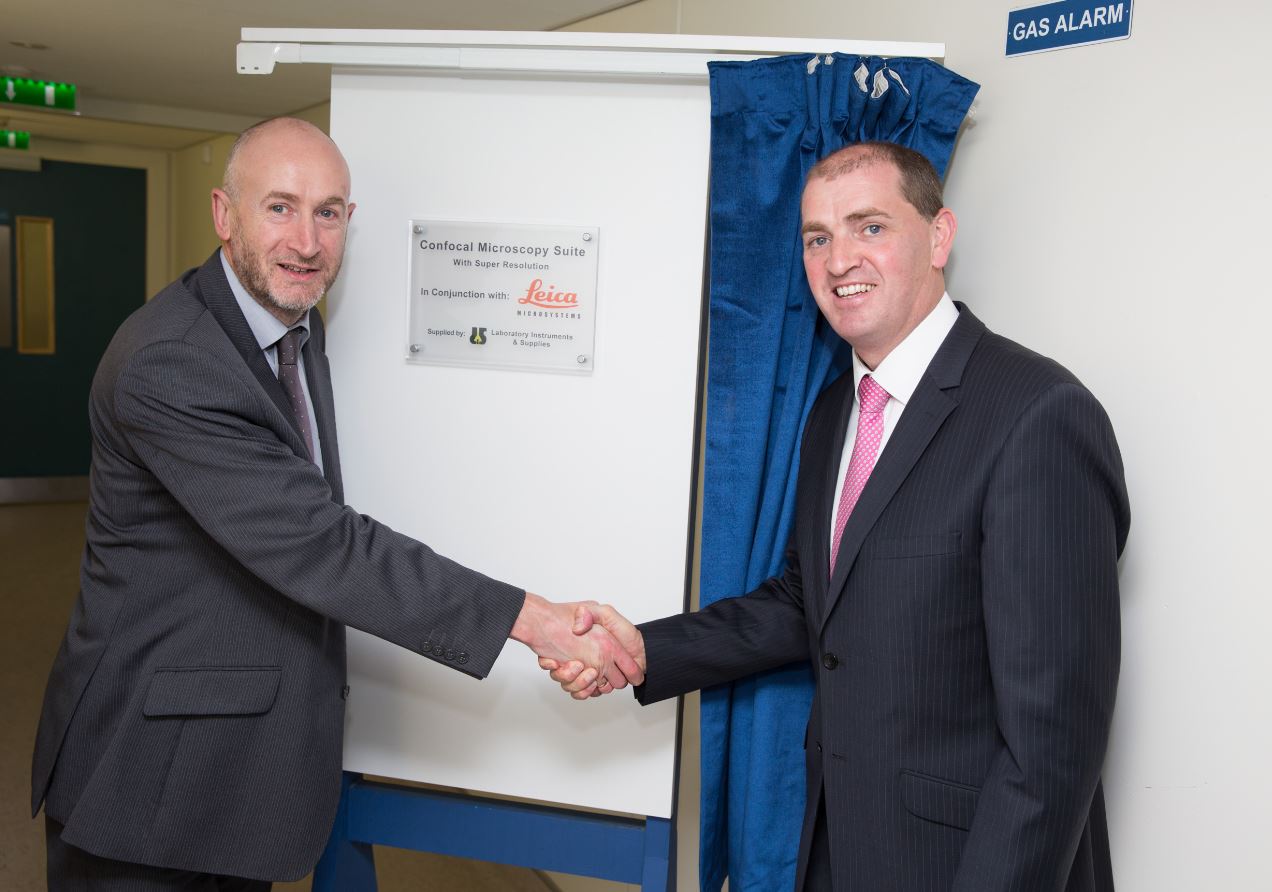 Minister Paul Kehoe TD, Government Chief Whip & Minister of State at the Departments of the Taoiseach & Defence opens TBSI Super Resolution Microscopy Suite. Confocal microscopes help researchers study cells and materials at cellular and molecular level. pic Minister Paul Kehoe with Dean of Research, Professor Vinny Cahill. Press release
International Conference Highlights Cutting Edge Research to Help People Survive Cancer in the 21st Century Press release Programme pdf 3.36 MB
First joint yearly conference of TBSI and the Weizmann Institute of Science took place in Dublin, July 27-29. Seven keynote speakers, including five Nobel Laureates (James Watson, Aaron Ciechanover, Bruce Beutler, Ada Yonath and Jules Hoffmann) and many colleagues in TBSI presented. The speakers presented cutting edge progress in the study of mechanisms of inflammation and cancer in the two institutes and the applications of such advances to new ways of therapy. Keynote speakers The Programme Cutting Edge Research Irish Times Magazine PDF 8.48MB Irish Times 29 July Press Release
Congratulations Luke O'Neill as Trinity Scientists Chosen for Thompson Reuters 2014 World's Most Influential Scientific Minds List news report Techcentral.ie siliconrepublic.com
Progress Report on Ireland's premier Biomedical Sciences research laboratories 2014 pdf 2.21 MB
Newstalk: Tune in to Pat Kenny's Science Slot with Luke O'Neill every Wednesday Pat Kenny Show
TBSI Annual Symposium reflects environment where innovative and interdisciplinary approaches are leading to scientific discoveries of biomedical importance. event details
('Research at the Interface') discussed at TBSI Annual Symposium)
Congratulations to Kingston Mills and his Lab! not only did Kingston Mills scoop the award 'Scientist of the Year' at the Irish Laboratory Awards but his lab won three awards: Best Bioscience lab, Best Research Lab and the overall award of 'Lab of the year' Kingston Mills
NCRC and Trinity Join Forces to Investigate Inflammatory Diseases in Children (details)
Huge success! Discover Research Night, held on 27th September 2013. The event was part of an EU initiative (held Concurrently in 300 cities across Europe). Members of the public were welcomed to TBSI to get a taste of what goes on behind the scenes. Snapchat
The increased incidence of whooping cough will be the focus of the 10th International Symposium on Bordetella, TBSI, 8th-11th September, 2013. (to book) (details) (Programme) (Press Release)
Scientists discover new routes for immune cells to tackle infections of the gut Press Release (study led by Dr. Saurabh Mehandru (MSSM) and Dr. Ed Lavelle (TBSI),publication - The Journal of Experimental Medicine)
TBSI hosted the 49th Annual meeting of the Irish Neurological Association (INA) about
Dr. James Watson (Double Helix, 1953) visits TBSI continue reading
Researchers in the School of Biochemistry and Immunology, TBSI, secured €3.8 million funding for a prestigious Marie Curie PhD training network project, 'Training in neurodegeneration, therapeutics intervention and neurorepair' (TINTIN) read more
The Annual Symposium of the Trinity Biomedical Sciences Institute: Metabolism & Metabolic Diseases incorporating the Second National NMR Meeting took place on 15th/16th April 2013
Kingston Mills, Public Lecture 27th February 2013: Vaccines – not just for infection How we can target the immune system to control cancer, Alzheimer's and autoimmune diseases
Vaccines that prevent life-treating infectious diseases caused by bacteria and viruses have been the most successful medical interventions for enhancing human health. The concept of using a vaccine to mobilize the immune system to prevent infection with microbes is now being translated to the enhancement of immune responses to eliminate the tumour cells that cause cancer or to clear the amyloid plaques associated with Alzheimer's disease. Conversely vaccines that promote immune regulation and thereby turn off damaging immune responses are being developed for the treatment of autoimmune diseases, such as diabetes, arthritis and multiple sclerosis.
"This is an important step towards the integration of different disciplines that increasingly share common goals,"
20th December 2012
Congratulations to Luke O'Neill who won a Royal Irish Academy Gold Medal 2012 award today
30th November 2012
Why stem cells?, Public lecture by Dr Gavin Davey of the School of Biochemistry & Immunology,TBSI, Trinity College Dublin on Wednesday November 21st 2012 at 6:30pm in the Stanley Quek Theatre
21st November 2012
See also (Department of State notice)
Watch... In conversation with Jones and Balderston (INTERVIEW)
Visit by representatives of the US State Department and members of a business delegation. Tercentenary Hall event at 17:00 focussed on 'How Innovation and Science Policy Can Inspire Entrepreneurship to Solve Real World Problems', followed by a networking event at 18:00.
14th November 2012
Public Debate by Staff and Students of Trinity College Dublin, ably adjudicated by Professor Sir Terry Pratchett, OBE, Blackboard Monitor. Please note...first come, first seated
12th November 2012
The new Honorary Professors are Jules Hoffmann, Bruce Beutler and Peter Doherty
18 October 2012
Professors Peter Doherty and Jules Hoffmann, spoke at a special symposium on Immunology in the Trinity Biomedical Sciences Institute.
10th July 2012
Dublin has been chosen to host Europe's largest science conference, ESOF 2012 (Euroscience Open Forum), from 11-15 July, 2012.
11th - 15th July 2012
Speakers include Jules Hoffmann, Peter Doherty, Michael Lenardo, Doreen Cantrell, Padraic Fallon.
10th July 2012
Trinity College Dublin scientist and research lecturer in Chemistry, Dr Silvia Giordani has been awarded one of four prestigious 2012 L'Oréal-UNESCO UK & Ireland For Women in Science Fellowships (FWIS) for her research on a new avenue towards 'smart' medicines.
29th June 2012 Read Irish Times article..
"From Matter to Life: Chemistry? Chemistry!" - Prof. Jean-Marie Lehn - 1987 Nobel Laureate in Chemistry.
3rd July 2012