Current News
New for 2012-13: Croatian in Trinity!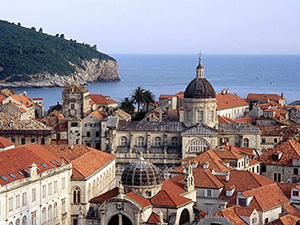 Thanks to the support of the Croatian Ministry of Education, Science and Sports we are now delighted to be able to offer tution in Croatian language and culture on the undergraduate curriculum and through our evening courses. We welcome our new colleague from Croatia, Mr Frane Karabatić, and invite any expression of interest in learning Croatian. Croatian is offered at Beginners' and Lower Itermediate levels as an evening course, please go to http://www.tcd.ie/Russian/evening-courses/ for more detail.
Polish up your Polish for Euro 2012 but be careful saying thank you in cafés! (Irish Times, Monday 4th June 2012)
Photographs of a talk given by Dr Anatole Tchikine (Centre for Medieval and Renaissance Studies, TCD) at the National Gallery of Ireland 25 February 2012. The talk was given as part of the Russian Festival of Culture and looked at Russia in the Renaissance.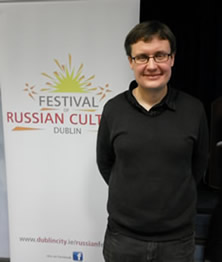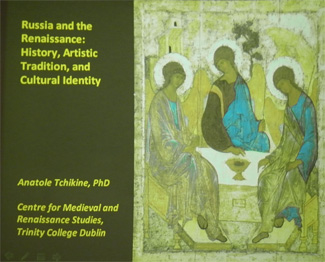 The Head of School, Dr Sarah Smyth and Dr John Murray from the Department of Russian and Slavonic Studies visited Moscow last week to launch the first issue of a journal of contemporary Irish literature translated in to Russian. (TCD article)
Professor (emeritus) Eiléan Ní Chuilleanáin, School of English, Trinity College Dublin, at the launch on 2 March at the Irish Embassy in Moscow of "Irlandskaya literature" (Irish Literature in Russian Translation), a dual-language journal featuring leading Irish writers translated into Russian. www.irlandskayaliteratura.org Mr Vladimir Babkov, translator and the journal editor, and Dr John Murray, the Department of Russian and Slavonic Studies, the journal editor
Images of Eiléan Ní Chuilleanáin, Vladimir Babkov and John Murray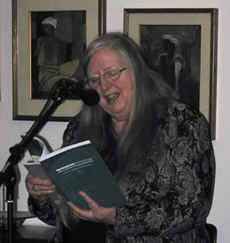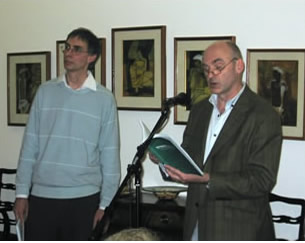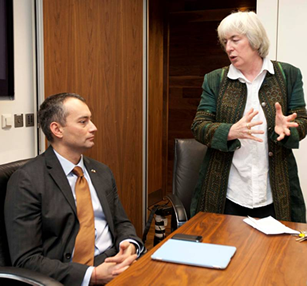 Bulgarian Foreign Minister Nickolay Mladenov at the Long Room Hub, 23rd November. Following brief welcoming speeches from the Head of School Sarah Smyth, and John Murray from the Department of Russian and Slavonic Studies, Mr Mladenov held a question-and-answer session with Bulgarian students studying at Trinity. The meeting was also attended by the Bulgarian Ambassador to Ireland, His Excellency Emil Yalnazov, and the Bulgarian Lector at the Department of Russian and Slavonic Studies, Dr Rossen Stoichkov.
Bulgarian Foreign Minister Nickolay Mladenov and Dr Sarah Smyth
EUROPEAN STUDIES LECTURE SERIES:
War and Memory in Europe after World War II
Dr Per A. Rudling (University of Greifswald): War and Memory: National(ist) Interpretations of World War II in Ukraine
Dr Edward Arnold (Trinity College Dublin): Myth, Memory and Collective Amnesia in in Post-war France
European Union House, 18 Dawson St, Dublin 2
Wednesday, 7 December 2011, 6:00 PM
IDENTITY:WORKSHOP series and the European Studies lecture series
"1956-es" – Resistance and Memories in Eastern Europe
This one-day workshop aims to provide a forum for a comparative assessment of resistance movements in the Eastern bloc in 1956. Focusing mostly on the Polish and Hungarian events, the workshop will address the significance of popular discontent (a nascent civil society?) in challenging the authority of the Party and the State, and in gradually eroding the communist system. The workshop is organized on the 55th anniversary of the events of 1956 and thus the issue of the legacy of 1956 will also be addressed. The multiplication of diverse historical and political interpretations, the fragmentation of the 'idea of '56', and the emergence of 1956-es in the collective consciousness of the respective societies will be in the limelight of discussions at the workshop.
JAMESON DUBLIN INTERNATIONAL FILM FESTIVAL: Johnny O'Reilly is the latest Irish director to make it big overseas, but this time it's not LA – it's a Russian thriller set in the Crimea
The Festival of Russian Culture Dublin will be held from 1 - 7 March. Events include exhibitions, readings, film screenings and a Pancake Day family celebration in Temple Bar on Sunday March 6th. The full programme can be found here:
http://dublinrussianfestival.com/
New: Bulgarian Courses
Commencing from 2009/2010, the Department is delighted to add Bulgarian to its established evening courses. Please click here for course description and here for all extra-mural courses; including Czech, Polish and Russian. For enquiries and enrolments, please contact the Departmental Secretary.
New Scholar - Nadja Turunen

The Department would like to congratulate Nadja Turunen (SF Business Studies and Russian) on her achievement of becoming a Scholar of Trinity College Dublin and wishes her every success in the future.
23/4/2009 Inauguration of Russian Society
The 2008/9 academic year saw the birth of the TCD Russian society (registered 7th April, inaugurated 23rd April 2009). The society aims to promote Russian culture amongst students of Trinity College, by organising public lectures, film and game evenings as well as literature classes and by networking with other Russian societies.
27/2/09 Chekhov evening in the Atrium
Students of the department under Natasha Kulachkovskaya's directorship performed "The Wedding" by Anton Chekhov on 27th March 2009 in front of a captivated audience.
http://www.tcd.ie/Russian/news-events/Dept_Sem_2010-11.pdf
| | |
| --- | --- |
| 18th October | László Kontler (Central European University, Budapest), "The stakes of discovery in the Enlightenment: astronomy, language and ethnography in an Arctic expedition, l768-l769" |
| 15th November | Julia Eichenberg (University College Dublin), "Fighting for peace and benefits. Poles and veterans' internationalism in the interwar period" |
| 29th November | Ewa Stanczyk (Trinity College Dublin), 'Culture and Identity in the Poetry of Jerzy Harasymowicz'' |
Pub Nights
Every second Wednesday during teaching term, post-8.30, Kennedy's pub, Lincoln gate. Check the Russian society pages for the next date, or e-mail Conny Opitz to be put on the mailing list.
Polish Film Nights
Every second Friday during teaching term, 6pm start, Room 5052. Organiser: Ewa Grzegorek
(Schedule)