Prospective Undergraduates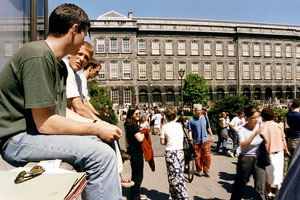 Many second-level students in Ireland and elsewhere are considering their third-level options, and we hope that you will consider studying Political Science at Trinity College. Politics is a fascinating subject in itself, and at Trinity students know that they will be taught by some of the top academics in Europe, in a department where undergraduate teaching is a core activity. A degree from Trinity College Dublin is recognised both nationally and internationally as a mark of quality. Trinity is acknowledged to be Ireland's leading university, and the Department of Political Science is especially highly regarded; in the 2015 QS rankings it was rated number 1 in Ireland, number 10 in Europe and number 33 in the world. It attracts some of the best undergraduates in the country: in 2015, virtually all of the approximately 350 students admitted to its courses through the CAO process achieved 500 CAO points or more (see details under individual course pages, listed in next paragraph). The College's location in the heart of Dublin, close both to the seat of government and to the Temple Bar area, is an additional reason to choose Trinity as the place to study Political Science. Most of our students are Irish, but we have a healthy mix of nationalities within the student body and we welcome students from across the world.
We hope that you will give serious consideration to choosing Political Science at Trinity College for your university degree. Currently, Political Science can be studied in five different ways: through History and Political Science (TR012), PPES (TR015), Law and Political Science (TR020), Political Science and Geography (TR029), or through the BESS programme (TR081).
View the Prospective Undergraduates Document (PDF, 582KB) to find out in detail why studying Political Science at Trinity could be the best choice for you.