PPES
The four-year undergraduate degree in Philosophy, Political Science, Economics and Sociology (PPES), hosted by the School of Social Sciences and Philosophy, had its first intake of students in October 2008, with the first cohort graduating in summer 2012. It quickly established itself as a popular and highly-regarded degree programme.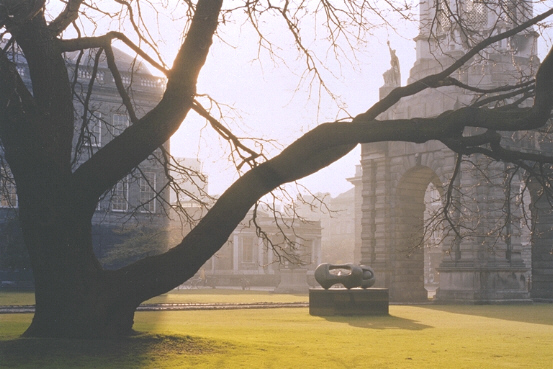 The PPES degree programme (TR015) provides a unique opportunity to study four subjects that are relevant to understanding any society. Economists explore how people and institutions behave and function when producing, exchanging and using goods and services. Philosophy will train you to question your own assumptions, and someone else's, and to articulate your point of view carefully and thoughtfully. Political Science is the field concerning the theory and practice of politics and the description and analysis of political systems and political behaviour. To learn more about what the study of political science entails, you might find our undergraduate page helpful. Sociology is the study of social life, social change, and the social causes and consequences of human behaviour.
In the Junior Freshman (first) year students take six compulsory courses from within all four subjects.
In the Senior Freshman (second) year you choose three of the four subjects and you take a total of six courses, i.e. Students can choose Political Science and two subjects from Philosophy, Economics and Sociology.
In the Junior Sophister (third) year you take two of the subjects taken in the Senior Freshman year. So, again, you have plenty of choice.
And then in the Senior Sophister (fourth) year you may choose to continue with both subjects (which is joint honors) or specialise in just one of Political Science, Economics, Philosophy, and Sociology (single honors).
In all cases you graduate with a B.A. (Moderatorship) in Philosophy, Political Science, Economics and Sociology.
In second year there is the option of replacing one Political Science module by broad curriculum or language modules, while there is the opportunity to spend the third year on exchange at a university outside Ireland.
What careers are open to graduates with a Political Science degree? The possibilities are boundless – our alumni pages give an indication of some of the careers followed by our graduates.
In 2017, the quota (number of students to be admitted to the programme) was 34 and the minimum number of CAO points needed to gain entry to the programme was 555. For more information, please visit the PPES website.