Undergraduate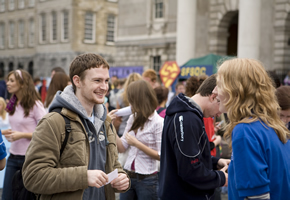 Studying Political Science in Trinity does not entail four years of studying nothing but politics. Indeed, the great majority of our students combine Political Science with another subject, such as Business Studies, Economics, Geography, History, Law, Philosophy or Sociology.
Degree Programmes
If you'd like to study Political Science at Trinity there are five different degree programmes (all of which run for four years) to be considered.
Whichever programme you choose, you will attend Political Science lectures and tutorials with students from the other programmes. Moreover, students from the European Studies, Sociology and Social Policy, TSM Economics and TSM Sociology degree courses also take some Political Science courses, so there is plenty of opportunity for interaction.
Back to Top
Teaching
Undergraduate teaching is a core activity of the Political Science department and one that receives top priority. Students are given lectures by world-renowned authorities in their field, and these are supplemented by small-group tutorials given by teaching assistants, which enables them to discuss, with the teaching assistants and with each other, the ideas outlined in the lectures. Continuous assessment is built into all courses. In the final year of the Political Science programme courses are characteristically taught through seminars, enabling students to learn the vital skills of small-group discussion and presentation.
Click here to download a plagiarism cover sheet (word document).
Back to Top
After College
With a politics degree from Trinity, you can go far, as the list of some Political Science alumni shows. A degree from Trinity College Dublin is recognised nationally and internationally as a mark of quality. Trinity is Ireland's leading university, and the Department of Political Science is especially highly regarded; in the 2016 QS rankings it was rated number 1 in Ireland, number 15 in Europe and number 43 in the world for 'Politics and International Studies'. The skills taught are highly transferable and our graduates go on to a wide range of careers. Of course, there are some careers for which a demonstrated interest in Politics is a definite plus and gives you a real head start. Journalism, other kinds of media work, the civil service, public relations, anything in business that requires knowing how government works, work in international organisations such as the EU or a not-for-profit organisation, all come into this category. A demonstrated knowledge of how the world works is obviously an asset for many types of career. An increasing number of undergraduates go on to do further study by means of postgraduate work, benefiting from the department's wide range of international contacts. For an elaboration of this, see our Prospective Undergraduates document (PDF, 583 KB).