Bachelor in Laws (LL.B.)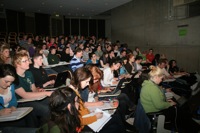 CAO Code:TR004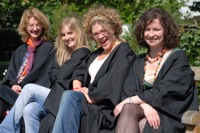 Course Overview
Law at Trinity College Dublin is a four-year honors degree programme. The first two years (Freshman) are given over to the study of core legal modules (many of which are required by the legal professional bodies). In the Freshman years of the programme we ensure that the balance is appropriately divided between the academic and practical aspects of law. This is achieved through the unique legal skills and mooting programmes taught in the first two years of the programme. In the Sophister years (third and fourth years) you can focus on particular areas of law and may choose from a range of approximately 30 modules. This affords graduates of Law from Trinity College Dublin with the advantage of early specialisation in their academic life.
Most of the teaching takes place at lecture level. The academic year is divided into two terms (semesters).In the Freshman years, students take three modules per semester and a series of legal skills seminars and workshops.Each module is taught by three hours of lectures per week and four seminars (small group teaching) per semester.In the Sophister years students take generally between six and eight modules (modules are weighted differently in the final two years, see below).
Programme Structure
The LL.B. degree involves two year's study in the core subjects: Contract, Tort, Constitutional Law, Irish Legal System, Legislaiton and Statutory Regulation, Administrative Law, Equity, Land Law, EU Law and Criminal Law. For the final two years, students are free to choose to study modules to the total sum of 60 ECTS credits per year from the up to twenty six options. See Freshman and Sophister modules pages for further details.
Students may also spend the third year abroad, on the SOCRATES scheme, at a university in any European country with which the Law School has links. They include France, Germany, Spain, Belgium, Italy and the Netherlands.
How many hours of teaching are involved?
The academic year is divided into two teaching semesters with examinations taking place at the end of the second semester.Each teaching semester is of 12 weeks duration, with a reading/study week taking place in the 7th week of both semesters.Much of the teaching takes place at lecture level.Students must attend 3 hours of lectures per module each week. Students generally take 3 modules per semester, in the Sophister years they are expected to take 30 ECTs worth of modules in both semesters.In addition to lectures, Freshman students must attend 3-4 seminars (small group teaching) per module and participate in compulsory mooting programmes (mock trials).Attendance at seminars is also required for some Sophister modules.
Semesters are also known as terms.In Trinity the teaching semesters are referred to as Michaelmas Term (first semester) and Hilary Term (second semester).Annual Examinations take place at the after the Hilary Term.This term is referred to as Trinity Term.
Seminars differ from lectures where students are, for the most part, listening and taking notes at a lecture which comprises the full student body, in seminars and tutorials only a small group are assembled and discuss a topic arising out of the lecture.Seminars in Law are taught by academic staff, post-graduate students or by practicising solicitors or barristers with particular expertise in the area.
Programme Outcomes
Having successfully completed this programme, students should be able to:
Identify, evaluate and synthesise jurisprudential theories and concepts;
Use appropriate legal theories, doctrines and concepts to identify, formulate, analyse and solvelegal problems within national and international contexts;
Understand the relationship between law and society, including the role of law in promoting and responding to social change;
Conduct effective and targeted research in case law, legislation and academic legal commentary at both the national and international levels;
Discuss and debate different perspectives on legal problems, theories and doctrines;
Communicate effectively in oral and written modes in professional and academic settings and work effectively in multi-disciplinary settings;
Demonstrate flexibility, adaptability and independence in order to engage productively with a changing social, cultural and technological environment;
Have the capacity to engage in life-long learning, including vocational training for the legal profession.
European Credit Transfers
Students reading for any law degree at Trinity College Dublin must study 240 ECTs over the duration of the four years.Generally this entails 60 ECTs per year.
The ECTS weighting for a module is a measure of the student input or workload required for that module, based on factors such as the number of contact hours, the number and length of written or verbally presented assessment exercises, class preparation and private study time, classes, and examinations. There is no intrinsic relationship between the credit volume of a module and its level of difficulty.
In Trinity College Dublin, 1 ECTS unit is defined as 20-25 hours of student input so a 10-credit module will be designed to require 200-250 hours of student input including class contact time, private study and assessments.
This page was last modified by Catherine Finnegan