Familiar but Unknown – Irish Women Artists and Artisans: Methods and Methodologies of Recovery and Remembering.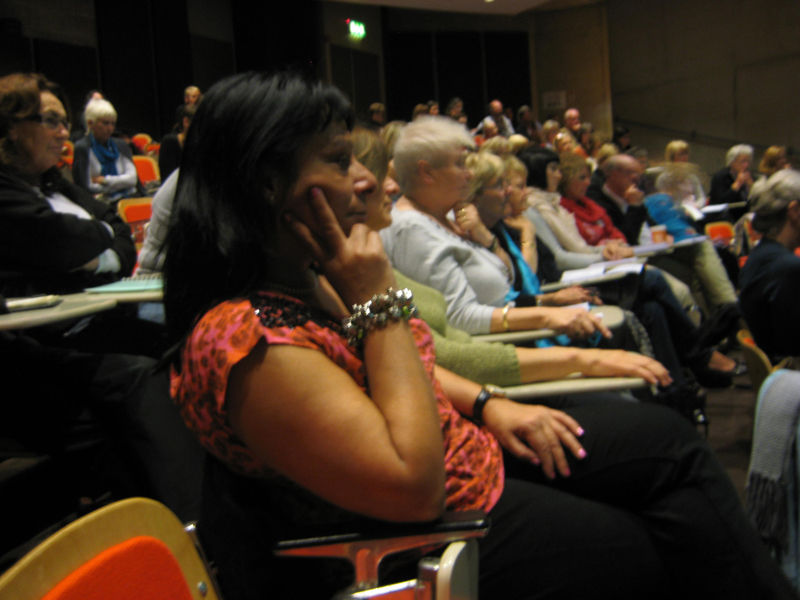 Many of Ireland's women artists and artisans remain, to a greater or lesser degree, unknown. While their work may be familiar to the public, their names, their lives, and their working contexts have been lost or obscured.
A one day symposium titled 'Familiar but Unknown – Irish Women Artists and Artisans: Methods and Methodologies of Recovery and Remembering' will be held on Saturday 17 October 2009 in the Emmet Theatre, Trinity College Dublin. The symposium aims to provide a forum for post-graduate, post-doctoral, academics, and interested members of the cultural and artistic community, to analyse and discuss appropriate methods of recovering and remembering women artists.
Fionna Barber– 'Unruly Canons: Women's art practise, modernity and the hierarchies of twentieth century Irish art.'
Fionnuala Brennan– 'Mary Swanzy: An Independent Eye.'
Carla Briggs– 'Margaret Clarke (1884-1961) and the question of her 'history' paintings.'
Karen E. Brown– 'Gender and the Decorative Arts: Evelyn Gleeson and the Irish Cultural Revival.'
Use audio controls to play the available files
Myles Campbell– 'In a Class of her Own: Louisa, Marchioness of Waterford (1818-1891).
Dr Riann Coulter– 'Nano Reid: From the Boyne to Bohemia.'

Jane Eckett– 'Flowers in the Attic: Recovering the reputation of a forgotten Irish Flower Painter, Moyra Barry (1885-1960).'

Jane Humphries– '(Re) Writing the Domestic into the Everyday.'

Dr Roisin Kennedy– 'Lhote's Wives – Scapegoating Women Artists, 1962-84.'
Mary McAuliffe– 'Writing Irish Women's Lives, 1800-1950 – methods and contexts.'

Paula Murphy – 'Gabriel Hayes: an Irish sculptor.'

Una Walker– 'Notes and Queries: The use of statistical data in bringing women artists in from the margins.'

Please contact Dr Éimear O'Connor for further information.
Fionna Barber
Principal Lecturer for Contextual Studies
Manchester School of Art
Unruly canons: women's art practice, modernity and the hierarchies of twentieth century Irish Art
In the 1980s women's art practice became visible in Ireland on an unprecedented scale, with three major survey exhibitions in Dublin in 1987 and the formation of two related groups, the Women Artists Action Group in the South and its Northern counterpart NIWAAG. Both of these were dedicated to raising the profile of practicing women artists throughout Ireland. In the two decades that have followed the work of contemporary Irish women artists such as Dorothy Cross or Alice Maher has become firmly inscribed within international art circuits. During the 1990s this was also facilitated in part by the initial impetus of the decentering strategies of postmodernism, privileging previously marginalised subjects, including both women and cultures geographically peripheral to the centres of modernist innovation.
This paper seeks to shift the focus from this more recent situation in order to examine the impact and legacy of the radical interventions of the 1980s in relation to the historical construction of women's art practice in Ireland throughout the twentieth century. How do we take account of this, in such a way that the political impact of feminism is not only still retained, but becomes an active agent in the production of new and empowering histories? To what extent are canons that have privileged the greatness of the modernist male still operative within the discourses of art historical writing in Ireland, and how can we work to change this?
Fionnuala Brennan MA
Mary Swanzy - An Independent Eye.
Brian Fallon argues that Mary Swanzy is one of the true originals in Irish Art (1994:106) This paper will trace the artist's long journey from her early formal portraits and fairly conventional landscapes towards the originality and self-expression in her later paintings. While many of her contemporaries seemed content (or were financially constrained) to plough narrow, commercially profitable artistic furrows, Swanzy embarked on a voyage of exploration which took her not only away from her native Ireland to places as far afield as the war-torn Balkans and Samoa, but also eventually led her towards the creation of highly personal, allegorical and enigmatic works, which Fallon claims are as self-contained as the finest surrealist pictures. These paintings, I believe, are what entitle Swanzy to Fallon's acclamation of a true original, and original artists deserve to be remembered.
I will contrast this later work in particular with that of influential Irish women artists such as Mainie Jellett and Evie Hone and will ask what, if any, influence Swanzy had on Irish twentieth century art. The Second World War had a profound impact on her life and work. She did not exhibit for decades afterwards, although she continued to paint in her studio in Blackheath, London. Although keenly aware of current fashions, she was not particularly influenced by them and preferred to go her own way, still producing her extraordinary, poetic, allegorical paintings until she died at the age of 96. Mary Swanzy is a European painter, not confined to narrow nationalist boundaries. As she said herself, "We are all aiming at the same thing, the unattainable, and the inexplicable." For the variety, skill, imagination, power and originality of her best works, Mary Swanzy deserves to be remembered.
Carla Briggs MA
School of Art History and Cultural Policy, UCD.
Margaret Clarke RHA [1884-1961] & the question of her 'history' paintings
A survey of the style and substance of Margaret Clarke's oeuvre attests to her training at the Dublin Metropolitan School of Art and places her in the realm of the Irish academic tradition. In addition to portraits, landscapes, still-lives and genre scenes she produced several paintings on religious and literary themes, 'history' paintings in the tradition of the academic hierarchy of genres, among them Columbine Rests [c1923-4, location unknown], Miserere [1926, priv. coll.], Strindbergian [1927, Ulster Museum] and Mary Magdalene [1927, priv. coll.].
The majority of these works date to 1920s, a decade of upheaval and change in Ireland, politically, socially, artistically. The 1920s was also a period of significant demand in her private and professional life. In the midst of family life, three young children and the progressive ill-health of her husband, Clarke determined to pursue her professional career organizing in 1924 the first of two solo exhibitions, exhibiting at the Royal Hibernian Academy, at the Aonach Tailteann Exhibition of Irish Art in 1924, 1928 and 1932, and at exhibitions in London, Brussels, Paris, New York and Boston. Furthermore, in 1927, she was elected to full academic status of the RHA making her only the second female artist, after Sarah Purser, to be thus honoured since the Academy's foundation.
It is against this backdrop that her major challenging 'history' pieces were produced and exhibited, and against this setting they raise many questions. With professional development in mind did Clarke produce these paintings with a view to showcasing her skills at home and abroad, and indeed securing the honour of Academician? Was there a risk involved as the majority were independently produced rather than commissioned; only a few sold at exhibition and in some instances the rather enigmatic themes on occasion elicited mixed critical response? Did such works provide her an essential artistic challenge, and how do they relate to comparable works by her contemporaries? What do they reveal of Clarke's personal interests and concerns? Moreover, to paraphrase a line from a letter she penned to Thomas Bodkin, what might they reveal of her determination to attract appreciation of her individual efforts as a painter, rather than fact she was the wife of one artist [Harry Clarke] and the pupil of another [William Orpen]?
Karen E. Brown
IRCHSS Post Doctoral Scholar
School of Art History and Cultural Policy
University College Dublin
Gender and the Decorative Arts: Evelyn Gleeson and the Irish Cultural Revival
Recent scholarship on art and gender has confronted the role of the decorative arts in the art-historical canon, contextualizing the cultural production of women within the social, cultural and institutional environments in which they worked. This paper focuses on the contribution of the English-born woman of Irish descent, Evelyn Gleeson (1855-1944), to the Irish Cultural Revival.
Established histories of the Dun Emer Industries (1903-08) have suppressed Gleeson's invaluable contribution to the Revival. As the driving force behind the foundation of the Industries, Gleeson brought together her vision for women's suffrage, Irish nationalism and humanitarian ideals. Uncovering papers from her archive in Trinity College Dublin unfolds a hidden history of this dynamic and professional woman artist. In particular, her lesser-known feminist writings from 1890s London, including lectures presented to the Irish Literary Society, portray an ardent campaigner for women's rights. They also evidence her original research into indigenous arts and crafts of various European countries including England, Hungary, Russia and Italy, through which she consolidated her ideas. The conception and reception of Gleeson's Irish-made clothing, hand-tufted carpets and other household goods, prove that she made an invaluable contribution to Revival ideologies in what is predominantly understood to be a Literary Revival in early twentieth-century Ireland.
Myles Campbell
Department of the History of Art and Architecture, TCD.
In a Class of her Own: Louisa, Marchioness of Waterford (1818-1891).
This paper will focus on discourses pertaining to the issue of class and the concomitant questions raised by such an issue, in relation to the artistic career of Louisa, Marchioness of Waterford (1818-1891). Occupying a key position in Irish society from 1842 to 1859, Lady Waterford represents a unique example of a watercolourist whose ambition was paradoxically thwarted by the burden of her wealth and by the strength of her social connections, as much as it was dictated by the constraints of a patriarchal Victorian society which held strict conceptions of the role of an upper-class lady. By examining her reliance upon the advice of Sir John Ruskin, a figure whose life-long assistance ironically contributed to Lady Waterford's fruitless attempts to establish herself as a professional artist, this paper, in addition to considering Lady Waterford's privileged relationship with the leading figures of the Pre-Raphaelite movement, will endeavour to shed light upon the extent to which issues of gender and class represented obstacles which hampered the artist in her pursuit of success. In its engagement with original source material, the paper will ultimately consider Lady Waterford as an artist whose career might now be regarded as a rubric for the interpretation of the relative successes or failures of other nineteenth-century women artists and who, as a result of her immense ability as much as her abject existence on the peripheries of the art world, was, in more ways than one, in a class of her own.
Dr Riann Coulter
IRCHSS Post Doctoral Scholar
TRIARC
Nano Reid: From the Boyne to Bohemia
This paper considers the work of the Drogheda-born artist Nano Reid in the context of the Bohemian subculture of mid-twentieth-century Dublin of which she was part. Studies of the period have inevitably focused on the writers who dominated the artistic milieu. Recent work on The White Stag Group and artists including Patrick Scott has helped to broaden the discussion to the visual arts, but, with few exceptions, this scene is represented as a masculine domain. Interrogating this gender imbalance, this paper examines the position that Reid, and other women, occupied in this cultural arena.
Although female artists were the pioneers of modernism in Ireland, by the mid 1940s the gender balance of the avant-garde had swung back in favour of their male counterparts. Reid was one of a generation of women, often from different social and cultural backgrounds than their predecessors, who had to forge their artistic and personal identities in the face of both a male-dominated artistic community and the conservative order of mid-twentieth-century Ireland.
Admired by her fellow artists but not the general public, Reid's reputation has arguably suffered as a result of her gender. The dominance of Abstract Expressionism during the period resulted in the expressionistic mode that she embraced being inextricably associated with an active, heroic and inevitably masculine artistic identity. This paper argues that, through both her art and her life, Read negotiated these cultural conditions to construct an artistic identity that resisted gender stereotypes.
Doctoral candidate with the University of Melbourne working on a dissertation titled 'Modernist Sculptures in Australia: Group of Four, Centre of Five and the Europeans, 1945-75.'
Flowers in the Attic: Recovering the reputation of
a forgotten Irish flower painter, Moyra Barry (1885-1960)
Moyra Barry (1885-1960) is typical of the many 'forgotten women artists' whose reputations were exhumed by early feminist scholars. A successful professional painter, she later slipped into obscurity owing to her area of specialism: flower painting. Yet the intention in studying her life and work is not to depict her as an exceptional artist; rather, it is to examine the mechanics of marginalisation. Barry's middle-class Catholic origins represent an antidote to the oft-repeated myth that the majority of women artists at the turn of the twentieth century in Ireland came from the leisured upper classes. Her work was bought by the wives of bankers, civil servants and solicitors, reflecting a shift of patronage, from the wealthy Anglo-Irish to the burgeoning middle-classes. Her subject matter was easily accessible and her high-keyed palette toned well with modern domestic interiors. The press lavished breathless praise on her work, subtly aligning it with the supposedly feminine arenas of fashion, interior design, and floristry. Barry occupied a paradoxical position: whilst specialising in a field denigrated as the province of the lady amateur, she projected herself as a working professional, holding ten solo exhibitions. Yet she also accepted the mantle of genteel femininity, thereby distancing herself from more radical members of the avant-garde who sought female suffrage. Ultimately, in a country riven by civil war, where artists were urged to paint subjects that would forge a sense of national identity, Barry's flower painting practice, whilst commercially successful, debarred her from entry into the Irish artistic canon.
Jane Humphries MPhil (TCD)
Doctoral Candidate, Department of the History of Art and Architecture, TCD.
(Re)writing the domestic into the everyday
'Each generation opens the wounds, which close in the night behind them' Miriam Schapiro
The term 'hidden from history' has been used within Western Feminism since the 1960s, with the primary strategy of the first wave of feminism to rewrite women's art into the canon. Considering art that addresses the everyday from the domestic space, a space which has historically had a gendered reading, this paper suggests that the politicised historicism associated with feminist art practice during the first and second wave has become part of a practice which is confident in utilising the domestic to say something about the contemporary world. By placing the domestic in a central position, it would appear there has been a paradigm shift in spatial aesthetics and gendered readings of the domestic.
However, although Feminist art practice visualized many components of what is considered 'the everyday', contemporary everyday theorists tend to malign the domestic space in favour of the city space. This appears to bear evidence of the continuation of patriarchal structures within theoretical texts, echoing essentialist gendered spatial relations, where the public/male exterior transcends the private/female interior as the privileged signifier of space, and despite the domestic being a significant component of the everyday.
This paper proposes to examine where 'the domestic' is placed in relation to theories of the everyday beginning with Henri Lefebvre's pioneering work The Critique of Everyday Life, to current developments by theorists such as Nikos Papastergiads, drawing attention to the danger of the domestic being subsumed by the everyday. By focusing on a number of contemporary Irish artists who place the domestic everyday at the centre of their practice, the paper argues that a domestic everyday art practice bears evidence of the gendered artist who is in continual danger of being written out of history.
Dr Roisin Kennedy
Lecturer
School of Art History and Cultural Policy, UCD.
Lhote's Wives – Scapegoating Women Artists, 1962-84.
In the late 1950s the work of Anglo-Irish women artists was placed at the apex of an Irish modernist tradition which was largely characterized by its spirituality. As this paper will show, an increasingly negative attitude towards prominent Anglo-Irish female artists is evident from an assessment of the art writing of the years 1962 to 1984. Much of this criticism focused on the socio-economic position of these female artists, stereotyping their motivations and practice and diminishing the true significance and value of their work. Their reasons for, and methods of, advocating a more modernist outlook to art and design practice in Ireland in the decades immediately after Independence were misrepresented and misunderstood.
This paper traces the wider cultural imperatives behind the Anglo-Irish drive towards modernist art practice. It argues that the female-dominated promotion of such practice combined with the social class and Protestant background of its main protagonists encouraged a sectarian and sexist reaction amongst male artists and commentators in the post-1960 era. This reaction both diminished the reputations of Anglo-Irish women artists and belittled the role and practice of female artists generally. This paper sets the lines of attack and the language used within the broader contexts of art politics in Ireland. By focusing on the gender and social status of an older generation of artists, critics were scapegoating the feminine contribution to Irish art. The paper will argue that this derisory commentary was aimed at contemporary elitism and class politics in the production and patronage of Irish art. But more significantly it was a rejection of the representation of modern Irish art as feminine.

Mary McAuliffe
Women's Studies, UCD
Writing Irish Women's Lives, 1800-1950 – Methods and Contexts.
In this paper I will examine the work of historians of women and gender, especially the debates and theories of feminist historiography. I will examine the work of Joan W. Scott, who has problematised both the methodology of history and its subject matter, thus, clearing the way for a reassessment of history in general, and women's role in shaping the historical record and cultural production in particular. I will also examine the many ethical and moral issues in writing women's history and biography. This is essential in order to develop an understanding of some of the ways in which feminist and gender theories have affected our understanding of history writing, artistic and cultural production, and biography. The changing nature of biography will be examined in the light of shifting conventions in literary form, political, revolutionary, social and cultural struggles, and especially in the constructions of gender, class, sexualities and race. Women artists, like women activists, have been erased from history. The underlying challenge is the questioning of how women's life/work narratives have been traditionally constructed and whether past historical/biographical methods and practices are adequate to the task of retrieving women's lives.
Una Walker
Post Doctoral Research Fellow
NIVAL
National College of Art and Design
Dublin
Notes and queries: the use of statistical data in bringing women artists in from the margins
Dickie (1997) provides an efficient definition of the production of both art and artists by means of the artworld system which offers a "framework for the presentation of a work of art by an artist to an artworld public". Within this artworld system the status of an artist can only be validated and sustained by the other actors and institutions making up that artworld. Taking this as an accurate description, this paper proposes examining the "production" of women artists in Belfast from 1960 to1995 as demonstrated by their recognition by the exhibiting institutions. This will be done by using a dataset relating to visual art events during this period to examine changing patterns in exhibiting in general, and the instances and pattern of exhibitions by women in particular.
The information in the dataset (over 3000 records) has been compiled from primary sources including newspapers, magazines (listings, reviews and advertisements), and ephemeral material such as invitations and press releases held in various archives. The number and type of exhibition (group, one-person, and other) will be approached longitudinally, as will the comparison of numbers of female to male exhibitors. By drawing on existing statistical material, mainly produced in the UK and Europe during the 1980s, the exhibiting data generated by this research will allow a limited comparison between the prevailing circumstances in Belfast and those pertaining elsewhere.
Additionally the exhibition gender distribution of individual institutions – the Ulster Museum and Arts Council Gallery – and a number of commercial and not-for-profit venues will be examined. At this stage of the research a small number of venues which appear to have been supportive of women artists have been identified, and short case studies including information relating to their funding, management, and policies will be presented.
It is intended to publish a peer-reviewed volume of papers associated with this symposium. Please contact Dr Éimear O'Connor at eioconno@tcd.ie for further information.