Trinity IMpact Evaluation Unit (TIME)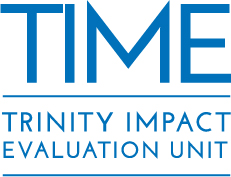 Trinity IMpact Evaluation Unit (TIME), based in the Department of Economics, brings together researchers in economics, development practitioners, and policy makers in a collective effort to estimate the impact and understand the underlying mechanisms of development projects, aid, and investments.
TIME will contribute to the global debate on development. Our vision is to provide strong evidence of what works, so that better investments with a real impact on the development process can be made.
The central objective of TIME is to produce research of the highest academic standard while, at the same time, facilitating the dissemination of research more widely and providing training to development practitioners on rigorous methods of impact evaluation.
We invite NGOs, policy makers, and international organizations that are planning a development project to get in touch with us. We can help in the design of interventions and impact evaluations according to the best practices established by academic research. We also invite researchers working on projects similar to ours to write to us. This will mutually reinforce our knowledge on specific themes and interventions.
There are nine members, Prof. Fadi Hassan, Prof. Michael King, Prof. Tara Mitchell, Prof. Gaia Narciso, Prof. Carol Newman, Prof. Martina Kirchberger, Prof. Andrea Guariso, Prof. Alejandra Ramos and Prof. Nicola Mastrorocco.