Trinity Employability Award - Professional Services Pathway
This award provides an invaluable opportunity to increase your career readiness by helping you articulate the Trinity Graduate Attributes and competencies achieved as part of your academic programme, as well as through co and extra-curricular activit. This award will equip you with a set of specific employability skills to help you succeed in the workplace. You will have the opportunity to engage with our partner employers Deloitte, EY, KPMG, and PwC who are actively fostering innovation in their field.

Combined with a focus on the Trinity Graduate Attributes, the award will give you the skills to develop, reflect on your learnings, and to help you gain a competitive edge in the workplace. The series of workshops will give you the opportunity to use problem-solving methodologies and apply your learning to work-related situations. They will further enhance your personal and professional development through a focus on technical disciplines and skills for life. These workshops will involve experiential learning, develop critical-thinking skills and help to ensure you develop the attributes you need to excel in your career. The Award has several participation options to choose from, and you can decide to progress through the Participate, Complete, and Compete levels.
The Trinity Employability Award is open to students of all disciplines in the SF, JS, and SS year of their programme. All students participating must achieve the minimum requirements of Level 1 to be eligible for a certificate of participation. Students can then opt to complete additional activities to be eligible for higher levels of the award and potential prizes. To be eligible for Level 2 or Level 3 you must have completed the requirements for the previous level(s) - these must all be completed in a single academic year.

All students who successfully complete a level of the Award will receive a certificate and will be invited to the award ceremony presented by Trinity Careers Service and our partners in the professional services - Deloitte, EY, KPMG, and PwC.

Please note that full participatin in all activities in each level is compulsory. Students who do not complete required workshops or assessments for any reason will not be eligible to receive a certificate of their participation.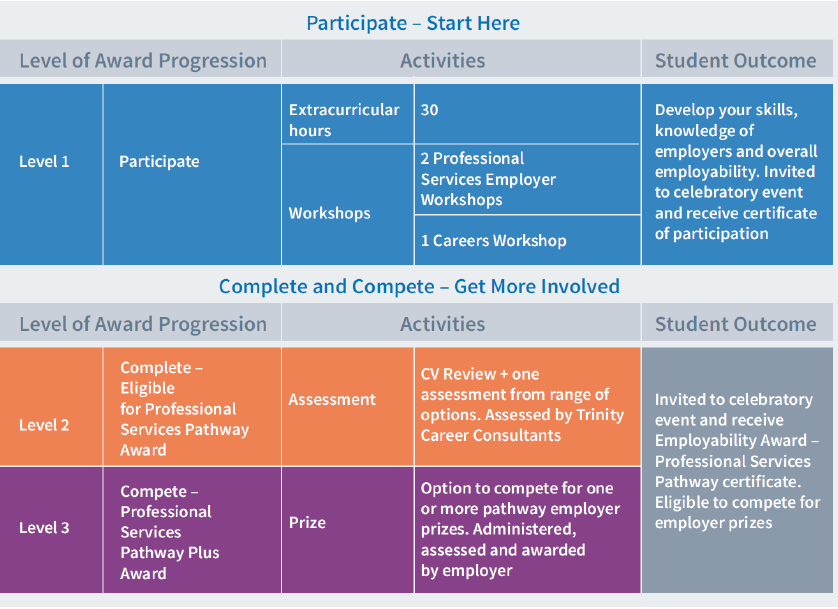 Level 1 - Participate
This is the foundational level of the award. To achieve this award standard you must:
Complete a minimum of 30 hours of extra-curricular activities - see list of approved activities below
Attend one 3 hour "Make it Count" workshop delivered by Trinity Careers Service
Attend two of the professional servicers employer workshops
Workshop descriptions
The workshops offered by our partner employers will be an opportunity to get a first hand insight into the ethos, workplace culture, and creativity of their company. Facilitated by industry experts, our partners offer workshops to develop both soft and technical skills in a range of exciting and innovative topics in the professional services sector.
Trinity Careers Service
Make it Count

3 hour workshop at Trinity College Dublin, delivered by Trinity Careers Service
Learn how to reflect on, identify and articulate your skills and attributes, and apply critical thinking strategies to extra-curricular experiences, setting goals and reflecting on competencies and skills developed
Become familiar with the core competencies employers look for when recruiting
Learn how to outline your employability skills in written applications and at interview
Employer workshops
These workshops will take place during the week commencing 14th January 2019. Further details on the workshops will be available on this page in the near future.
Deloitte
Workshop 1 - Business Chemistry
Business Chemistry is an approach to strengthening teams and enhancing relationships in a business context. The tool identifies four different types, each characterised by a stable pattern of behaviours and preferences in the workplace. This is an interactive workshop.
This workshop aims to:
Help you recognize the preferences and styles of others
Improve the effectiveness of your interactions with other types of individuals, as well as combinations of types in team environments
Provide you with a soft skills tool that can be used to assist in team projects both at University and in your working life
Workshop 2 - Blockchain Development Journey Mapping
You will be taken through a hands-on blockchain consulting workshop. This session will demonstrate the client journey through Blockchain 101, as well as industry-specific case ideation, design, and solution proposition. This will be a fully immersive session.
This workshop aims to:
Provide you with the opportunity to understand blockchain as a disruptive technology
Place yourself in our clients' shoes and also participate in the Deloitte "Play to Win" strategy framework
Showcase a 'day in the life' of the Deloitte EMEA Blockchain Centre of Excellence
EY
Workshop 1 -Innovation Session

Our Advisory team have designed an interactive session to test your creativity with the use of emerging technology. During this session, you will work in teams on a time-sensitive case study where team work and communication are essential.

This workshop aims to:
Teach you to think outside the box and explore your ability to innovate just like our consultants here in EY
Show you how to ask the right questions in order to identify innovative solutions
Showcase these solutions in a short presentation
KPMG
Workshop 1 - Developing your Professional Brand
This workshop will focus on creating and developing your "professional brand" and will encompass a mix of taught activities and breakout sessions. The workshop will be delivered in conjunction with a leading PR company specialising in Communications, Presentation Skills, and your Brand Identity.
This workshop aims to:
Help you understand your Professional Brand: your strengths, skills, and attributes that make your brand unique
Teach you tips and tricks regarding Communication across the 3 V's (Verbal, Visual and Vocal)
Hone your presentation skills and learn how to deliver impactful and meaningful talks
Workshop 2 - Enhancing your Employability through Social Media
This workshop will focus on leveraging social media platforms to increase your employability. It will focus on building your LinkedIn profile, understanding how to leverage LinkedIn presence, and online networking. The workshop will also cover other aspects of social media platforms and the impacts on employability.
This workshop aims to:
Teach you to create and build a strong LinkedIn profile
Provide valuable skills regarding networking in the digital age
Help you understand the power of social media and how to harness it
PwC
Workshop 1 - Getting comfortable with the uncomfortable: Building resilience and overcoming adversity in a high-pressured, fast-paced and continuously changing environment
Challenges cannot be avoided, but we can build up our resilience to them. Everyone can learn to identify, manage and "bounce back" from these challenges more effectively. Resilience is a very important factor in everyday life. Resilient people demonstrate great flexibility, high energy, mental agility and consistently perform at their highest level.
This workshop aims to:
Assist students to examine their ability to be successful in all aspects of their life, in the midst of a high-pressured, fast-paced and continuously changing environment
Explore techniques and skills that contribute to building resilience and includes a number of practical exercises
Provide practical tips to enchange personal skills, abilities and attitudes
References
For the purpose of the award, you will need to send us confirmation from your referee that you undertook the 30 hours of activity. If you are combining several activities to reach the 30 hours, you'll need to submit a reference for each of these.

 There's no need for the person to comment on the work you did or how well they feel you did, we simply require confirmation that you did the hours. We will need this along with your referee's name, job title, email address and phone number, as we'll be calling some of them on a randomly selected basis.
Your referee should be someone you were reporting to in your 30 hours of activity e.g. your boss in a part time job or volunteering role.
 If you are not the society chair, the society chair can be your referee. If you are the society chair, Emma Matthews in the CSC can provide sign off, you can email her at emma@csc.tcd.ie.
If your 30 hours were in the Trinity Students Union we suggest that you ask your faculty convener, or the TCDSU Education Officer, to sign off on these hours.


You can provide this confirmation of hours in one of two ways:

Ask the referee to send an email confirming those hours, along with their contact number and their job title/role to employability@tcd.ie by the closing date of February/March 2019TBC. Ask your referee to copy you by email on the reference so you know it has been submitted.

Send a reference written on the organisation's headed paper as an attachment to employability@tcd.ie by the closing date of February/March 2019 TBC.

Extra-curricular activities

The required 30 hours of activity must fall under a category on this list. If you plan to engage in an extra-curricular activity that does not fit in the list below, please contact us at employability@tcd.ie and we will let you know if it can be considered.

Your 30 hours of extra-curricular activity can take place in:

Student societies registered with Trinity's Central Societies Committee
Sports e.g. being an active member of Trinity Sports clubs
Volunteering with a registered charity or as part of a Trinity initiative, e.g. S2S mentoring, VDP homework club
Student representation in Trinity's Students Union e.g. faculty convenor or class rep
Enterprise e.g. business challenge, SMF, Launchbox, Launchpad
Social enterprise
Internships (not those undertaken as a course requirement)
Part time work

All activities must be verifiable and supported by a reference.
All students who successfully participate will receive a certificate of their participation in this level of the Award. You can choose to deepen your learning and compete for prizes by taking part in the assessment processes in Levels 2 (Complete) and Level 3 (Compete), outlined below.
Level 2 - Complete
To achieve this award standard you will need to have met the criteria for Level 1 (Participate) outlined above. In addition you will need to:
Complete a CV review with a Careers Consultant or a partner employer
Submit an assessment of your choice which can be one of either:

Submit a photograph and 250 word explanation explaining how this photograph demonstrates your development of a Trinity Graduate Attribute through taking part in the award

OR

Submit a 90 second video explaining how you have developed a Trinity Graduate Attribute through taking part in the award
These requirements will be assessed by Trinity Careers Service. The submission method and deadline will be confirmed on this page in the near future. Once you successfully complete this you will recieve a Trinity Employability Award - Professional Services Pathway (award certificate) at the ceremony.
CV review
You can have your CV reviewed by by a Careers Consultant or partner employer at one of our regular Drop-In CV clinics. Your attendance will be recorded by the Trinity Careers Service as evidence of you meeting this criteria. See MyCareer for details.
The aim of these assessments is to enable you to reflect on, integrate, and articulate the learning you have achieved from participating in this programme.
Assessment for Level 2 of the award requires the following components to be submitted:
One recorded CV review at the Trinity Careers Service or with a partner employer
One assessment submission from the two options
These components should be submitted by February 2019 - date and submission method will be confirmed on this page in the near future. These components will be assessed by Trinity Careers Service.
Guidelines for submissions
Photograph

Take a photograph of an image that represents your achievement of a single Trinity Graduate Attribute.  Use a phone or a camera – you won't be judged on the quality of the photograph so it should be at least 6 megapixels.  Please note that you are not allowed to take photographs on the employer premises or to use images taken/created by someone else. Give the photograph a title. Submit your photo as a .jpg attachment by email with the photo file titled in this format: Your_Name_[Title_of_photo].

90 second video

Create a 90 second video using a phone or camera that tells the story of your chosen image. We won't be judging the quality of the video as long as we can hear and see you clearly. Make sure your pitch is aimed at a wide audience. It should be clear and compelling, sparking interest in the listener. Remember, it must be no longer than 90 seconds! Don't feel limited to the following questions but here are some ideas to consider when composing your pitch:
How have you achieved this Trinity Graduate Attribute?
Why is it important and what does it mean to you?
Include your full name in the video file's title when submitting.
Level 3 - Compete
To achieve this award standard, you will need to meet the criteria for Level 1(Participate) and Level 2 (Complete). Please indicate in your Level 2 submission if you wish to compete for Level 3.
Each employer will offer their own competition and prize.
Prizes may include personal development opportunities such as summer internship opportunities, support to attend conferences, or in house training opportunities.
The competition will be assessed by the relevant employer and will be open only to students who have completed their workshop.
Please note that competing at Level 3 may require additional attendance at the employer premises.
More information on the each employer Level 3 assessment and prize will be available on this page in the near future.
Once you successfully complete this assessment you will receive feedback from the company and a Trinity Employability Award - Professional Services Pathway (award certificate Plus) at the ceremony. This is the highest level of award for the programme.
Award timeline
| | |
| --- | --- |
| Tuesday 2nd October | Information Session, Synge Theatre, 6pm |
| 5pm, Friday 5th of October | Application deadline |
| Friday 12th October | Applicants notified |
| 23rd of October 2018 | Launch ceremony |
| October 2018 – March 2019 | Participate in 30 hours of extra-curricular activity |
| Tuesday 23rd of October | 10am - 1.00pm "Make it Count" Careers Service employability workshop at Trinity, Room 5052, Arts Building (mandatory) |
| Week commencing 14th January 2019 | Employer on-site workshops (mandatory - choose two) |
| February 2019 TBC | Deadline for assessment submission |
| February/March 2019 TBC | Award ceremony* |
*Attendance at the award ceremony is required to celebrate all levels of participation in the award and for presentation of certificates and prizes.
Applications
Applications will be open in the near future.
Further information
If you have any questions about the award after reading the above material, you can send them by email to employability@tcd.ie and we will reply as soon as possible.
You should also engage with Trinity Careers Service on social media for updates on this award and other activities: